Full moon as my bed, star-lit sky as the blanket and the cool breeze as a lullaby to sing me to sleep is a fantasy for a nature lover like me, which did come true in Nishani Motte Night Trek organized by Nature Walkers.
Going for a trek itself was an amazing feeling and that to with such passionate and energetic NW team was an additional bonus. We were nine of us and left Bangalore at 12 a.m. The organizers, Hemant and Manoj, gave us a brief description about the trek. We had an informal introduction so that we could gel with each other easily for the next two days.
The verdant mountains, curvy roads and fresh morning fog gave us a hint that we have reached Coorg. The moment we stepped out of the bus at 8 a.m, Coorg casted her spell and mesmerized us with her splendid beauty.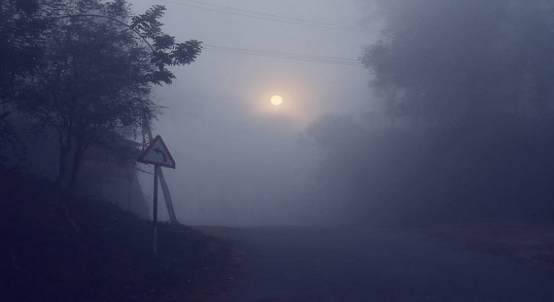 The place was covered with spook-grey mist and was freezing cold, therefore, we decided to warm ourselves by having hot tea. We freshened up and had our delicious breakfast at Bagamandala. While few of us took a dip in Triveni Sangama, spot where three rivers meet. Later we visited Bhagagondeshwara temple, here we saw a purohit making beautiful garlands from sweet smelled flowers. This reminded me of a saying," Bread feeds the body, indeed, but flowers feed the soul."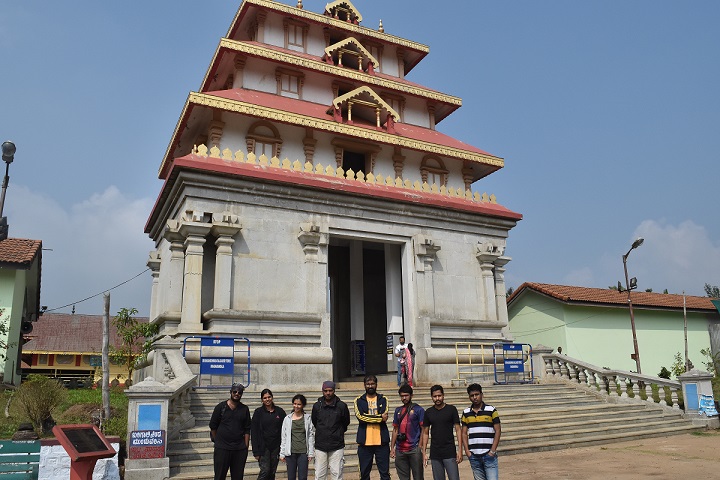 After spending some more time in the temple, we started our journey to the much-awaited venture.
A walk on the path filled with golden fragile leaves was pleasant and soothing to the soul. I could see leaves with all possible shades of green but the molten-red leaves hanging silently on the trees stole my heart. A perfumery of scents hazed through the forest. The warm sunshine, gigantic trees and birds twittering uplifts our spirit and refresh our minds. After we reached APC (anti-poaching center), we had our lunch, lightened our backpacks and continued our trek.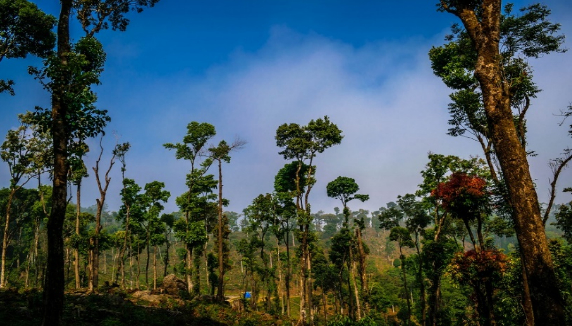 Initial trail was not so steep and was surrounded by dense green forest. Climbing through this astonishing beauty of Western Ghats was such an amazing experience which cannot be expressed in words. After some more time of hiking, the path unfolded into pristine grasslands from where we could see many other peaks which were untouched by human hands.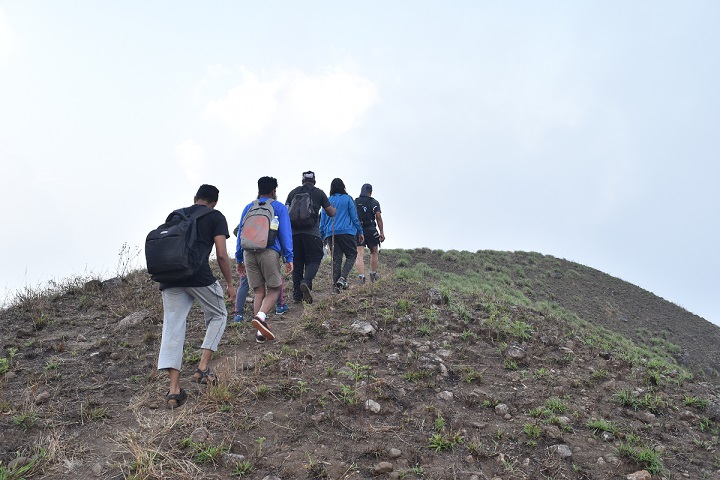 Before proceeding to the final ascent of the trek, we took a break to have our snacks. I still remember how we could not stop appreciating the savor of unibic biscuits, I guess this is what happens after a hard climb. Now we were all back with more energy to surmount the peak. The last stretch was more steep and tiring, but when I saw the glimpse of the peak my joy knew no bounds and could not wait any longer to be there.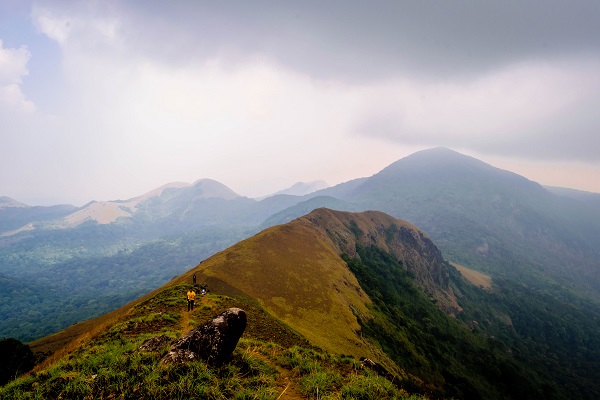 Yippee! We were at the peak. The view was just phenomenal from here. Finally, I was there at the place where my happiness can never be measured. The fresh and pure air which I got to breath there sweeped all the negative thoughts in my mind. Mountains are the embodiment of positivity. After admiring the beauty and clicking pictures we decided to take a nap on the peak. With tired bodies, cool temperature and melodious music who wouldn't fall asleep? We were like babies sleeping on the lap of mother nature. It was definitely the best nap I ever had in my life!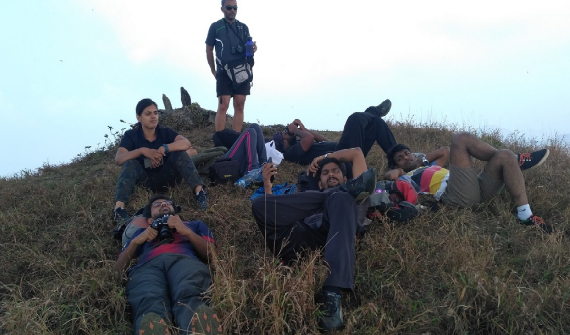 After having a sound sleep (literally for Hemant, as he was snoring, which my trekking mates will know better), the entire place was engulfed by fog. The clouds and mountains were playing hide-and-seek with each other. After soaking ourselves into the beauty of nature, we decided to descend back to the base.

It was a bit challenging as the ridge was too steep on the both the sides. But the best part was, we could feel the clouds passing through us which made me feel like I was in Heaven!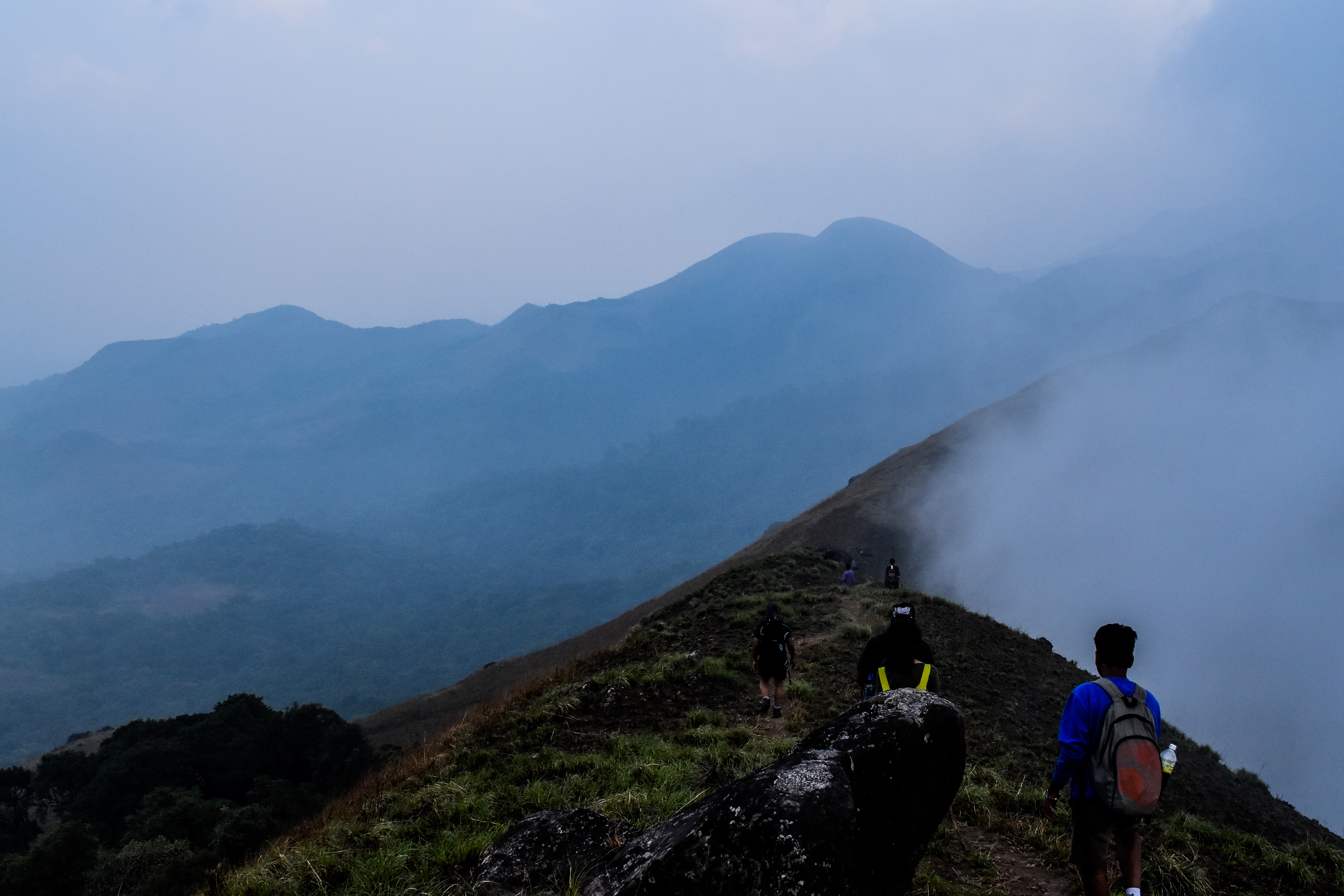 We reached APC at 5p.m. It was really sweet of the forest guard to provide us hot water for bathing which none of us expected. I still remember Manoj telling, " We always get the best when we expect the least." We then pitched our tents on top of a small hill which was right next to APC.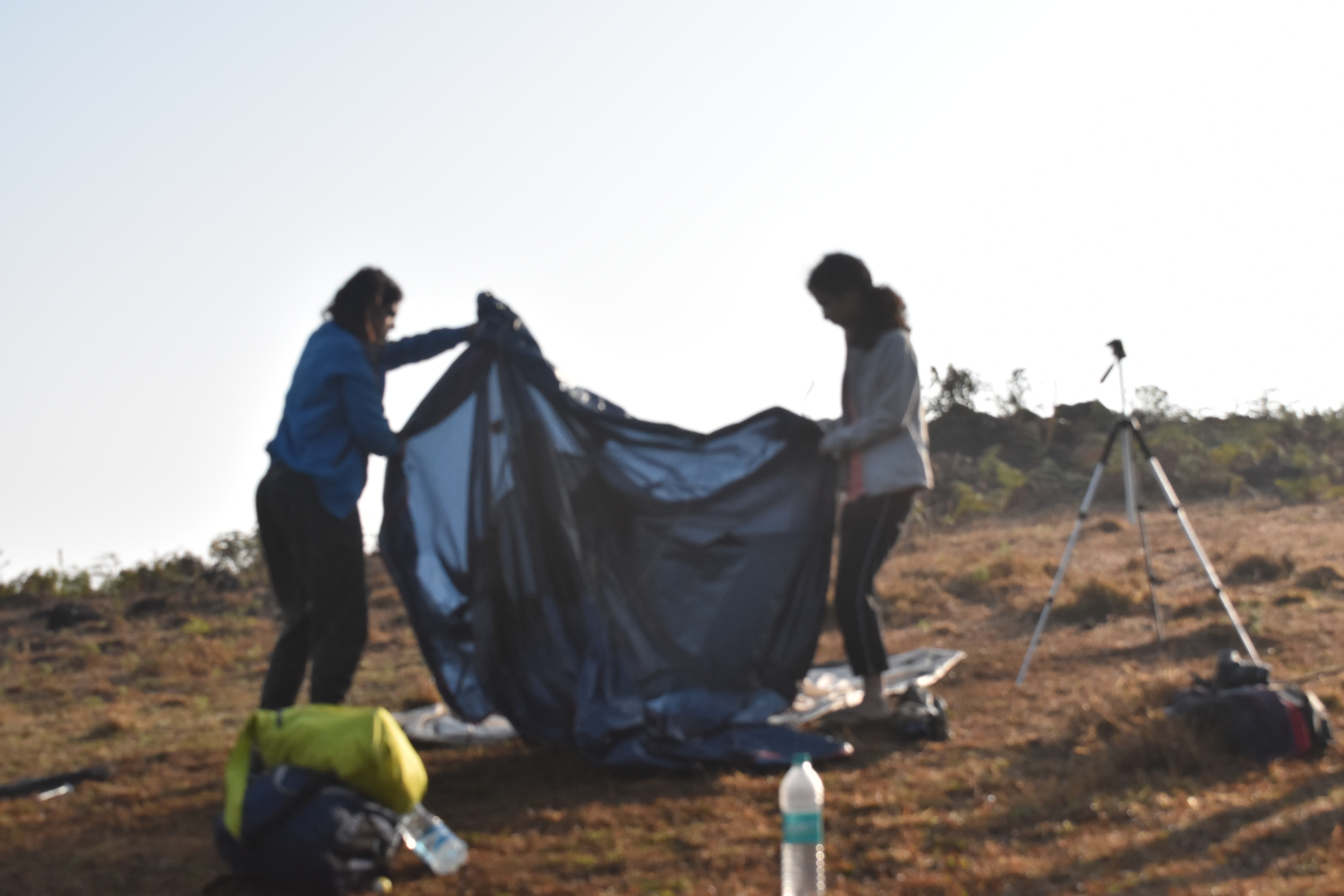 Now it was the time for us to cook our scrumptious dinner. It was such a joyful experience for all of us to cook together wholeheartedly. We all had hot pakodas, yummy potato fries and chit chatted for some time while our main course was getting ready. It was dinner time and our stomach started growling after smelling the appetizing aroma of palaov.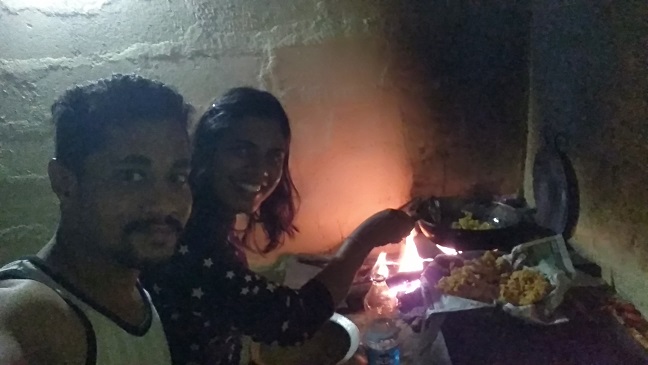 Surrounded with ecstatic views of Coorg and having dinner cooked by ourselves as a group together was a heartwarming experience. I realized that this is what we miss in city life, spending quality time with each other which strengths the bond in relationships.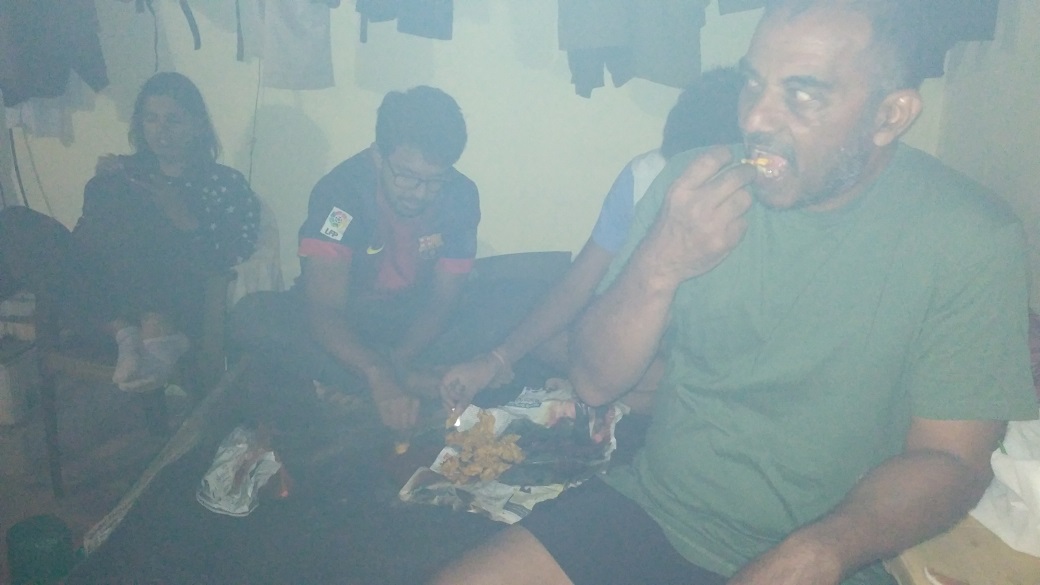 After we filled our tummies with mouth-watering dinner, we went back to our tents which was present in a picturesque spot. The chilling wind blew across us and we had a small campfire which looked like a blazing red flower. I looked up and there I saw her, the queen of night and a splendor among starry heavens, the Moon. The entire nature was clothed with shinny slivery robes of the moonlit night. It was a delight to our heart and soul. The atmosphere was surcharged with calmness and quietness. And in such a night, away from humdrum of cities, when we are in the company of our dearest friends, cutting jokes and chatting with them are such enchanting pleasures.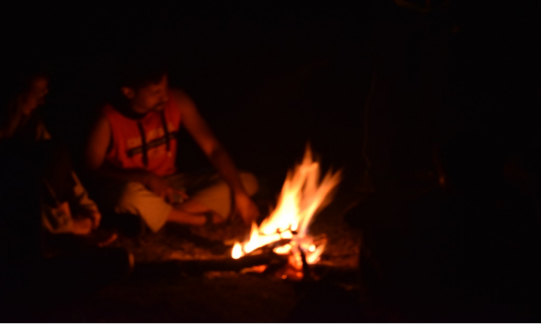 We then moved back to our tents to get a good sleep. Well I can never forget how we (Rashee and myself) made Hemant and Manoj wake up at mid night as we could see some shadows and hear some animal sniffing around our tent. But to our surprise, when we came out there was no sight of any animal. It was one spooky, wild night!
Woke up with the sights of most bewitching and beautiful valleys of Coorg, it was a dream come true moment for me. The soothing rays of the morning Sun, kissing each and every object of nature presented a charming scene. It was time for us to take off our tents and walk back to APC to freshen up. All of us had Manoj's special tea and breakfast while enjoying the breath-taking views of the fog-tinted mountains. We enjoyed chomping on the juicy wild blueberries which were grown on the near-by trees. These tiny little experiences made me realize that life is so simple and it is us who make it complicated.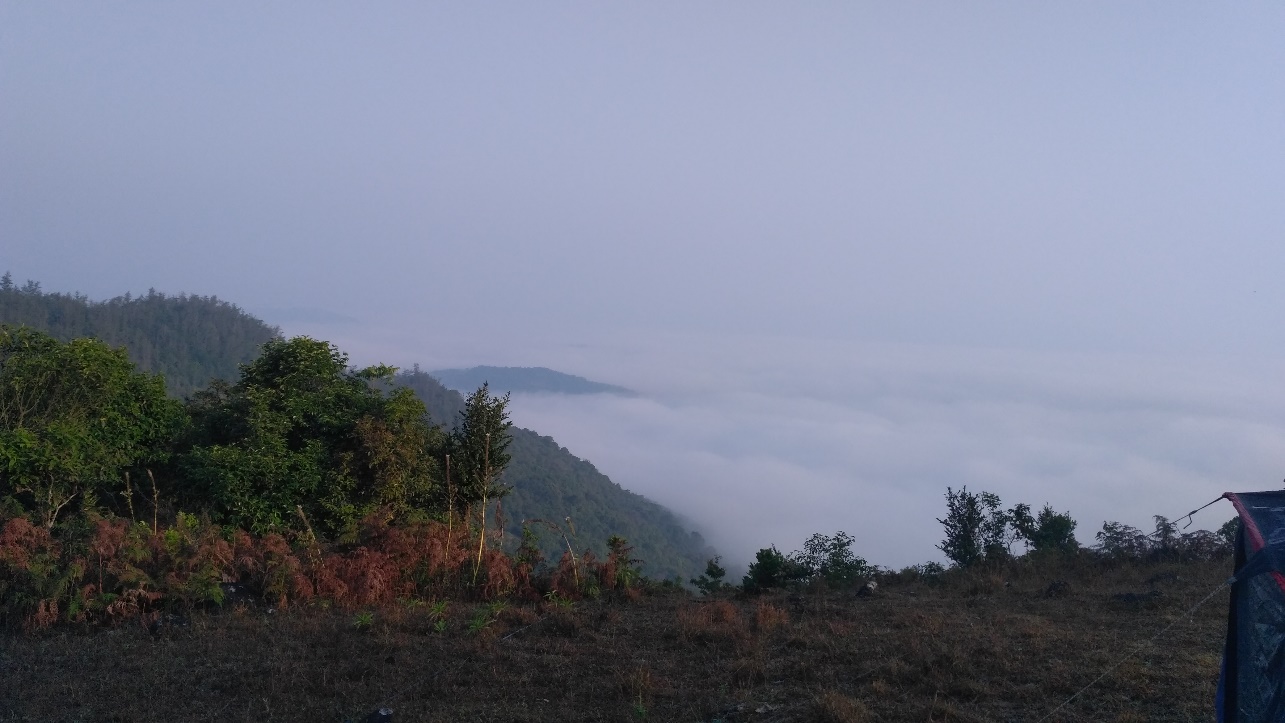 We started our journey back to Bhagamandala main road, which was about 3-4km from APC. While coming back we came across a stream where Manoj did his gym workout(planks) by completely immersing himself in the crystal-clear water. Unfortunately, Hemant and I were not there to witness this moment as I had my photography classes going on. Nature always inspires and motivates us to learn something new, that's her magic! "Books in running brooks and sermons in stone."
Hemant spotted guava trees adjacent to the stream and could not resist himself from plucking them. When he finally got them, like kids everyone's eyes wear gleaming with joy. Crunching on these fresh guavas we headed back to TT to go to Tala Cavery.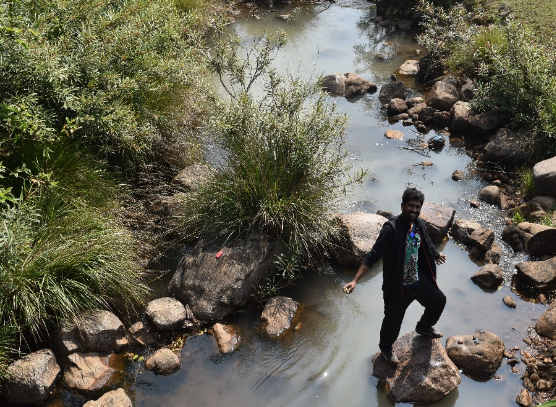 The temple had a beautiful sight seeing place, moment I stood there and saw the glorious peak of Nishani Motte, the adventure seeking soul within me felt a sense of contentment. We pat our backs as we had successfully conquered the peak. We spent some time here and went to visit the Tibetan monastery in Bylekuppe. Looking at those beautiful sculptures of Buddha, I attained a peaceful state of mind.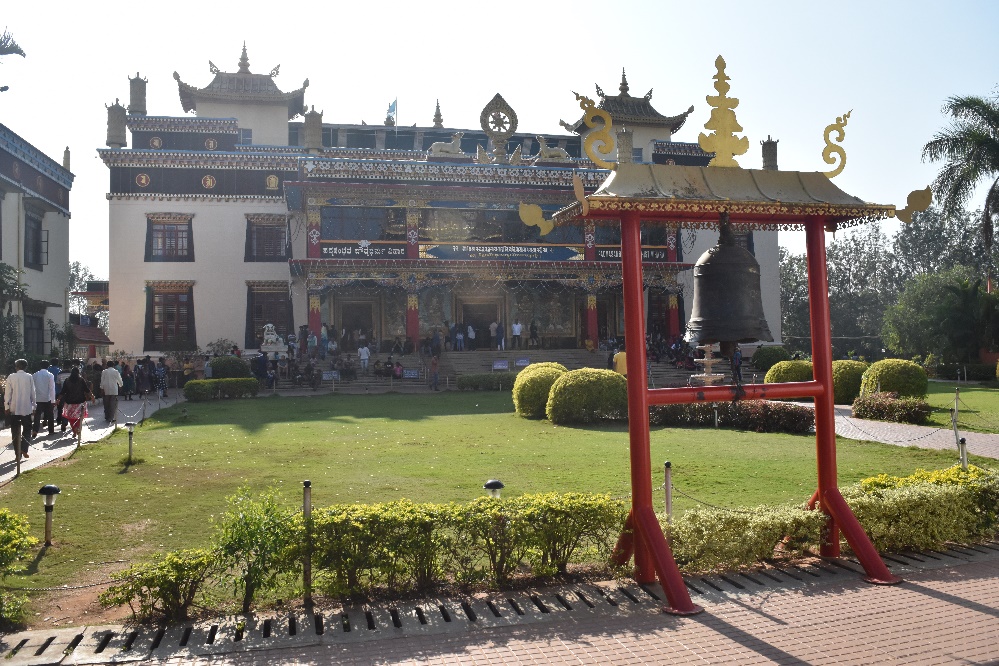 With heavy-heart we had to bid adieu to Coorg and head back to Bangalore. The thought of tall buildings, concrete roads and busy streets saddened my soul. While coming back, we played antakshari and had fun time together. The toughest part for me was to say to good bye to all my trekking mates.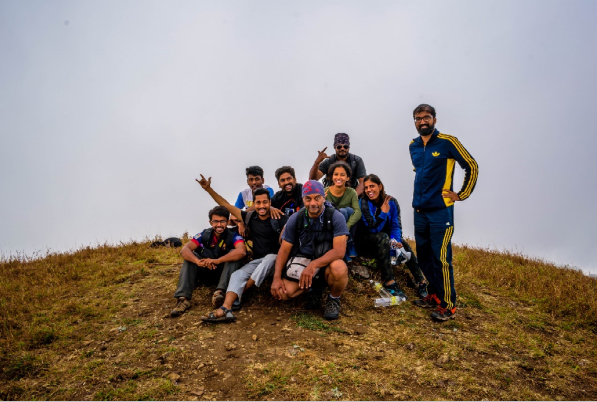 This beautiful journey is etched in my heart so much that whenever I rewind it, they always bring a smile on my face. Thanks to NWs team and to my fellow travelers for such a memorable journey which I will cherish throughout my life.