2017 was about to bid adieu to all of us. The festive season was on the full swing, joy and happiness were surrounding us. An adrenaline rush in the air.
Yes, it was the most awaited weekend just before the New Year-Christmas weekend. We decided to try something different this time. Something other than usual parties, loud music or a lightning dance floor. So we planned to listen to nature's music, to sing along with the cool breeze and to dance with the holy drizzles of the waterfall. Yeah, we decided to go on a trek to feel the nature closely, a journey towards ourselves… to climb the mountain of life, to see the sunset of feelings.
Now the question comes where and how to start? Because arranging everything in such a short time that too during peak season, was quite a difficult task. It was 'Nature Walkers', who came to our rescue, and we joined their trek to "Kodachadri".
Details of the trek:
Trekking Hill: Kodachadri – a mountain in the Western Ghats in South India.
Location: Shivamogga Dist., Karnataka State (10th highest peak in Karnataka).
Altitude: 1,343 meters above sea level.
Trekking distance: around 15kms (one way).
Trek Level: Moderate
Distance from Bangalore: approx. 410kms
Once again the excitement of meeting new people and serenity of nature enveloped us. We, a group of 19, gathered at specified pick point and left from Bangalore in a minibus to start our journey.
Dark night, among unknown individuals/groups, having different backgrounds, gossiping with the adjacent person – all in a bus and like this, we took the first step of our journey. With the pace we were leaving Bangalore city, the traffic jam, unwanted and sudden brakes and jerks, noisy honks, kinky lights: all vanished steadily.
Everyone was eagerly waiting for the icebreaker in order to interact, to get dissolve to form a new but a single group.
And it all started when our Trek leads interrupted and came up with an impressive plan, which was to introduce the person sitting next to you including 3 interesting facts about him/her. It was a fun part and at some points, everyone laughed and slowly became acquaintances with strangers. We stopped at a restaurant for dinner post which we were briefed about the trek's do's and don'ts by the trek leads. Further which our eyes started to close with the pace of the moving bus, with the slight humps and cool winds, and we slept.
Early morning, our sleep broke due to the solid jerks of humps and road definitely our bus was not having a very good suspension :P. Though it was not that bad, as we had fun with this also.
So finally after a long bus trip, we reached the home-stay in morning around 7. It was a core village, surrounded by hills. The first view itself was green and magnificent. And those refreshing sunshine were adding an extra flavor.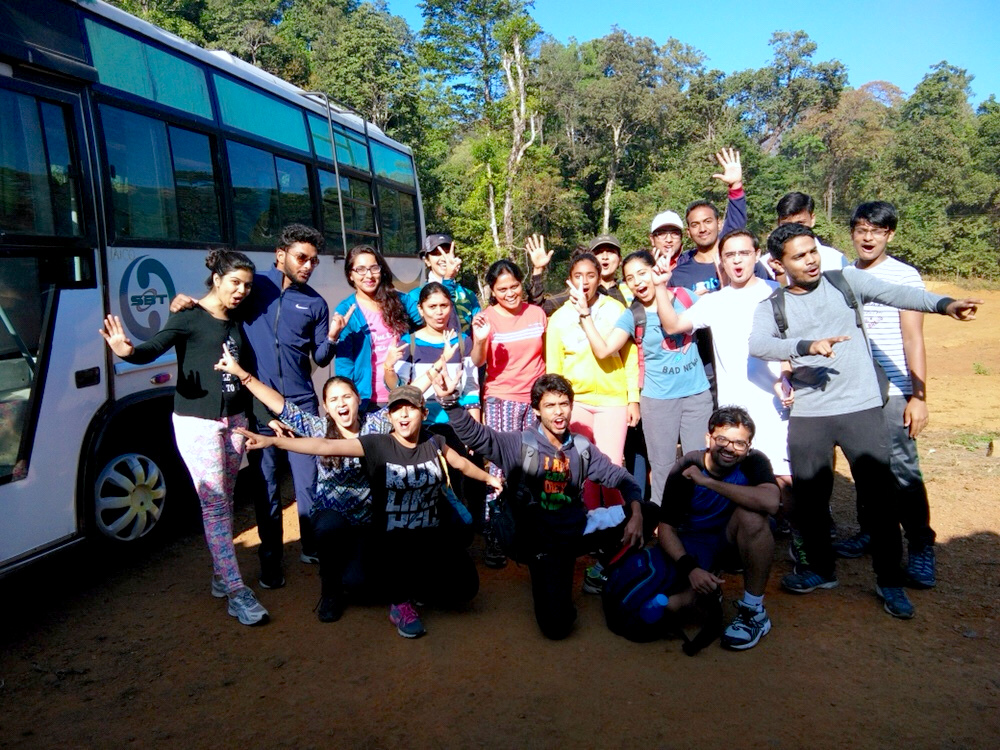 We got to freshen up, had home cooked breakfast in the home-stay, took necessary items and water for the trek. One can see the excitement in each pair of eyes trying to capture the beautiful surrounding, and with that begins the journey of our lovely trek.
Walking a kilometer in an unmetalled road the trek trail started with a small water stream. After crossing which we took our first step of the trek. Marching further, forest started where one can smell the nature. Roads started to become muddy, covered with leaves and narrower, and finally, the road disappeared. Now we have to walk through the forest area which was becoming more and more dense, though more beautiful.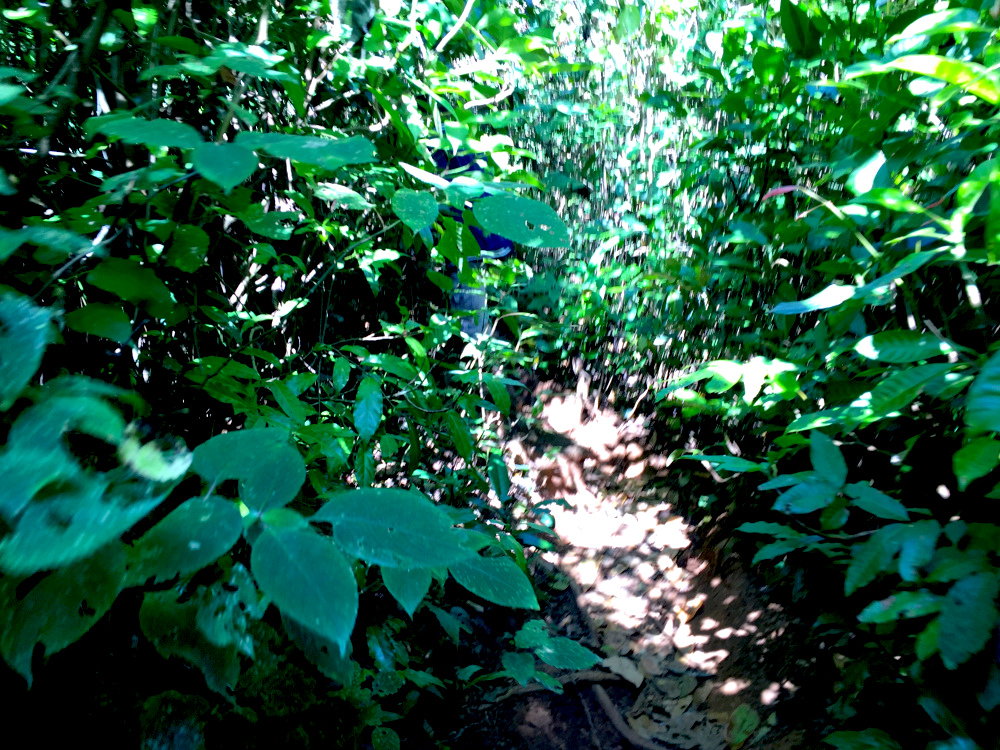 We kept moving, and as soon the first thirst of water strike to our minds, we were amazed to see a home-made buttermilk shop all of a sudden. It was a small place with some paddy fields and 2-3 houses. It looked so awesome and so was the taste of buttermilk – like never before. We had some rest for few minutes after this boost up drink and headed again as it was just the beginning.
We crossed the paddy fields and then starts the trek which was no easier. Full of rocks, narrow line, rugged road but the best part parallel to small waterfalls and streams. Though the trek was not simple but helping hands, and the awesome weather didn't let us feel it difficult. Following each other we were just going with the flow, listening to the 'kal-kal' sound of fresh water-stream, it was so soothing, so pleasant.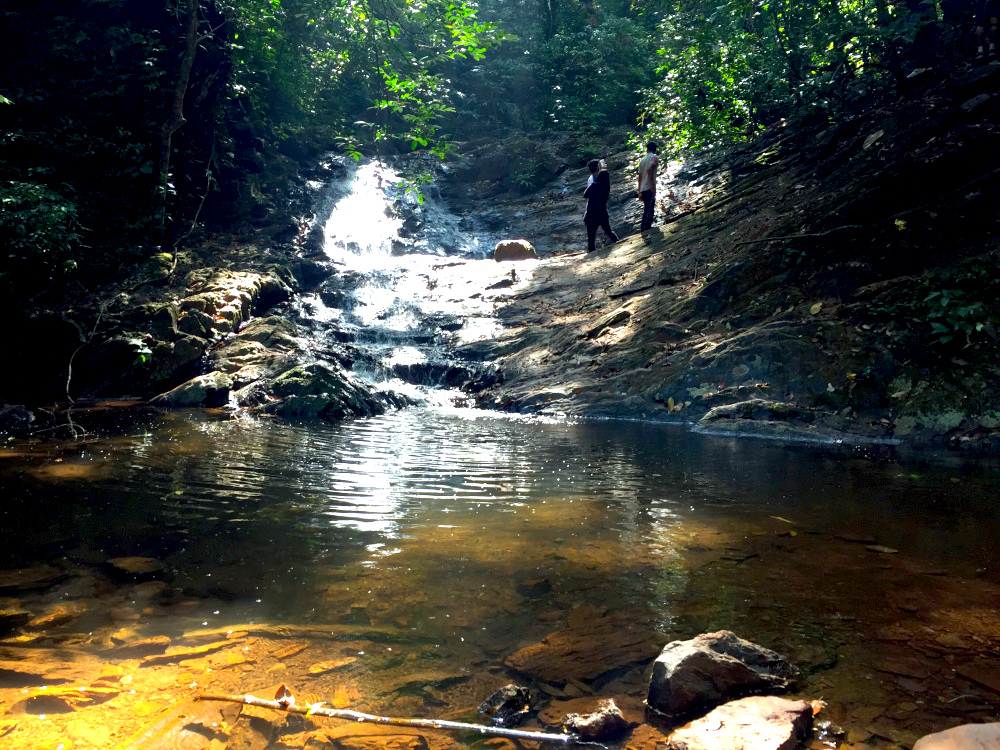 Little did we know that chasing the water stream will lead us to the mountainous waterfall 'Hidlumane Falls'. After climbing some rocks, we were standing in front of a gorgeous waterfall. Lovely sound of splashing water, water droplets sprinkling on us, and those sun rays coming from the top of the mountain was just making it heavenly.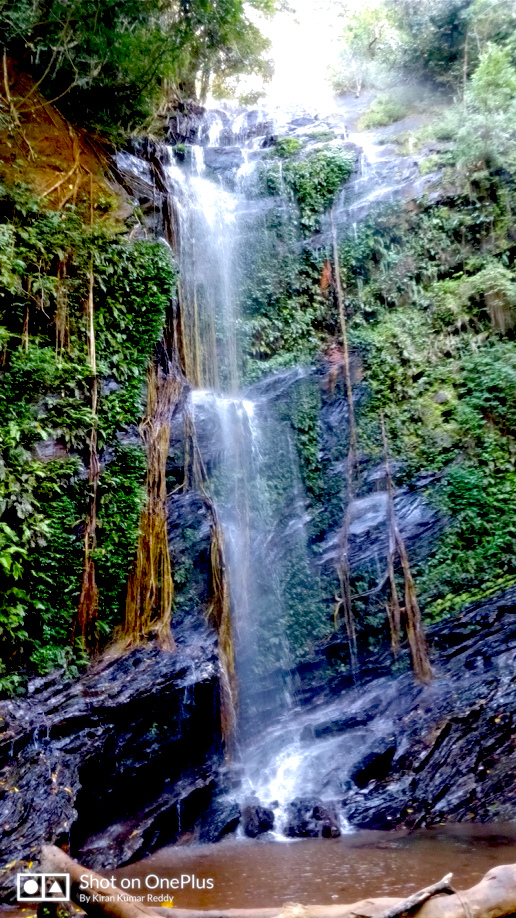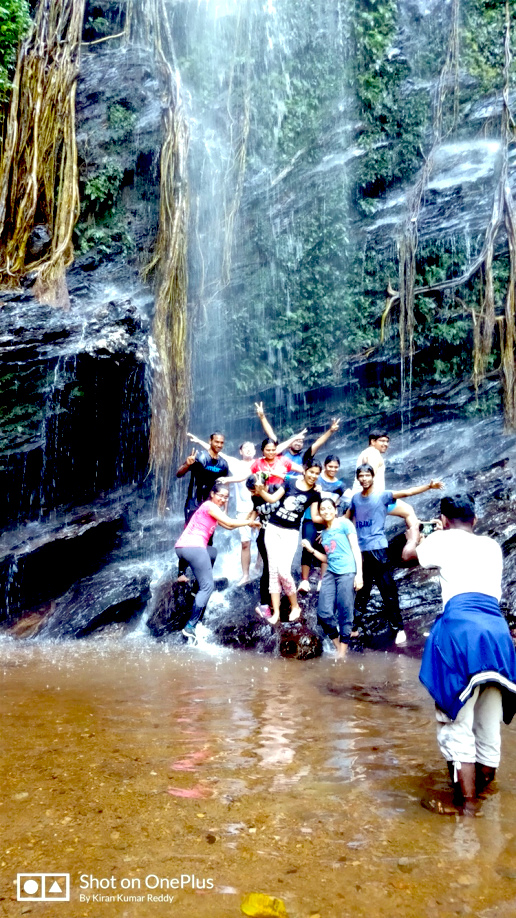 Reluctantly most of us entered into the waterfall and enjoyed the chilling water falling from the cascading rocks. Water was crystal clear and it seems like milk is flowing from the mountain. We enjoyed the waterfall and the photo-shoot for half an hour and then started again. Now the sunshine was providing its warmth to us, after the chilling water of fall. Slowly we ascended one after another, small – small peaks which came on the way.
Time was moving with its pace and so were we. It was afternoon when the atmosphere became hot, the sun was in its full glory, by this time we were thirsty and hungry. Some of us got tired, but motivation for stretching your limits works well, so did our trek lead, she managed situation nicely.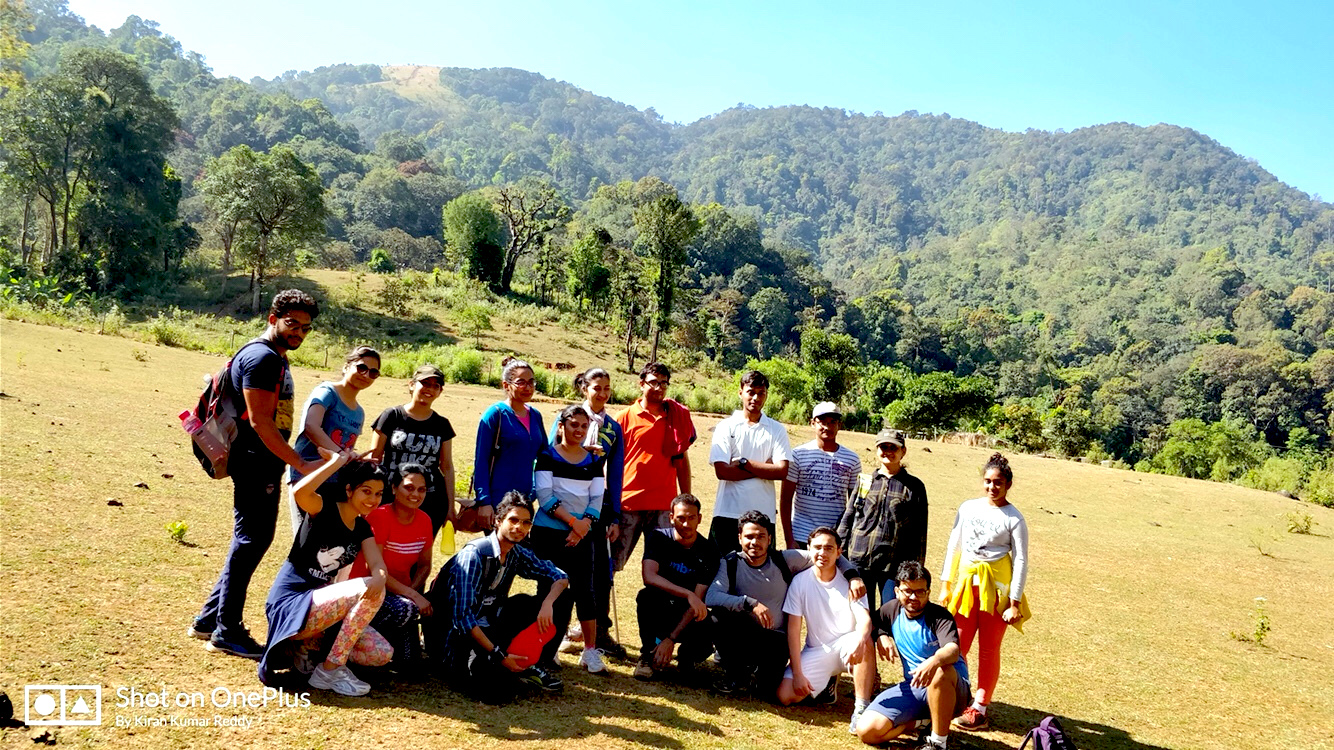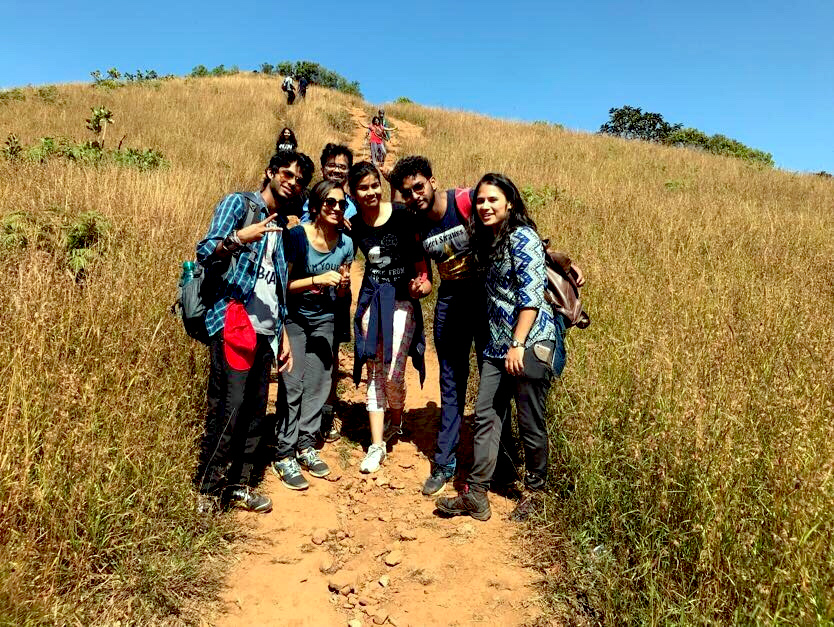 After walking through some plain, dried grass, and few rocky hills, we got a glimpse of the road. It was a sign that we have covered more than half of the distance and it was a lunchtime. We paused for some time and had lime water which was available near the road and walked along the road to reach a Jeep Stop. Yeah, if you don't want to do trek if there is this option of Jeep ride also. Near to this stop, we had our lunch which was pre-arranged by locals. Post lunch we had an entertaining round of 'dumb charades', and really we had a fun time over there.
After taking rest we resumed our journey to claim the rest of mountain, to reach the peak. Again the path was through the forest area and rocky hills. It was more uphill now. But we gathered our energy and moved ahead. Little before the peak, we encountered a cave temple. It was a Ganesha temple, and to our surprise, a priest was also there. That small cave temple, between the hills and the scenic place, was making it spiritual in every sense.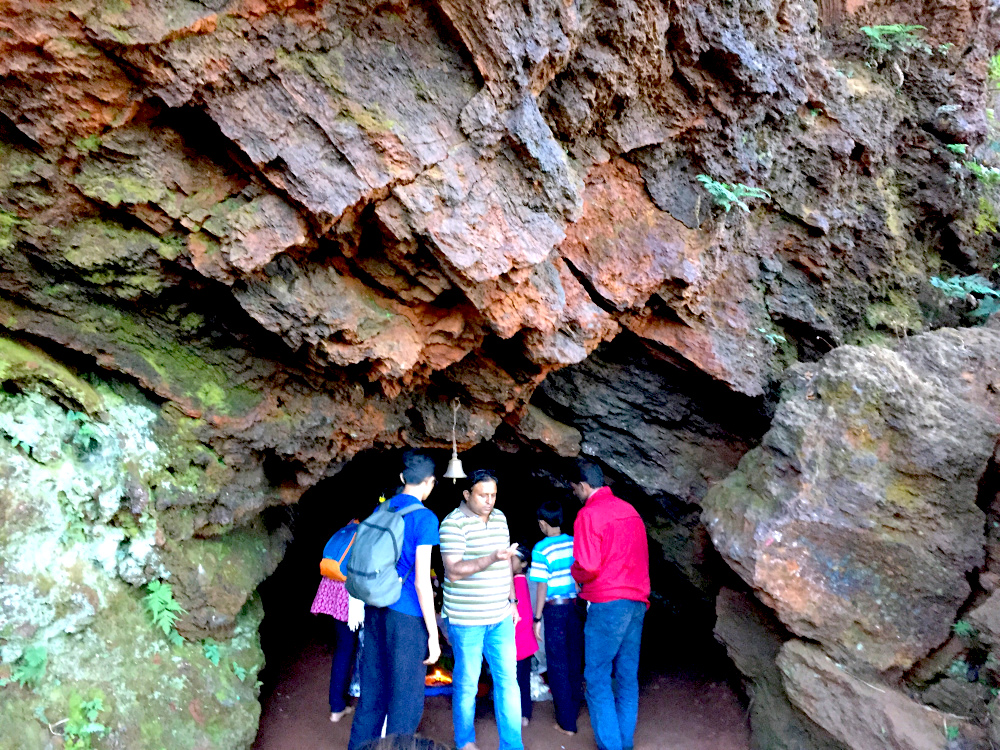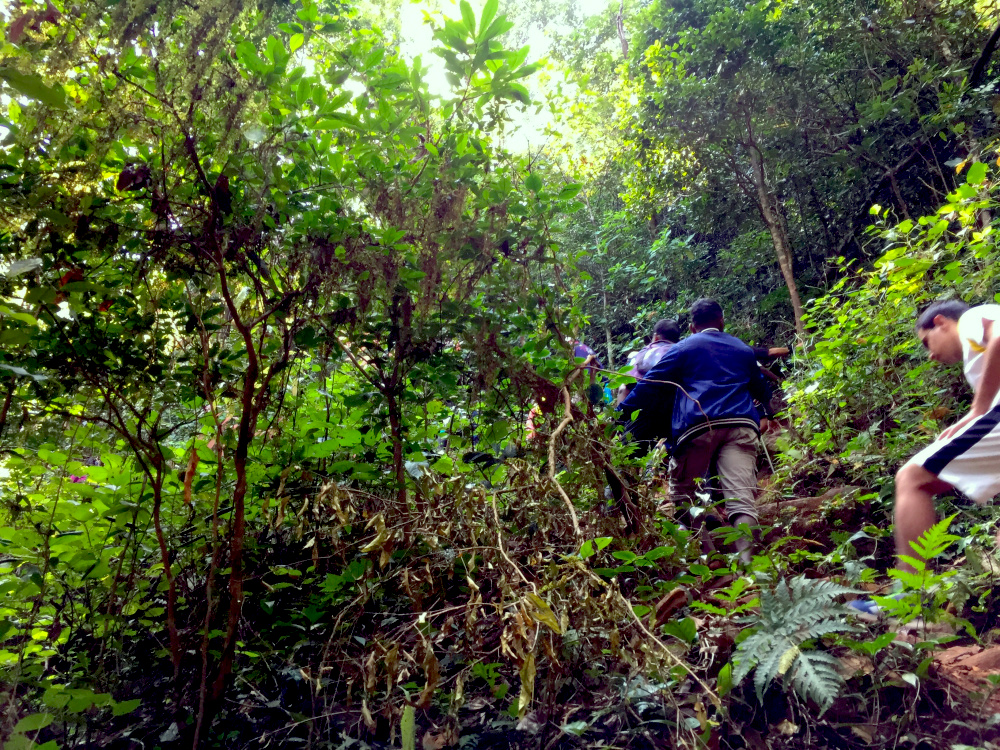 Climbing further, we could see the Sarvajna Peeth Temple at the top. Finally we were almost there and now all the tiredness was gone as soon we saw the magnificent view, the scenic beauty of nature.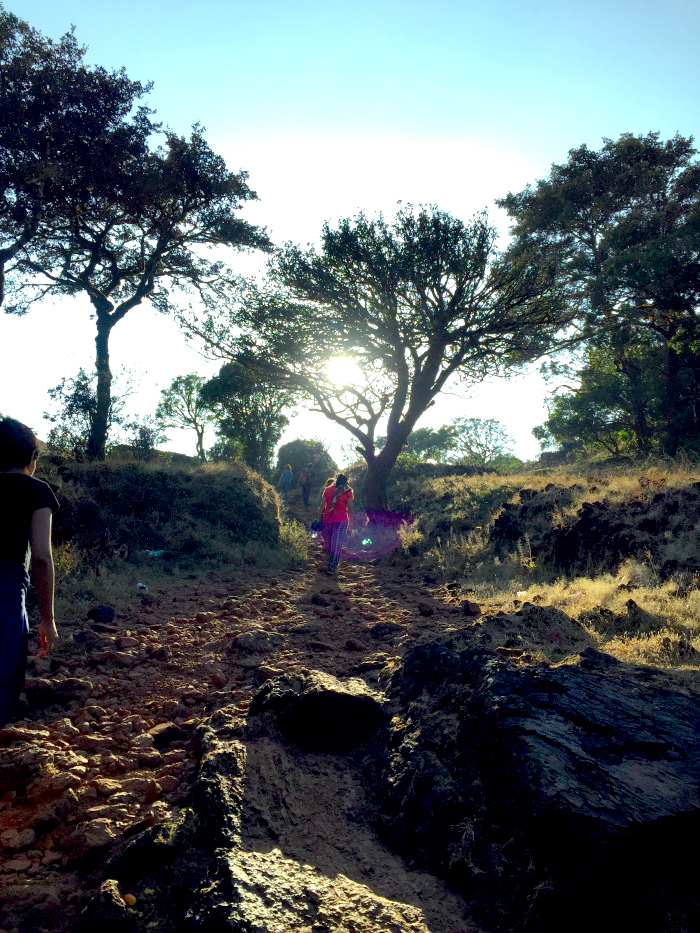 Crossing the Sarvajna Peeth, we marched towards our destination, the last peak of Kodachadri trek, the sunset view point. After climbing so much, it was a cake walk, besides it was rocky and slippery due to small rocks, which we had to manage. The small rocks there were shining as if they are welcoming you. FYI the shine was there as it contains iron and magnesium ores.
Finally, the moment came, after some hurdles, some tiredness, some motivation, sun and shade, ups and downs we arrived the destined peak. And no doubt it was just awesome. Like you are standing on top of the world, giving you immense feeling of calmness and satisfaction. The scenery around was mind boggling, peaceful valleys and the breeze which not only provides you the happiness but also to your inner soul. Indeed Marvelous!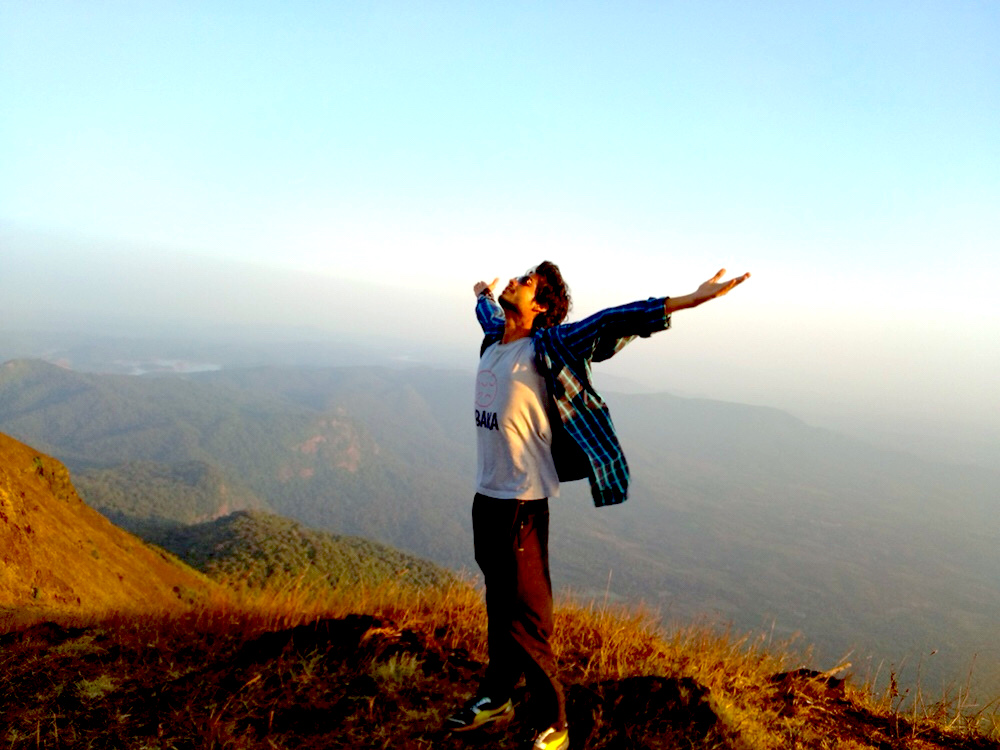 We reached on perfect time; the sun was all set to take adieu. With each passing second as the sun started to set, the view was becoming more and more beautiful. It is said that the sunset view which we were witnessing is actually the majestic Arabian Sea horizon. True or not, the colorful horizon with the shades of red, orange, blue and black, was just astonishing and peaceful. One can actually feel the music in the air, vast panoramic view, the real beauty of nature which one can never get in a metro city life.
As the sun was going down, it was getting dark now. So we the Nature Walkers started marching back towards the jeep station. In was completely dark now, we took out our torch lights, but none stopped. We moved, walked and finally reached the jeep stop, witnessing the beautiful stars and that shy half moon was looking like saying goodbye to us.
Whilst boarding on jeep, we never thought that this isn't just a jeep ride. No it wasn't. It was a roller-coaster ride. Believe me, in those turns, and hilly-rugged road, those crazy drivers showed us their skills which were not the normal one. Waving in jeeps, listening to songs and shouting, as we do in adventurous rides we landed up in our home-stay after the thrilling ride.
We took rest and had dinner, succeeded by the bonfire. This one thing, provides you the party feeling in the midst of woods. Those songs sung by us while playing 'antakshari' under the open sky full of stars, next to bonfire in the chilling night gives you goosebumps. As the time passed we wished good night to everyone and had a sound sleep in the home-stay.
Nupp, the trip isn't over yet, my friend. The next morning, after having our breakfast, we checked out from the homestay and started moving towards the 'Nagara fort'. This fort is situated around 25 km from the home-stay towards Bangalore.
We explored the fort which was kind of remains of the fort, but still a place to visit. Had a lot of fun, took our final pictures in our mobiles, cameras as well and heart.
And finally, our beautiful journey came to an end. We had lunch on the way back to Bangalore. Now was the time to say goodbye but we didn't come back empty-handed.  Our pockets might be empty but our hearts were full of memories and new friends which were just acquaintance a day back. We are bonded by the nature walk assisted by Nature Walkers!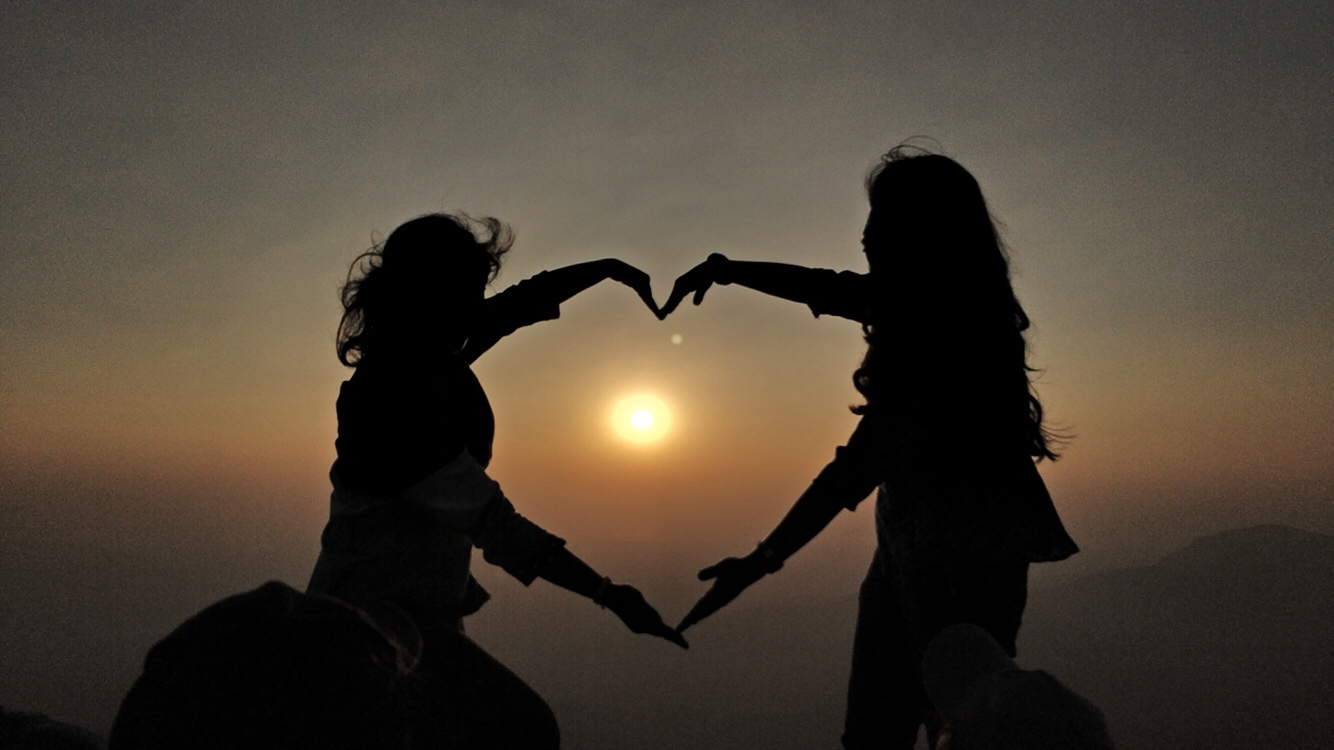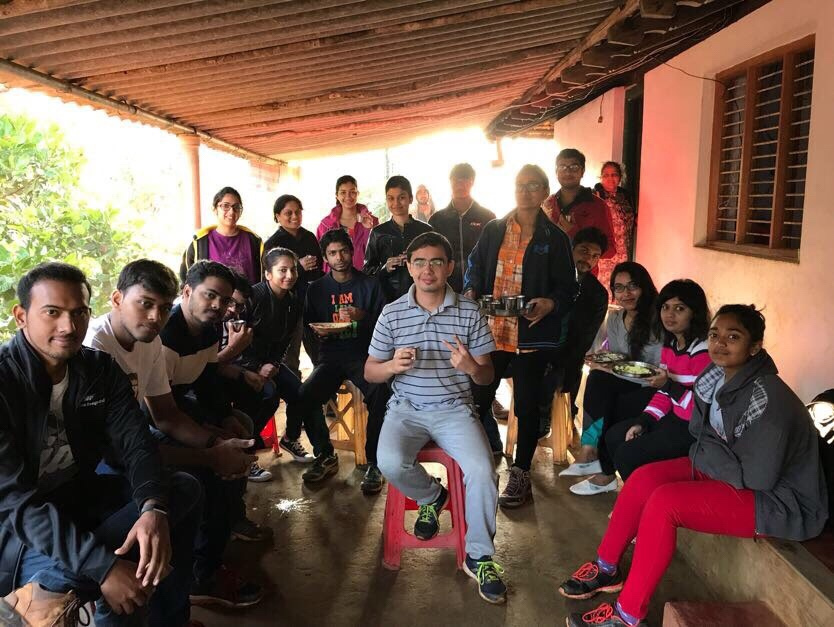 Read more: https://digestanyway.wordpress.com/author/guptautkarsh/