Traffic, tall concrete buildings, meetings, busy streets are a few vignettes of city life. Dumping all these tensions and heading to a serene place to cleanse my soul and spirit was the idea for a weekend. So, I decided to escape in my horse driven carriage from Hell to Heaven, Kudremukh!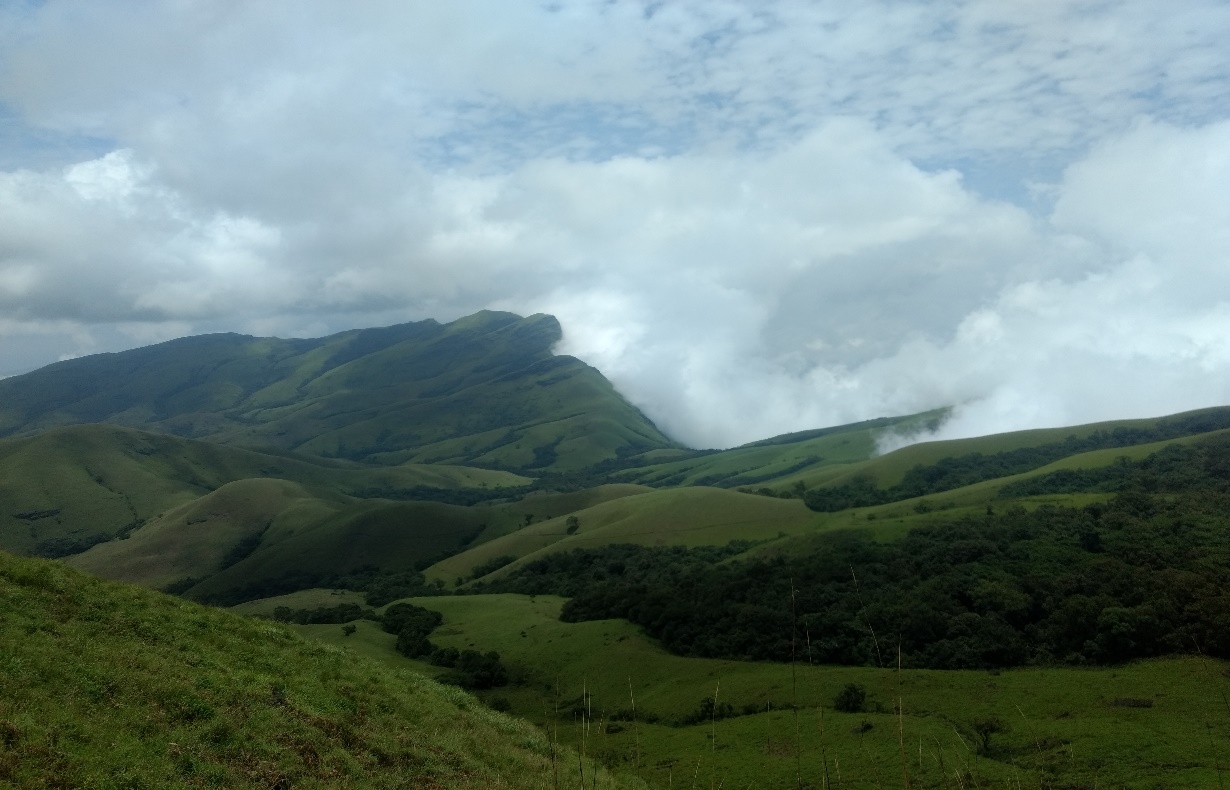 As I had started developing a passion for trekking, Kudremukh was always there on my list. Nature here will be at her best during monsoon and post-monsoon season. Since it was August, I was more inclined in taking part in the Kudremukh trek organized by Nature Walkers. It was my fourth trek with them, I guess that itself will tell about this fun-filled team.
This time I was accompanied by my friend Shuchira and her friend Keerthan. We were thirty-three members including four organizers Hemant, Rajesh, Misha and Samba. The journey started with all of us introducing each other, where everyone had to answer a crazy set of questions so that we could blend with one another throughout the journey without any awkwardness.
Most of us went to sleep but we three interacted with each other as I was meeting Keerthan for the first time. This guy knew so much about wildlife as he himself is a snake rescuer and I was trying to extract as much information as possible from him. I realized that wildlife is such a sensitive topic that is so intense, beautiful and complex at the same time. Well this is the beauty of travelling, you get to meet people from different walks of life and get exposed to the other side of it.
We stopped on the way to have dinner at 11:30pm, where we celebrated our cute and sweet organizer Misha's birthday. After chatting for some more time I was all set to get some sleep and that's when I started feeling nauseous as we were passing through the winding roads of the Western Ghats, therefore, I opened the window to make myself comfortable. That's when the fresh, wild air blew over my face which suppressed my uneasiness and made me sync myself to the tune of Nature.
We all stepped out of the bus at 6:30am and as usual I was looking for the homestay but soon realized that we were still in Baayal and we had to take a bumpy jeep ride to reach reach Mullodi. The fresh morning fog, small waterfalls, paddy fields, and butterflies fluttering around the bloomed flowers and wishing us "Good morning!".
As soon as we reached our homestay, the first sight I got to witness was the view of the green majestic mountains, I was awestruck! In the cold weather, people of Mullodi gave us a warm welcome. We all freshened up and had idlies and freshly grinded coconut chutney as our breakfast. While eating, Keerthan showed us spider-hunting bird having its meal on the banana plant.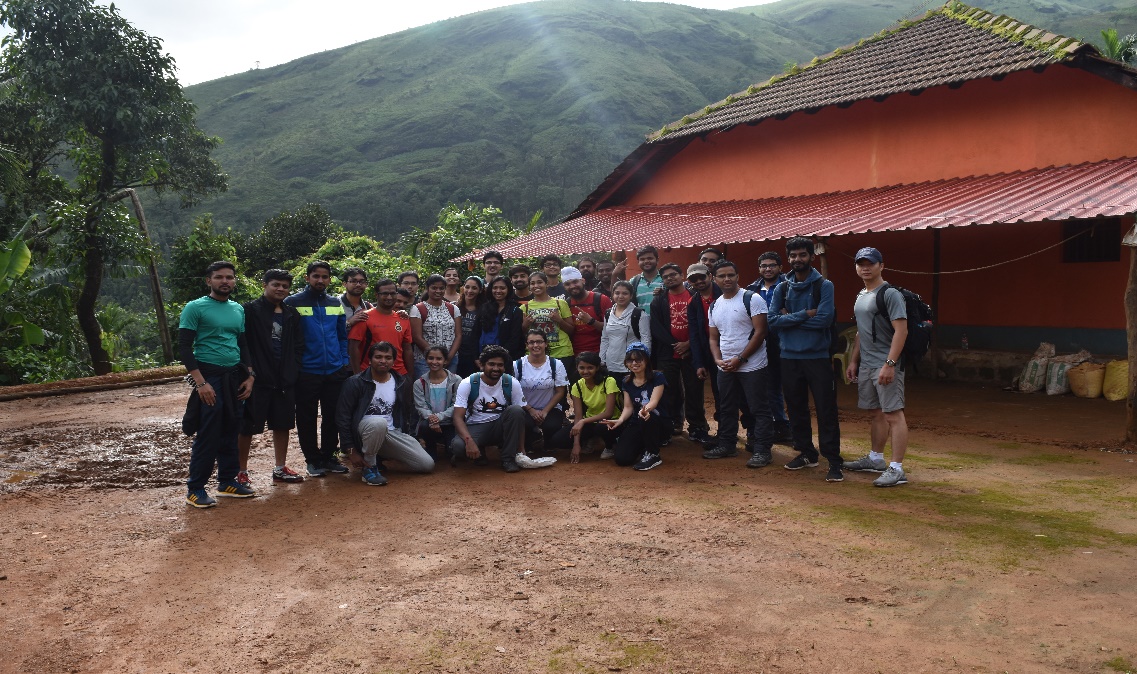 At 8:30 am we were ready to start our trek, Kudremukh rolled out the green carpet to welcome us and we rolled up our sleeves to conquer her. Initial trail had a bit of ascending and descending, but after which its hiking through flat green grasslands. In any direction, I turned the entire place was bursting with different shades of green. On our way, we could hear the streams whispering verses to his ladylove, grasslands.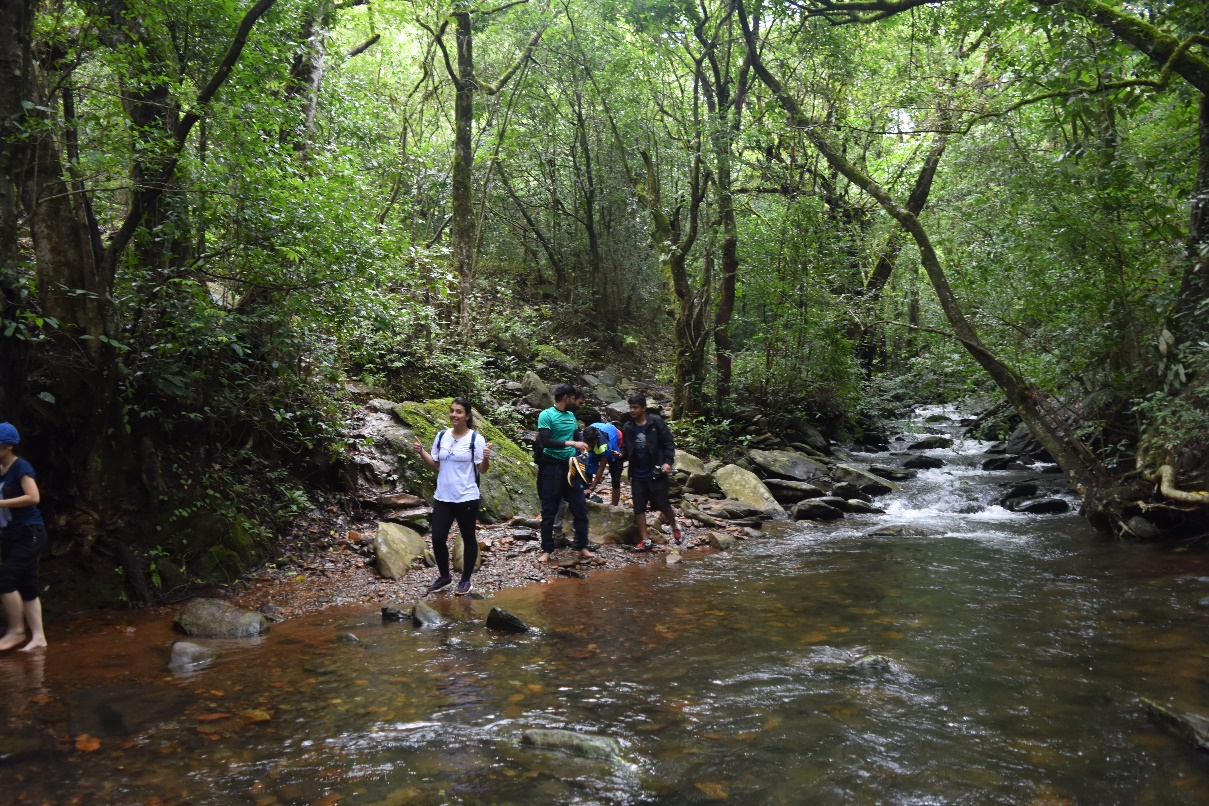 We spotted two beautiful peacocks enjoying Nature, we couldn't click pictures as they were out of camera reach. We had to walk through dense bamboo trees on both sides, they looked like arches to the Heaven. The best and my favorite part of the trek was drinking the cold, pure water from the streams like wild beasts. Its holy water for Nature lovers like us. The total distance of the trek was about 22 km, therefore, the only constant motivation was the breathtaking views we got to witness at every break point. None of us could stop admiring the God's creation, the Nature.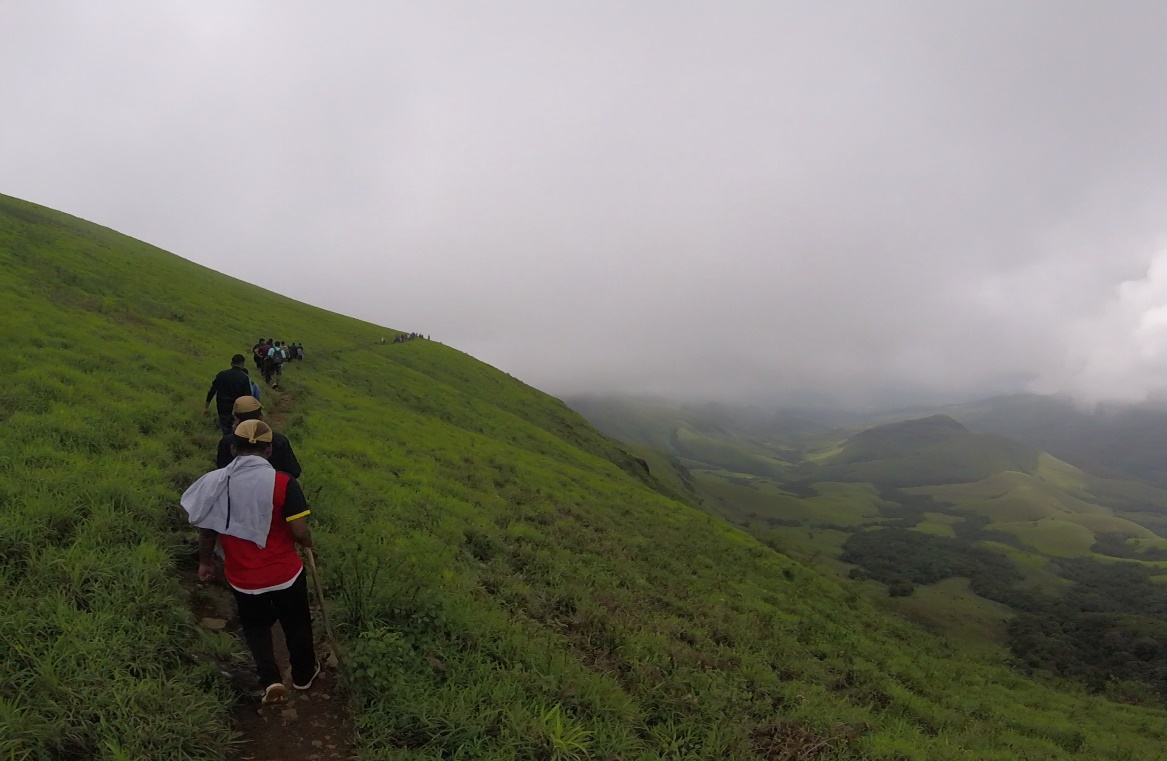 When hiking through thick evergreen forests, the trees seemed to be touching the sky, I guess its Nature's ladder to reach the promise land. There were many waterfalls which at a distance looked like silver tear track on the wrinkled face of the mountain. The water pouring down these magical waterfalls formed small streams because of which our shoes became completely wet, well that was the fun part for me.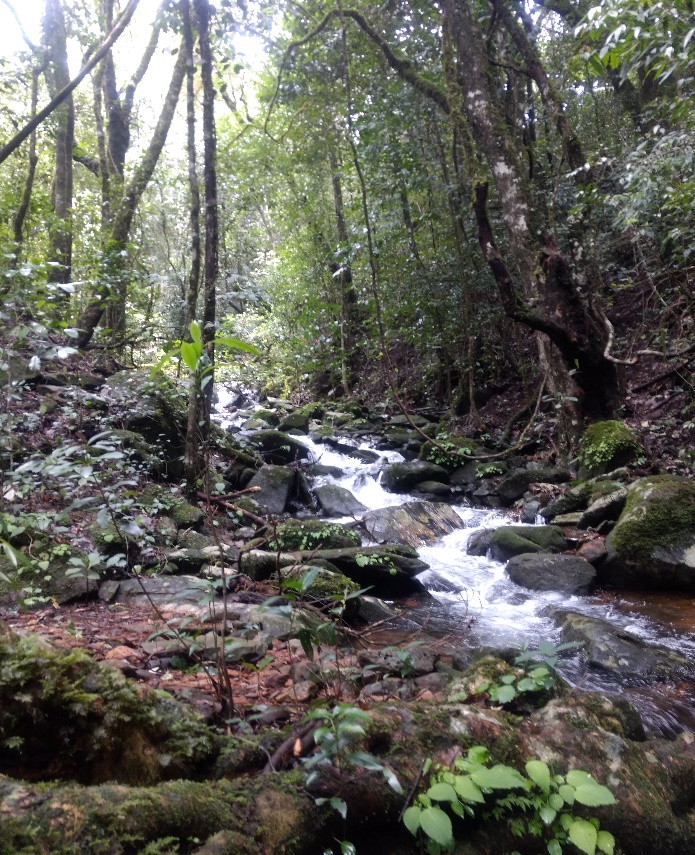 Throughout the trek, we could see the peak which boosted us to reach there as soon as possible. The last part was a bit tiring because the peak appeared to be very near but actually there was a long way to go; after taking a short break, we pulled up our socks to conquer the peak.
After hiking for some more time, we finally reached the peak. Shuchira, Keerthan and I started clicking pictures and we were celebrating our victory, that's when Hemant came and told us that the peak is 100m away. Suddenly our excitement dropped and we geared up to reach the peak.
When I was about to reach the peak, I felt that mother Nature was welcoming me with open arms and I was waiting for this reunion from a very long time. It was a euphoric moment for us, standing on the peak and watching the view from a height of 1892 meters' which just blew my mind! It was a heavenly feeling for us!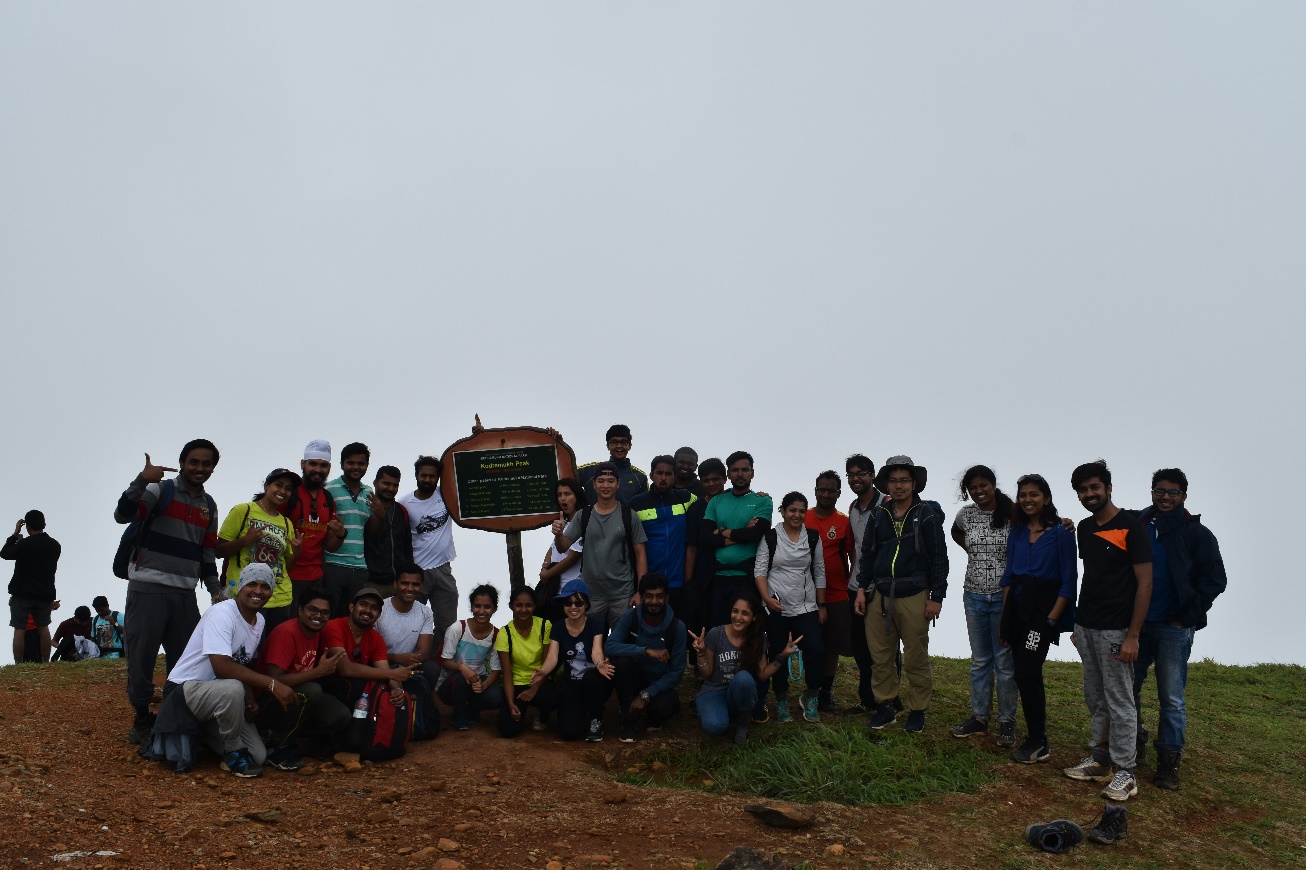 After reaching the peak everyone's stomach started growling, so all of us ate the packed lunch together. While trekking, I had asked Hemant, "Can we sleep at the peak?" and he replied "Definitely. Why not!?". After eating mouth-watering pulliogre it was siesta time! I closed my eyes and I drifted away from this reality and stepped into the wonderland. Sleeping on the crisp grass with clouds surrounding us after a hard climb and with full stomach is one of the most satisfying feeling ever. This experience changed my definition of a happy and content life.
When I opened my eyes, it was like I was immersed in the ocean of clouds, I felt like I was living in paradise! The entire place was fogged up and it appeared like the Earth and sky were reunited and the fog was the bridge of love.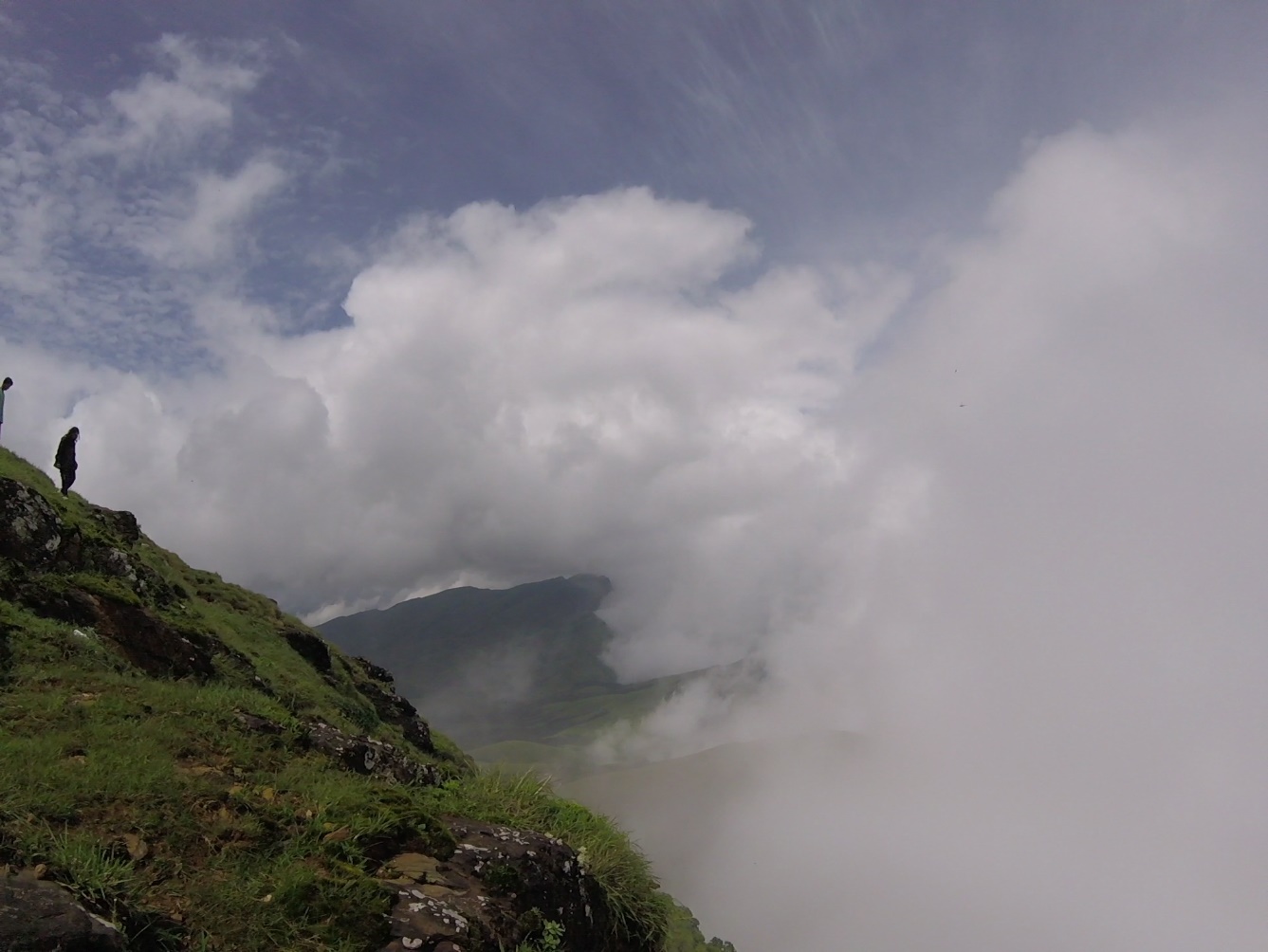 After clicking pictures and spending some more time we started to descend the mountain. On the way, it started to drizzle and all of us pulled out our raincoats as we were expecting heavy showers, but to our surprise it stopped drizzling. Due to this the trail was a bit slippery. While walking in the woods there were wild mushrooms which grew under the shady roof of the forest.
After hiking down the mountains for some more time, we finally reached the homestay. After freshening up, Shuchira, Keerthan, Hemant and I started chatting and pulled each other's legs while eating pakodas and sipping hot tea. There was camp fire outside where appetizing dinner was being served and we all sat together to eat . After this, we played virtual volleyball game, in which Shuchira aced and I failed miserably (:p). Later Hemant and Rajesh were busy experimenting with their camera to click pictures of the galaxy. Shuchira, Keerthan and I sat together to gaze at the stars. When I looked up, there was a constellation of silver snow flaked stars sprinkled on the sky which looked like signature of God on a plain black sheet. These eternal beings were glittering and gleaming with joy to the never ending magical music played by the fairies.
After some time, it was time to hit the bed to get a much-required sleep. Next morning, we were all set to go to a nearby waterfall, for our natural bath. After walking for about 15-20 min from the homestay, an unusual humming sound reverberated in the air. It sounded like a swarm of bees. When the sight of the tress disappeared we gasped in astonishment at the waterfall swishing over the rocks joyfully.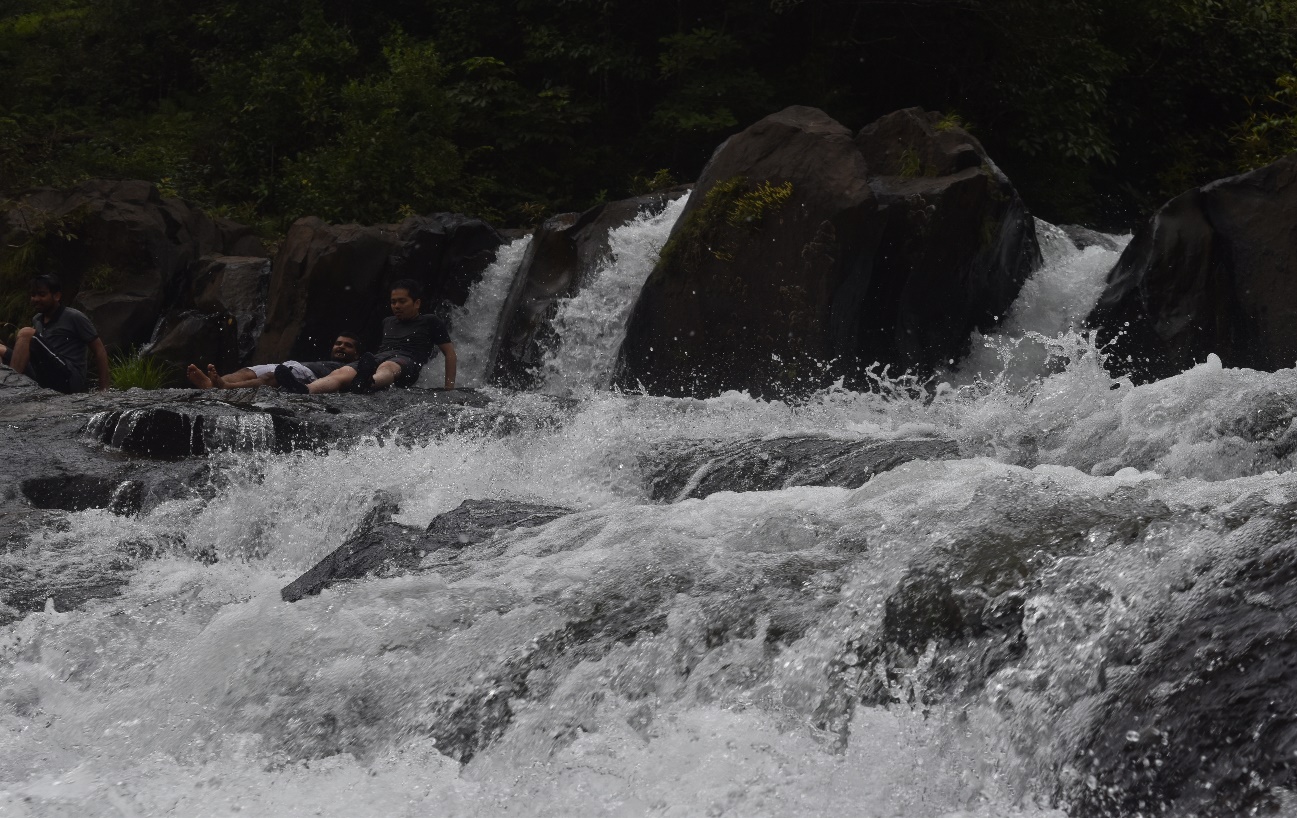 There was a beautiful serene-pool at the bottom which fed another small waterfall. We all had to do a long jump across this small waterfall in which most of us did not succeed and that's when Hemant came to our rescue. He stood against this waterfall holding the rocks for the grip and gave a hand to cross.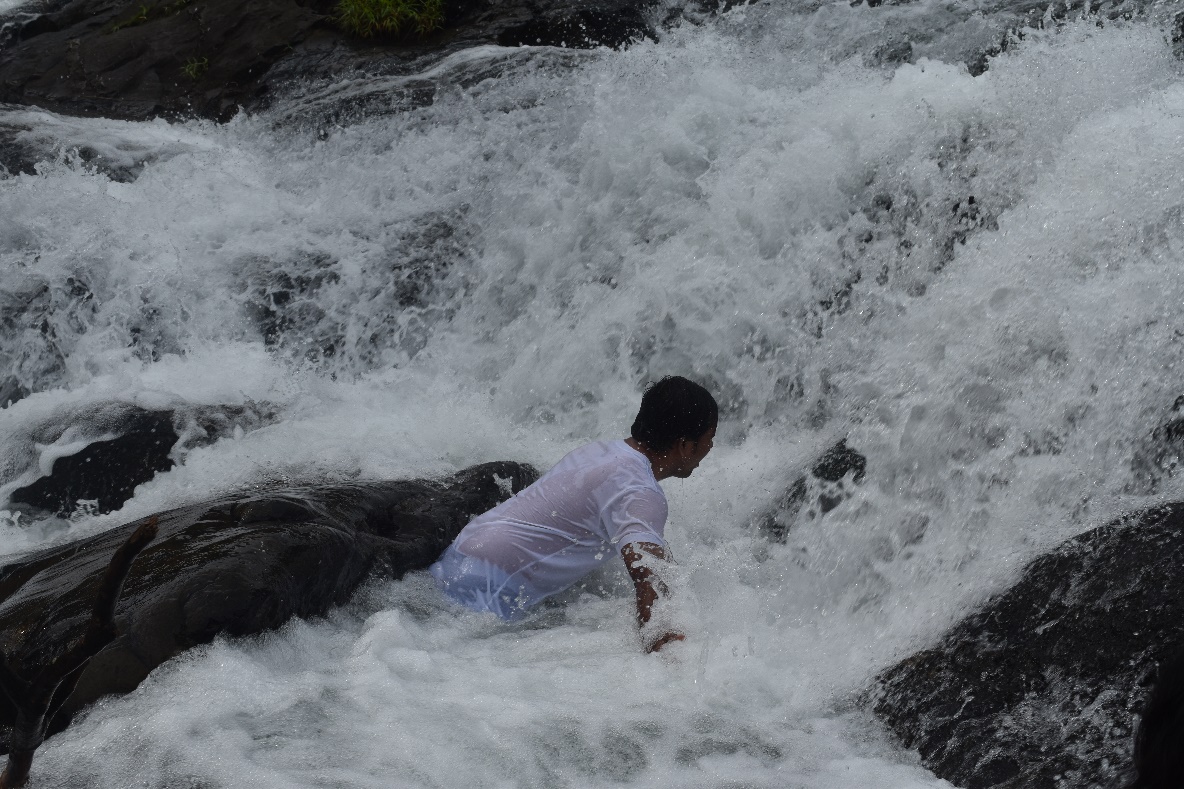 After overcoming this hurdle, it was time for us to take a dip in the paradise-pool. It was so cold that we started shuddering. After some time, we started enjoying at another spot where jet of water in all possible direction was being poured into this infinite pool of bliss. Once we were done with our jacuzzi bath, it was time for us to leave; the noise subsided as we walked away. I took one last glance and again I got dazzled with her beauty.
After reaching homestay we got ready to leave Bangalore. It was time for us to say goodbye to the homestay and to this beautiful place. In the bus, we all danced and played my favorite game, mafia. All good things should come to an end and so did this trek. All these memories will stay evergreen within me just like how Kudremukh was when I saw her!