Trek decided, tickets booked, fitness level checked – Now what !! One of the most essential check is what to carry, yes the check list.
I am ready and excited for my next Himalayan trek "Sandakphu-Phalut Trek" organized by Nature Walkers. A must do trek in India where you can see four of the five highest peaks of the world including Mt. Everest, Makalu, Kanchenjunga, and Lhotse, along with Three Sisters and many other peaks of Nepal, Sikkim, Tibet and Bhutan in one single stretch of snow.
Trekking in Himalayas is quite different than trekking in Western Ghats one of the obvious reason is the altitude difference and thus the number of days spent on the trek. Two days trekking in Western Ghats requires a quite smaller check list than the mighty Himalayas.
So, lets start with the basic gear: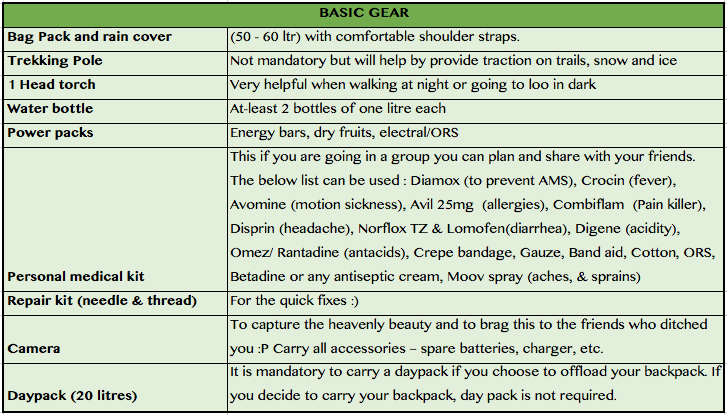 So, now when the bag is decided let fill it up. Starting with Head accessories. Covering and protecting your head is very much essential as temperate and weather changes unpredictably.

Head is done, now time to pack for body accessories. Always, pack with reminder that you need to carry the bag pack by yourself. And girls no you will not get a chance to showoff your skirts, shorts or jeans. If really required carry light-colorful cloths which will look good in pics 😊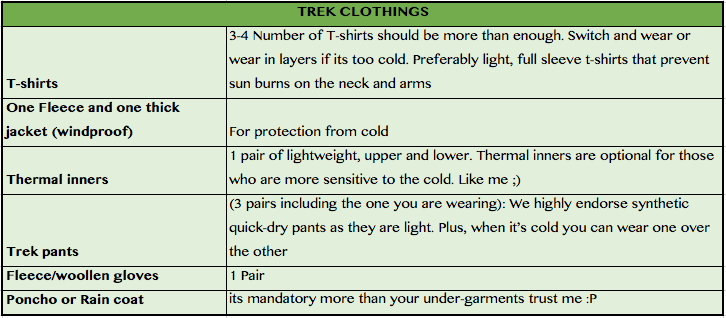 Now for your powerful steps:

NOTE: Carry cosmetic 😜 Not kidding guys it an absolute requirement :

So ready to do some shopping!! 😉😀
Do remember to carry some excitement, enthusiasm and positivity!
Stay tuned for some health tips for Himalayan treks. And keep exploring and feed your adventures soul.
Check out the various treks available at Nature Walkers (www.naturewalkers.in)
Follow me on : https://www.instagram.com/my_flyingshoes/