You don't need magic to disappear…
All you need is a destination!!
Come

..

Find your calling, as the sounds of nature fill your soul.. Give

into

the beauty of our colossal mother nature of South India

..

Because like the mystic poet Rumi once said

.. "

Travel brings power and love back into your life!

"
 Athirappilly: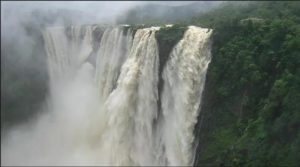 Leave behind the madness of the city life and drench in the fresh sweet water spray as every fiber of your being resonated to the sound of the majestic roar of the Athirapally waterfalls. Niagara of India and the biggest falls in Kerala, this is a treat for your senses. Quench your adventure thirst as you trek along to the foot of this magnanimous falls.  Here, you find yourself engulfed in the cloud of fine water droplets and all you hear is the falls plunging towards the ground with all her force. Swim in the stream and taste a piece of sweet blissful heaven. You can also trek to the top of the falls and feel like superman wishing you could fly down along, racing with the falls and piercing your way through the water cloud from a height of 80ft.
 Located at 70km from Kochi and 100km from Munnar, this is a perfect weekend getaway. Perched on the entrance of Sholayar hill range this magnificent waterfalls is on the Chalakudy River falling in multiple parallel streams. This Chalakudy river flows through South India and to merge into the Arabian sea. She is a happy home for over 85 species of freshwater fish. The Athirapally forest is also a natural habitat for different species like the Asiatic elephant, leopard, tiger, many types of hornbills, etc. Charpa Falls, Vazhachal Waterfalls, Malayattur Wildlife Sanctuary are among the places to visit nearby. It also offers adventure sports like river rafting etc.
Thalaiyar:

With a legend behind it, this overpowering force of nature will not fail to mystify you.  It is said that Goddess Kamakshi was born at the foot of this spectacular falls in a bamboo bush. After you trek to the foot of this falls, you look up to see the water plunging over you. One may wonder "Is she falling right out of the sky". Thalaiyar falls will leave you thinking how small we are when we compare ourselves to mother nature. Yet we have been given the power to conquer her with love. Hence, fill your eyes with this towering beauty and fill soothe senses with the cool water as you get to play around on safe rocks where the falls wash you of all your stresses.
Being the 3rd highest fall in India and tallest in Tamil Nadu, Thalaiyar Falls or Rat tail falls is 40km from Kodaikanal. She plunges from a height of 975ft and is visible to great distances like rat's tail amidst the forested area. Having no access by road, you have to trek starting from the Manjalar dam to the bottom of the falls along potato fields and fresh mango orchards until you reach Kamakshi's shrine. Beyond this point it gets challenging. Climbing along the stream over large boulders, it's one tough trek that is worth it once you reach the bottom of the falls.  After this 15km, 1 day long trek, you are sure to return as more humble and happy soul!
Kiliyur: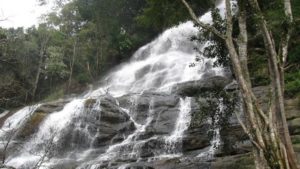 Who says that hidden treasures are only found in shipwrecks or buried deep down in the ground? We can show you a treasure that fills your soul with happiness and contentment and leaves you feeling fresh and new. Take a nice long natural shower with mineral-rich mountain water as the sweet smell leaves you mesmerized and lost in the experience. Get drunk on this cold pure water and also mediate as the falls wash over you. After all, you deserve it, once you make your way to this place through tough terrain.
Just about 4kms from the Yercaud bus stand, the Servaroyan hill range lies this hidden gem. This is formed by overflowing waters of the Yerkaud lake. Dropping from 300ft into the Killiyur valley it is breathtaking during monsoon. The trek to this falls is not an easy one. Treading through a path full of twists and turns, holding onto roots slinging from rock to rock. Slide down muddy paths and be Tarzan. And, you will finally reach this spectacular beauty and feel the peace you have longed for.
Magod Falls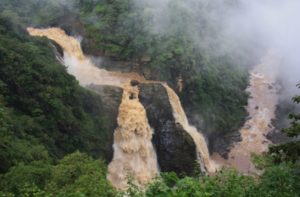 Do you want to experience nature as raw as she can get but yet she's easy on you? Magod falls is just the place for you! Get acquainted with wilderness as you trek through thick semi-evergreen forests to witness this captivating sight, tucked amidst lush greenery.  Fed by River Bedti, the Magod cascades from about 650ft into a narrow rock valley roaring and gushing down like she owns the whole forest.
17km from Yellapur-Uttara Kannada is the fascinating Magod falls. Keep your ears perked and watch out for spotted deer, porcupine, flying squirrel and many more rare to see wild animals as you make your way through the forest. If you're lucky, you see them all. Upon reaching, prepare yourself to be awestruck by the exceptional view. As she flows down in 2 steps with all her might, this is no doubt one of the best tourist places in Dandeli and also a trekker's paradise. You can visit the famous sunset point Jenukallu Gudda which is 6km from here.
Meenmutty: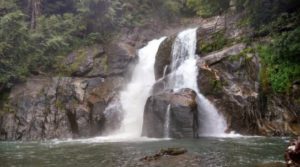 As she graciously flows down from a height of 1000ft in 3 decks, and as the lush, moist rainforest quietly witnesses this beautiful dance of nature, you will feel speechless. Wishing you could live in this heaven forever, free from worries, and free from responsibilities. Experience this natural wonder in near seclusion.
Standing tall at about 29km from Kalpetta in Wayanad, the water plunges down from 300 meters in three stages. Each stage requires separate arduous jungle treks. Best time to visit will just after the monsoon season.