Sandakphu Trek — All You Need To Know
Boundaries are often fluid but also forbidding, whether it's the ones we draw, or those that nations create and bicker over. But crossing them, both literally and metaphorically, can lead to unexpected, wonderful adventures. This is something that you would discover in Sandakphu a journey bound to put you out of your comfort zone.
Travelers flock to Sandakphu to spot Everest, Makalu, Kanchenjunga and Lhotse peaks, but it is the Khangchendzonga (Kanchenjunga) that dominates the landscape. Known as the Sleeping Buddha (due to its silhouette), the massif looks particularly fetching in the morning light. A challenging but rewarding trek which offers spectacular views of the Everest and Kanchenjunga.  It offers a good distant view of Mt.Everest (8850 m) accompanied by Lhotse (8501m) and Makalu (8475m) and a close view of Kanchenjunga (8586m).
Sandakphu trek is the must-embark trail
"Sandak—who," you might ask. And you'd be well within your rights to be bewildered. For a place that straddles two nations, it keeps a relatively low profile. Sandakphu is the highest point on the Singalila Ridge and the tallest peak in West Bengal (11,930 feet), lying on the border between Darjeeling in West Bengal and Ilam district, Nepal. The ridge lies in Singalila National Park, where magnolias and rhododendrons make mountain views doubly special. Sandakphu's calling card, however, is the view, four out of the five tallest peaks in the world (Everest, Khangchendzonga, Lhotse, and Makalu) can be seen from the ridge, luring trekkers from around the country.
Interesting and enthralling, right? Want to know more and how Nature Walkers will help you plan a wonderful trek to this region. Read along………..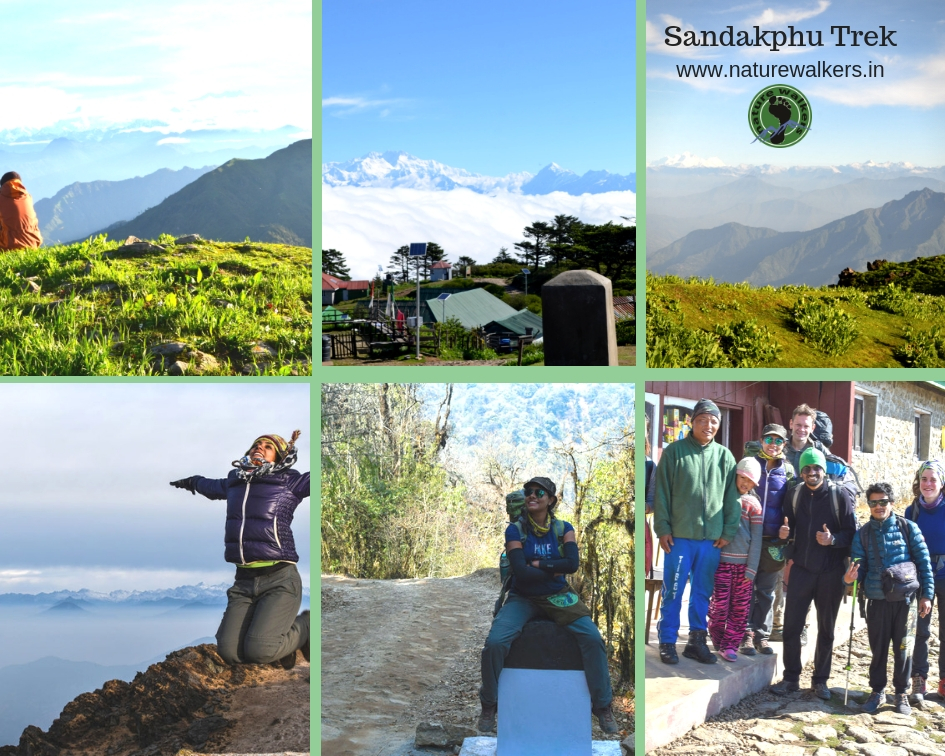 Sandakphu peak is also home to a village and few hostels. From the summit of Sandakphu, you can clearly see the unimaginable beauty of four of the world's five highest peaks, Everest, Kangchenjunga, Makalu and Lhotse. How about gearing up your level of enthusiasm and overcoming the enormous height of Sandakphu?
It is rightly said that your trip to Darjeeling is incomplete if you have not savored the thrill of trekking to the highest peak in the state of West Bengal. Well, let me tell you that the trekking trails to Sandakphu are incredibly stimulating and full of enthusiasm.
If you love trekking, then unarguably, Sandakphu should be on your bucket list. Apart from enjoying its thrilling routes passing through rich vegetation and challenging heights, you can also enjoy its beauty at the summit surrounded by the dense clouds.
Singalila National Park is another tourist attraction in the vicinity of Sandakphu. Here, you can spot several rare and endangered species of plants and animals. How about witnessing the rich wildlife in the forests of this beautiful national while on your to Sandakphu?
Also read – Best time to do Sandakphu Trek
Sandakphu is a year-round destination. However, if you are not expecting trekking trails to be covered with snow, then the best time to embark on your journey to Sandakphu is from March to June and October to November, as during this period of time, the climatic conditions are favorable and the weather is clear, letting you trek properly.
Overview
Region :- West Bengal
Duration :- 6 Days
Grade :- Moderate
Max Altitude :- 12,000 Ft.
Approx Trekking Km :- 46 KMs
Small Itinerary
Day 1) Getting to Manebhangjung. Pickup from NJP station is at 9 am till 11 am one day prior the trek date. The travel time from NJP to Manebhagjung is about 4-5 hours. The cost of the transportation is Rs. 3500 per cab (5-6 people).
Day 2) Tumling – (2895 m or 9499 ft.) through Chitray (2400m – 7874 ft.) and Meghma (2800m or 9186 ft.), Distance – 11 kms from Manebhagjung.
Day 3) Kalipokhri – (3185 m or 10449 ft.) Distance – 11 km from Tumling.
Day 4) Sandakphu (3636m or 11929 ft.) through Gairibas (2625 m – 8612 ft.). Distance – 7 kms from Kalipokhri
Day 5) Sabargram (3585 m or 11761 ft.) Distance – 12 kms from Sandakphu
Day 6) Gorkhey (2142m or 7027 ft.) Distance – 17 kms (covering Phalut on the way).
Day 7) Sepi (1900m or 6234 ft.) t or hrough Manna – Distance – 15 kms
Departure from Sepi to NJP. (5-6 hours travel time) The Cost of the Cab from Sepi to NJP Station is Rs 5500 (5-6 people). You will reach NJP Station approximately at 8pm. (We request you to do the onward journey after 8pm from NJP)
BOOK NOW:
Sandakphu: Trekking your way to Paradise