The North Eastern region of India offers numerous adventurous and remarkable trails that attract a lot of travellers across the globe. Dzongri trek begins from Yuksom and finishes at Yuksom in 5 days.  For the trekkers who want to explore more in a short duration the Dzongri trek is the most apt option. Trekkers on this wonderful trek get to explore and see the mesmerizing exquisiteness of scenic landscapes during trekking. In actual fact, Dzongri and Dzongri La (view point) is the paramount spot to get a view of the spectacular mountains and its towering peaks in the Sikkim Himalayas.
Along with the impressive Mt. Kangchendzonga (8585 meters), the 3rd highest mountain in the world, you can also discover some of the most famous peaks during this trek from the Dzongri View Points like Mt. Kabru south (7317 meters), Mt. Kabru north (7338 meters), Mt. Simvo (6811 meters), Mt. Pandim (6691 meters) Mt. Kabru Forked (6108 meters), Mt. Rathong (6679 meters), Mt. Kumbhakarna (Janoo) (7710 meters), Mt. Kokthang (6147 meters), Mt. Goechala Peak (5127 meters) and Mt. Frey Peak (5830 meters). This make it one of the must do treks in Himalayas.
Difficulty Level of the trek
It is said that the difficulty of any trek depends of the ability and strength of the person travelling. Although considering other treks this trek is considered to be moderate – difficult trek. The gradient is gradual incline. The average kilometres of trek is about 8-9Km per day which is mostly covered in the morning and afternoon as the weather changes a bit foggy after later afternoon.
It is very much required to get acclimated to the weather because of which we stay a day longer before the start of the trek.
The trek does test your stamina, your endurance, you motivation and your will power because of which we request you to do proper planning and preparation for this trek.
Small Itinerary
Day 1: Reach Yuksom; 6-8 hours drive from NJP. Transport from NJP will be arranged at 9.30 am. Cost of cab – Rs.5,500 per vehicle.
Day 2: Yuksom (5,643 ft) to Bhakim/Sachen (8,654 ft); 5 hours
Day 3: Bhakim (8,654 ft) to Tshoka (9,701 ft); 4 hours
Day 4: Tshoka (9,701 ft) to Dzongri (13,024 ft) via Phedang (12,083 ft); 6 hours
Day 5: Dzongri (13,024 ft) to Dzongri top (13,778 ft) and back to Tshoka (9,701 ft); 8 hours
Day 6: Tshoka (9,701 ft ft) to Yuksom (5,643); 6 hours
Day 7: Drive to New Jalpaiguri. Cost of cab – Rs.5,500 per vehicle
Please note that you will be staying at a guest house in Yuksom. The stay on all other days is in tents (3 per tent). Request to reach before 3:00 PM to Bagdogra Airport/NJP as arranging Cabs/Jeep will be difficult after 3:00 PM. 
Additional information
| | |
| --- | --- |
| location | Yuksom, Sikkim |
| duration | 6 DAYS –5 NIGHTS |
| age | 12 – 45 Years |
| group-size | 30 People Max |
| trek distance | 40 KM |
| difficulty level | Moderate to Difficult |
Yuksom is a small town of about 5K population. The name of the village stands for "The meeting place of three lama". "Yuk" means "Lama" or "Purush" means "man" and "som" means "three".
It is also the first capital of Sikkim before Sikkim was part of India. It has also have the oldest monastery in the world ~ "Dubdi Monasty". One must visit this monastery if you are in town. It has a small market place to do some light shopping but please note the prices are big higher than other town of Sikkim as the place is very popular among tourists.
The closest airport is Bagdogra and NJP (New Jalpaiguri) is the closest railway station to the Base camp. The cost of the travel from NJP or Bagdogra is borne by the trekker. (A week prior communication is required for cab booking) It usually cost about Rs. 3500 per cab for 5-6 people. The Travel time is about 4-5 hours to the Base Camp of Nature Walkers.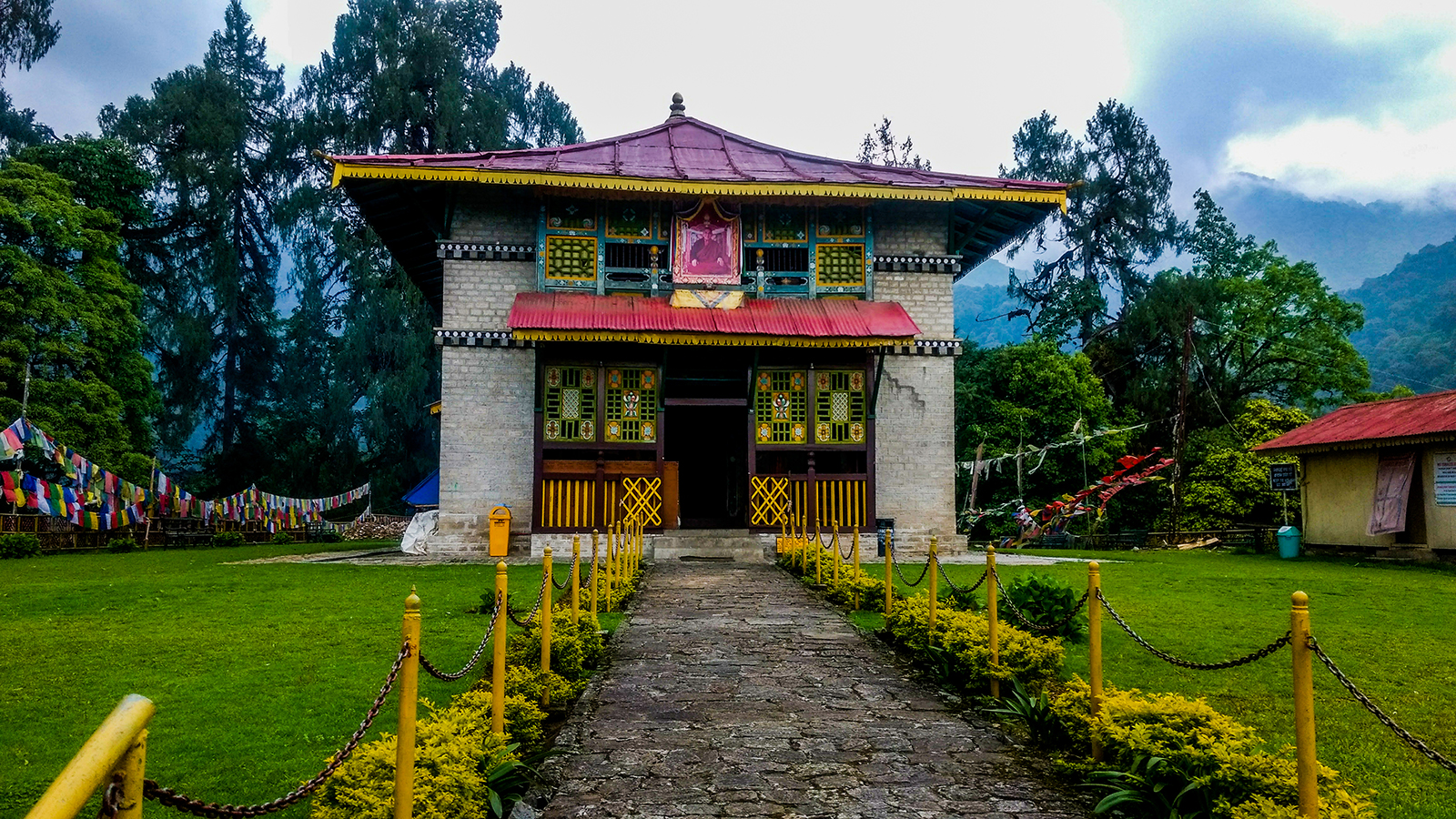 After debriefing and a night of acclimitization, we would be starting our trek at the early morning rise to our next camp site. I.e Bakhim.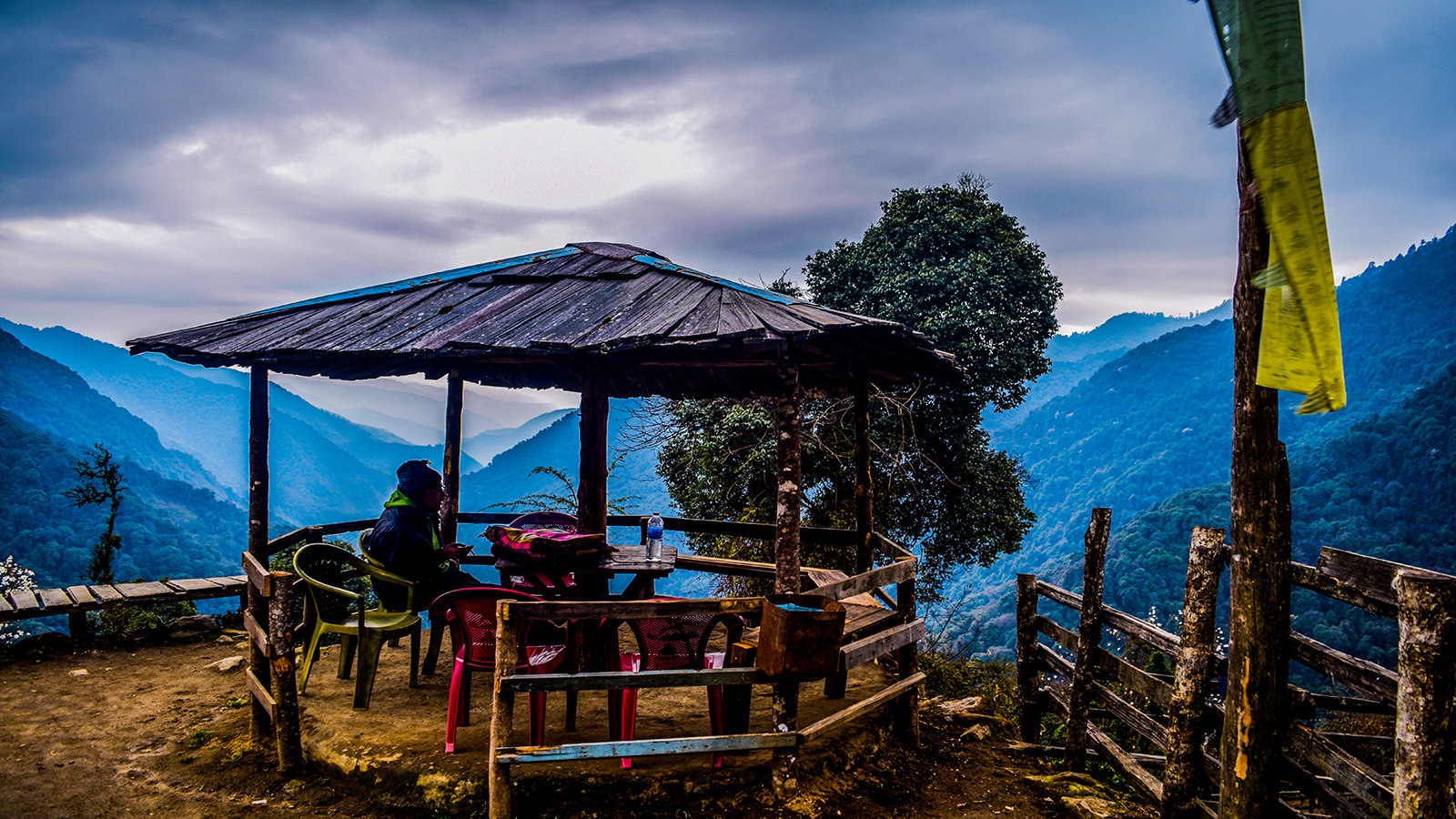 Dzongri Trek is considered a moderate to difficult trek in Himalayas. So we request you prepare your health and plan your travel properly. For mode guidelines you can also check out our blog on "How to prepare yourself for High Altitude Treks".
The Trek start from the town itself. Walking to the north through the town, you will come across the trail, the initial trail of the trek is bit rocky with little ups and downs.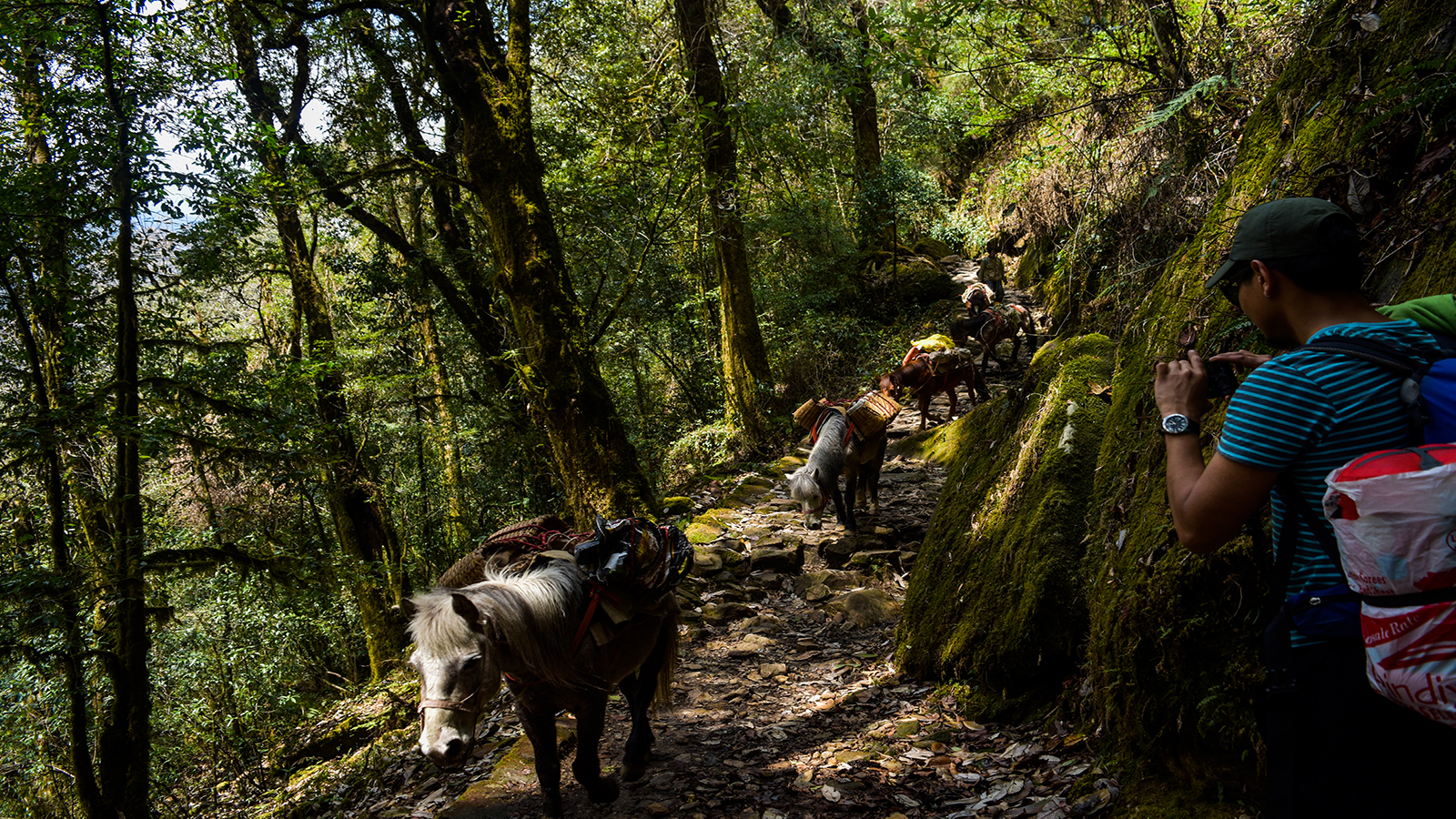 From Yuksom, the trail towards Dzongri starts just behind the houses after the forest check post. Cross the last few huts of Yuksom and skirt around the fields of Yuksom to enter the V shaped valley of the Rathong River.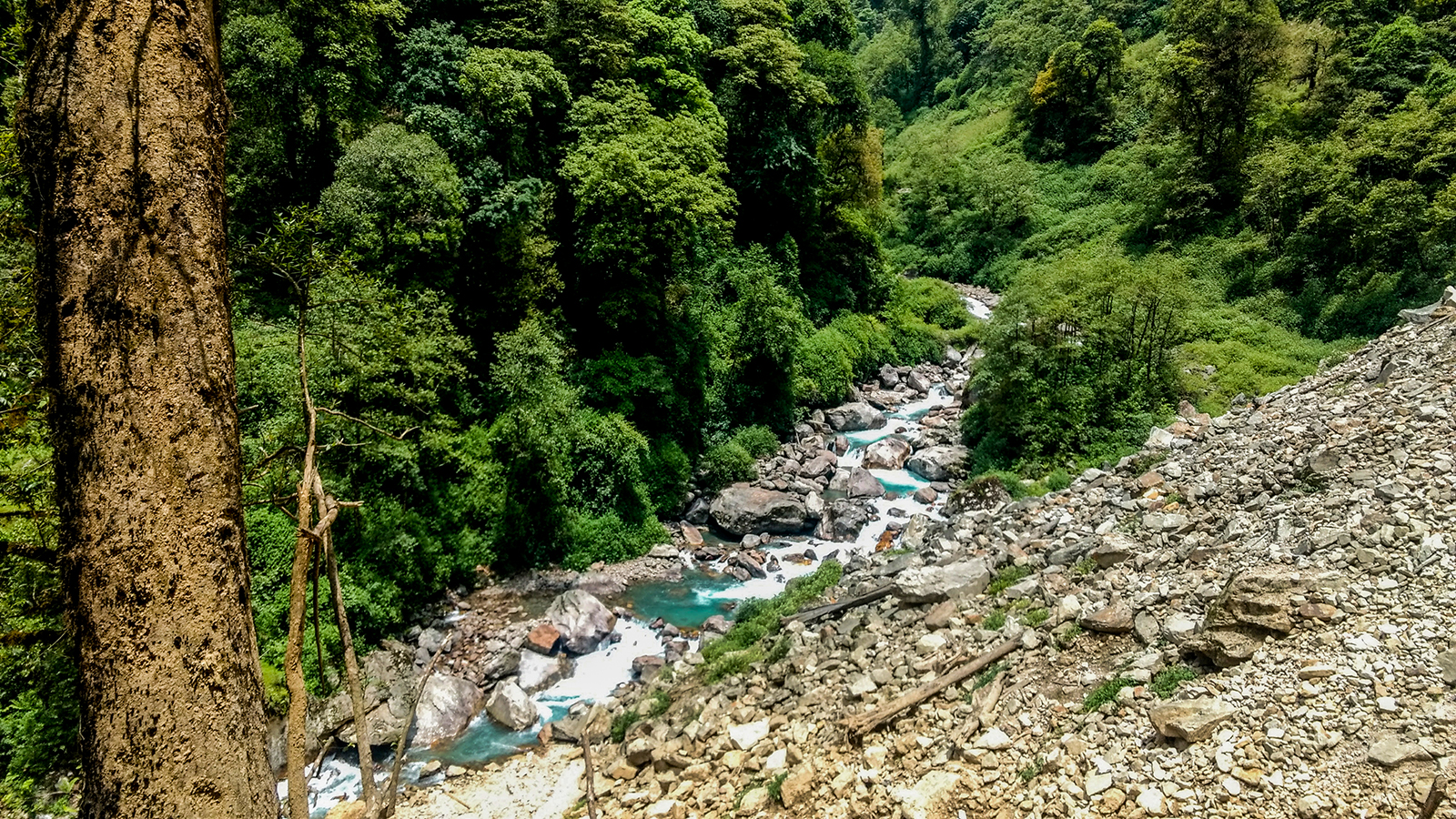 Early morning start trekking following the trail starting from Yuksom toward the North and climbs up through dense moss laden forest which is enriched by Oak, Spruce, Chestnut, Giant Magnolia, Rhododendron, Ferns and several varities of colourful Orchids  with the Rathong river gorge alongside. The trail crosses four bridges on waterfalls like Churchery and Montogang and stream like Phakhola and Chursey to reach Bakhim. After crossing Prek-Chu river the toughest part of the section arrives as the trail ascends a 70 degree uphill to Bakhim.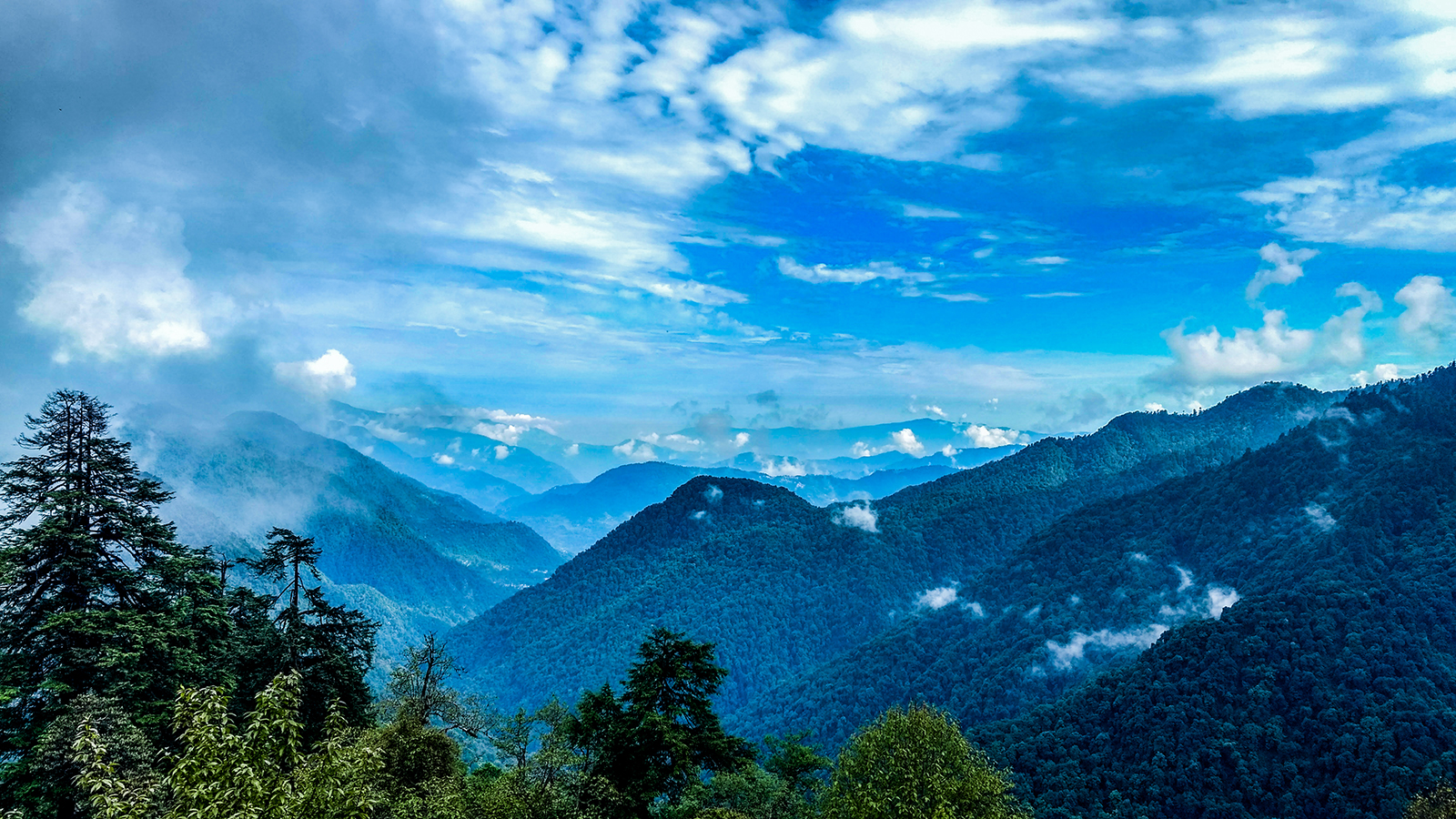 Day 3: Next Camp Site at "Tshoka"
The total distance from Yuksom to Tshoka is about 16Kms with a camel hump trail. On the way you will come across about 4 bridges. In a day about 50-60 people travel through this path, so it advisable to give way to everyone come across. If you see any animal crossing the path, always take the mountain side to stop and give way.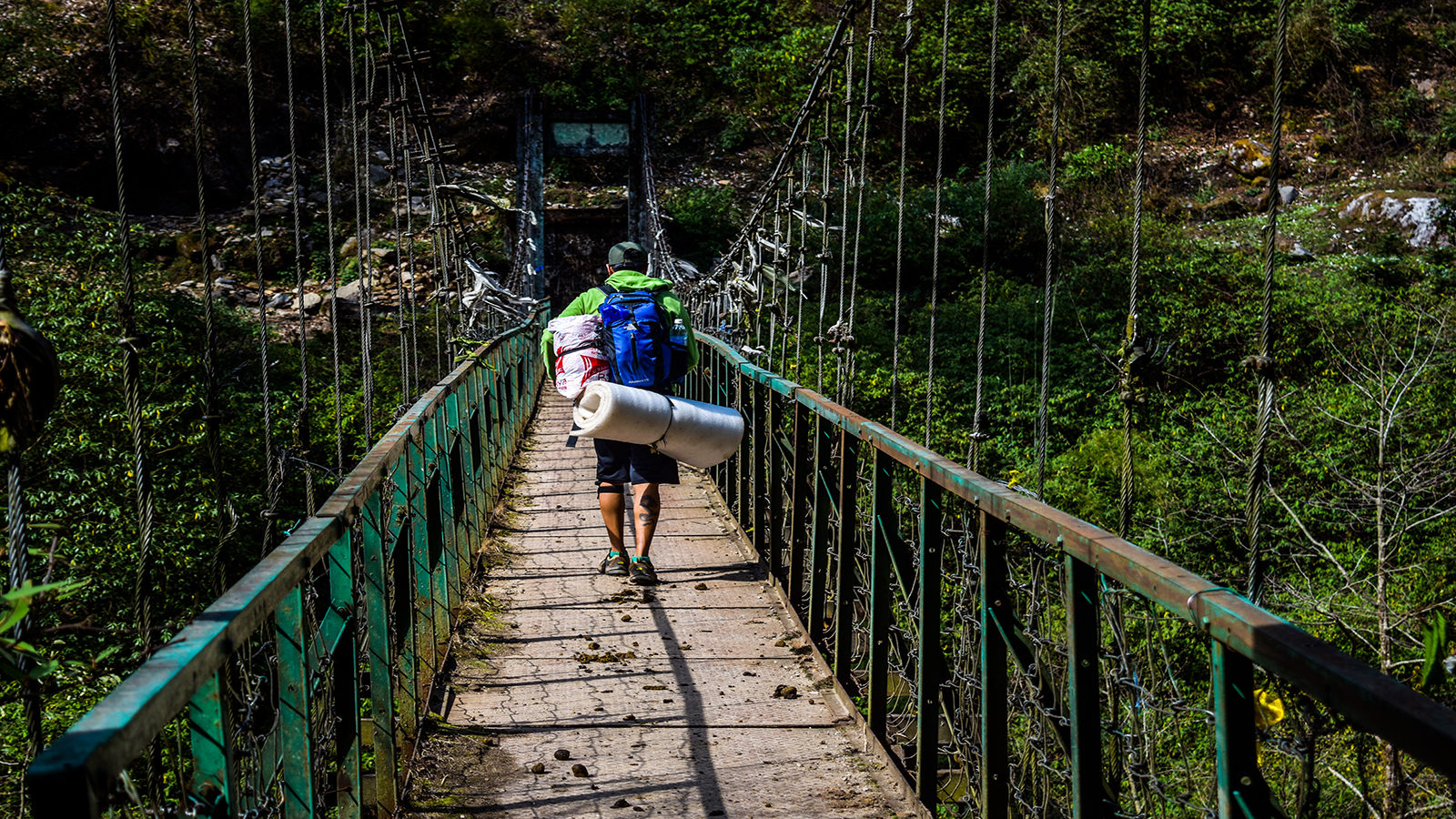 The after trail of Tshushay Khola falls is also very beautiful as the trail goes through chestnut and tall palm trees and continuing the rocky path will take you to a resting point called "Bakhim". The View of the valley we just crossed from "Bakhim" is very satisfying and relaxing.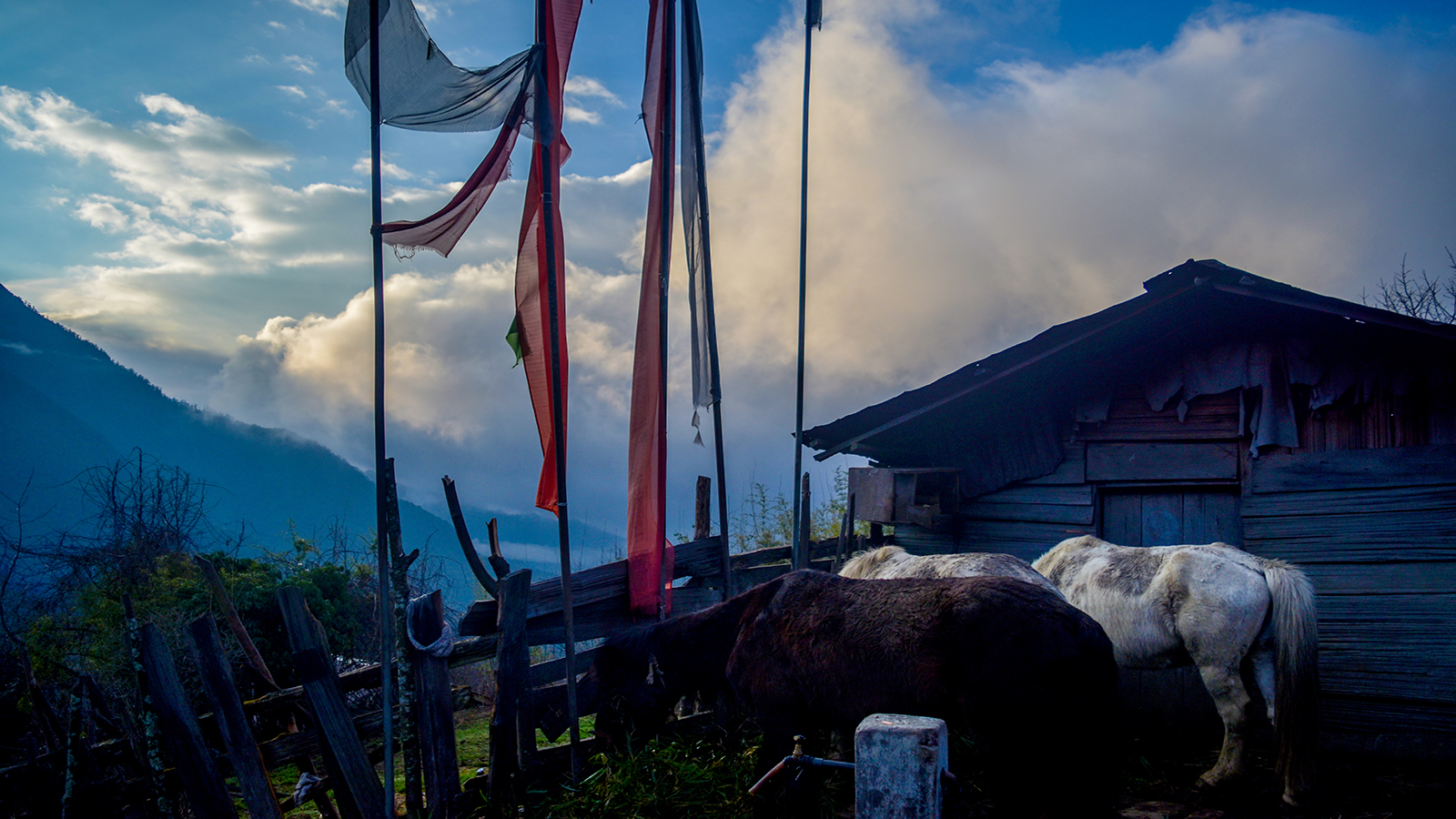 After resting for a while we would continue our ascend to "Tshoka". The trail is not very steep but have a zig-zag pattern. You can witness several wild strawberries plant on the way. Plucking and eating wild strawberries on the way makes this trail more enjoyable and fun.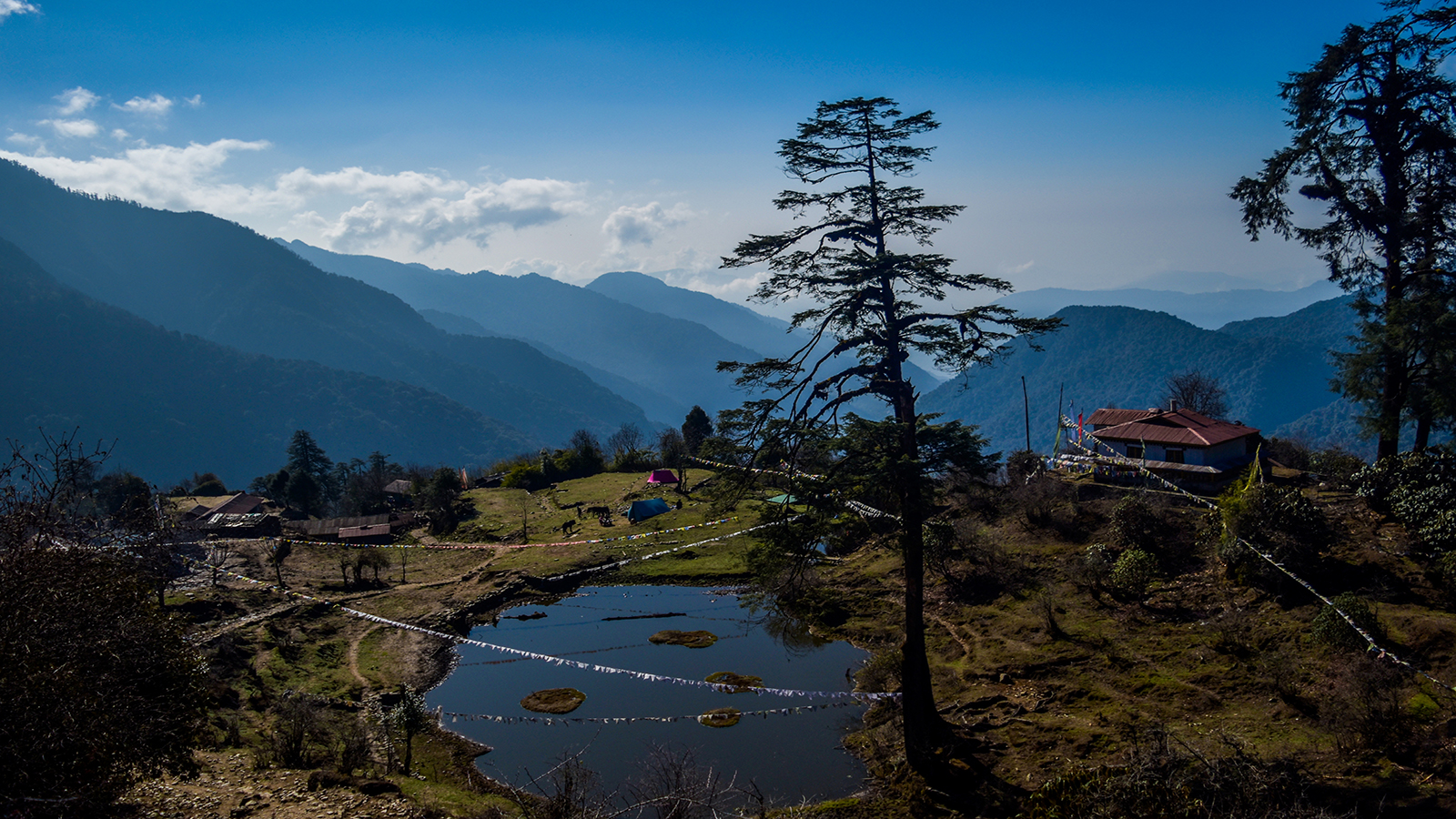 Also, please do not miss the early morning view of the White Mountains from "Tshoka".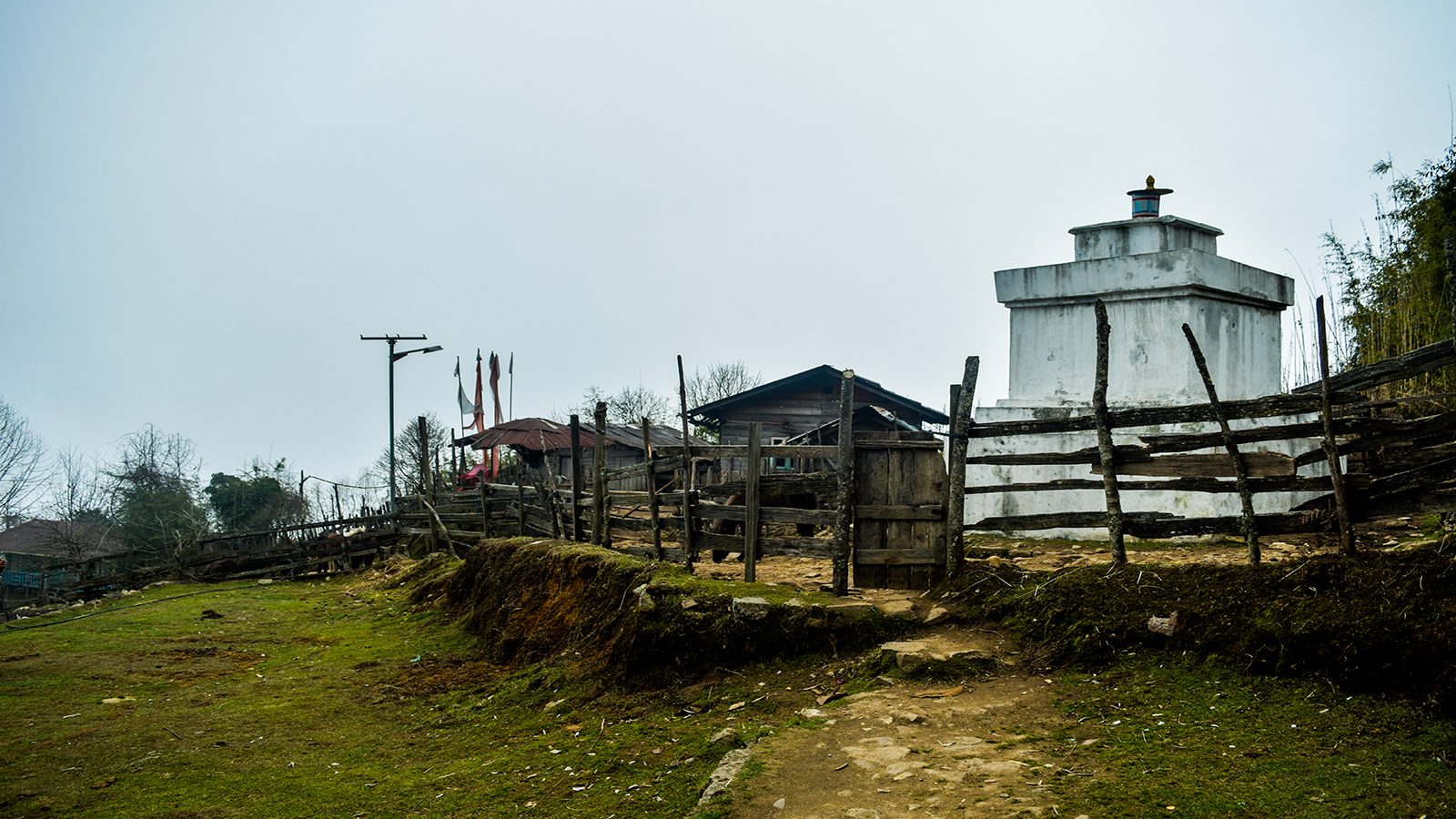 After a warm dinner and cozy sleep in the sleeping bags, we would be starting for our next campsite in the morning i.e. to "Dzongri".
The initial trek from Tshoka is little steep through beautiful rhododendron trees by the side. You could face muddy path during wet season but the wooden blocks on the way would help you give good support while walking.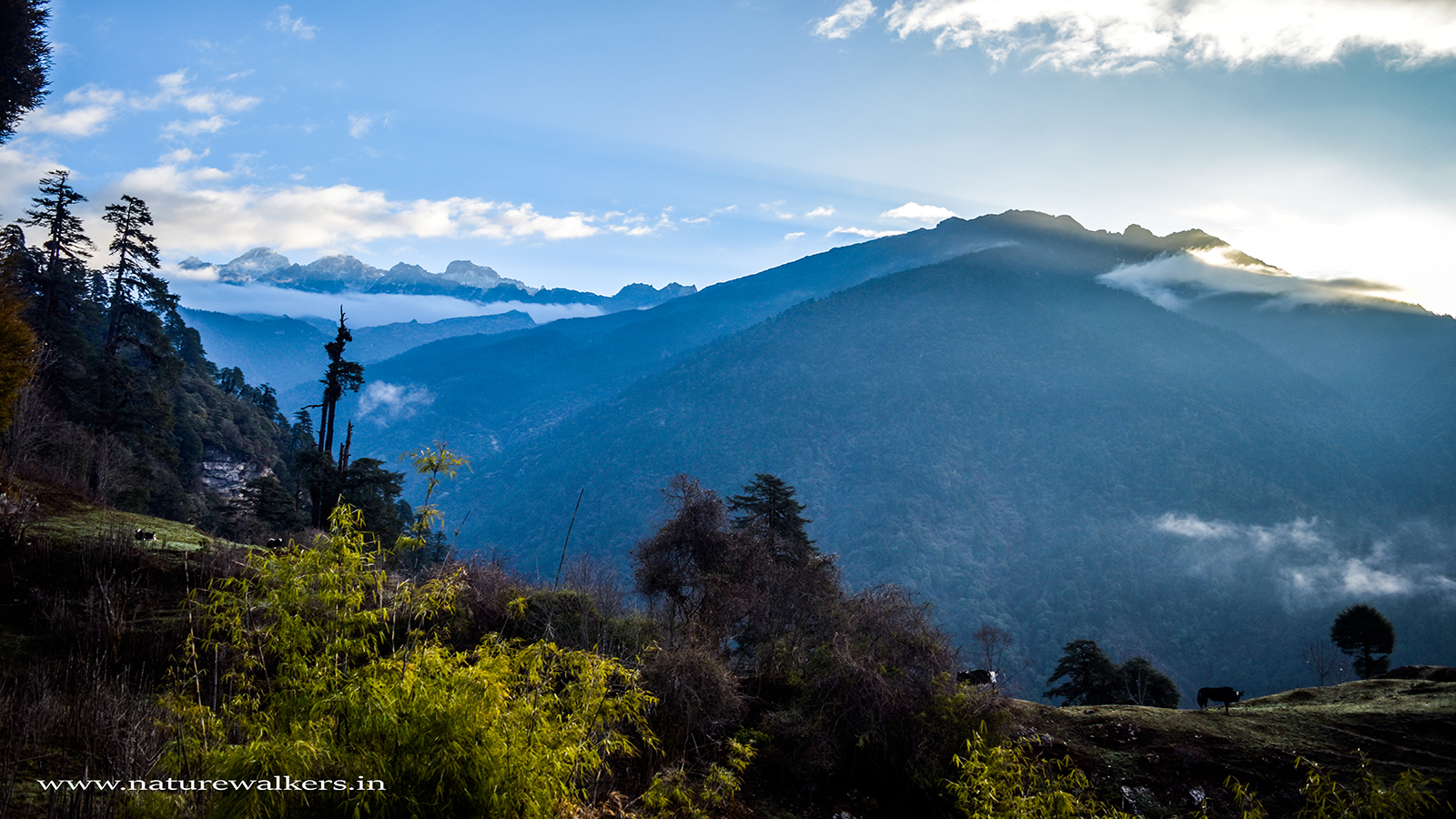 Like yesterday, climb up to the little pond leading to the monastery, and then follow the trail that runs to its right. The trail begins to climb sharply and within minutes Tshoka is a tiny hamlet below you.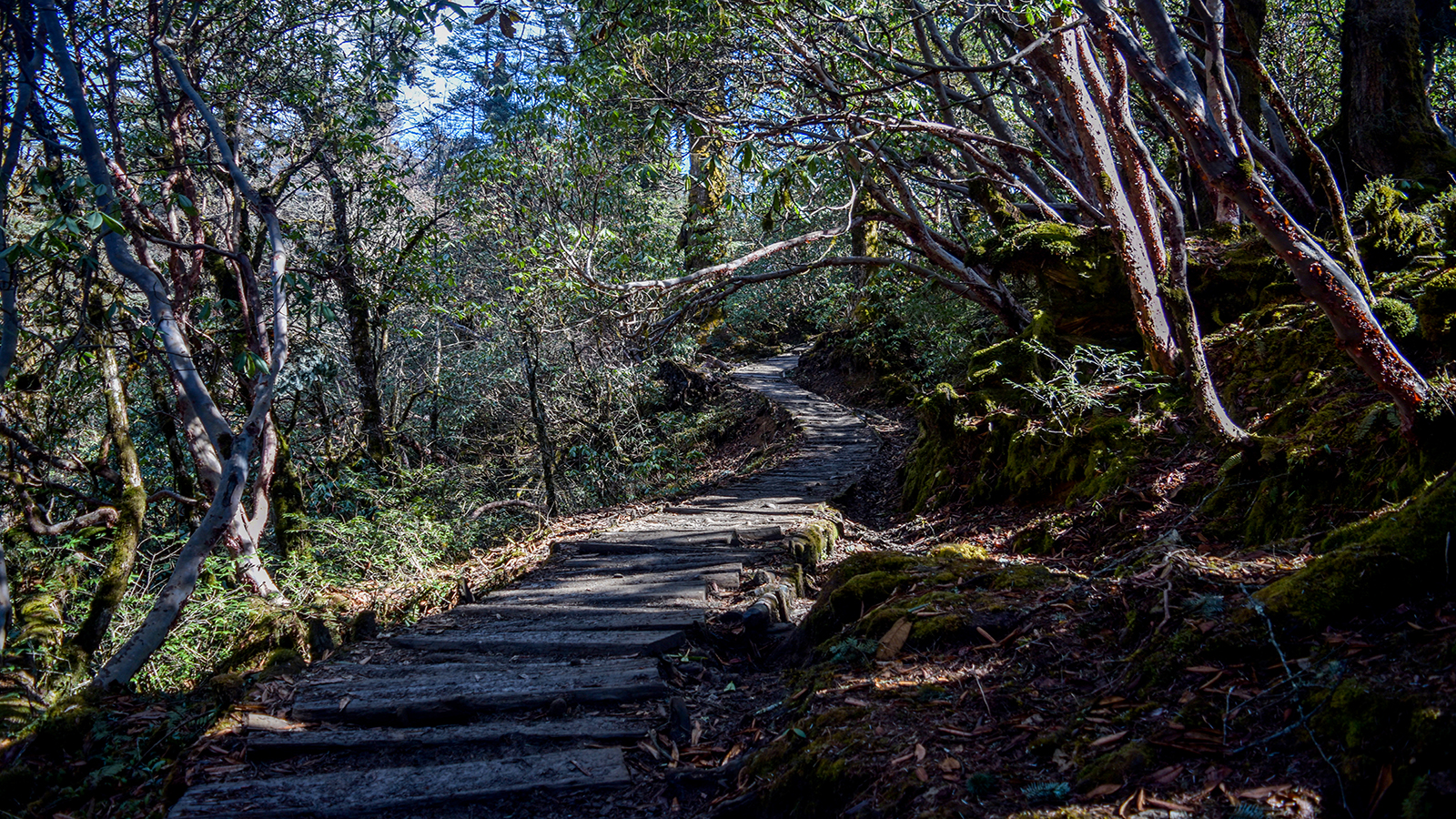 During April and May, this stretch is ablaze with rhododendron blossoms – not just one but multiple varieties. Second, on the trail, suddenly the views open up to showcase the might of the highest mountains in Himalayas.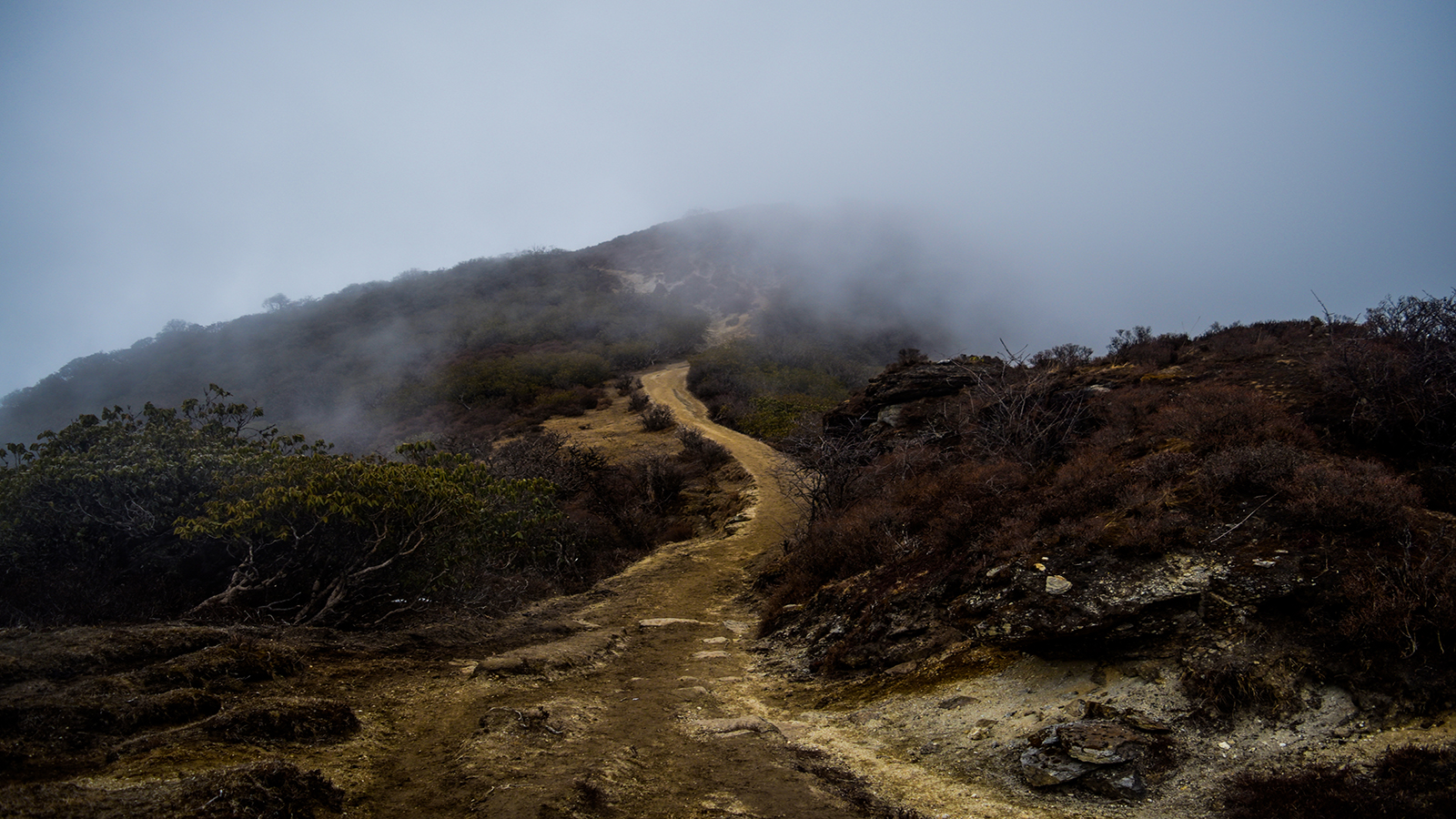 A stunning and ultimate site from where you can get 360 degree spectacular panoramic views of the snow-capped towering mountain peaks and hills. Dzongri View point is located at the altitude of 4250 meters on the top of the hill and offers awe-inspiring and mesmerizing backdrop of the great Himalayan Range.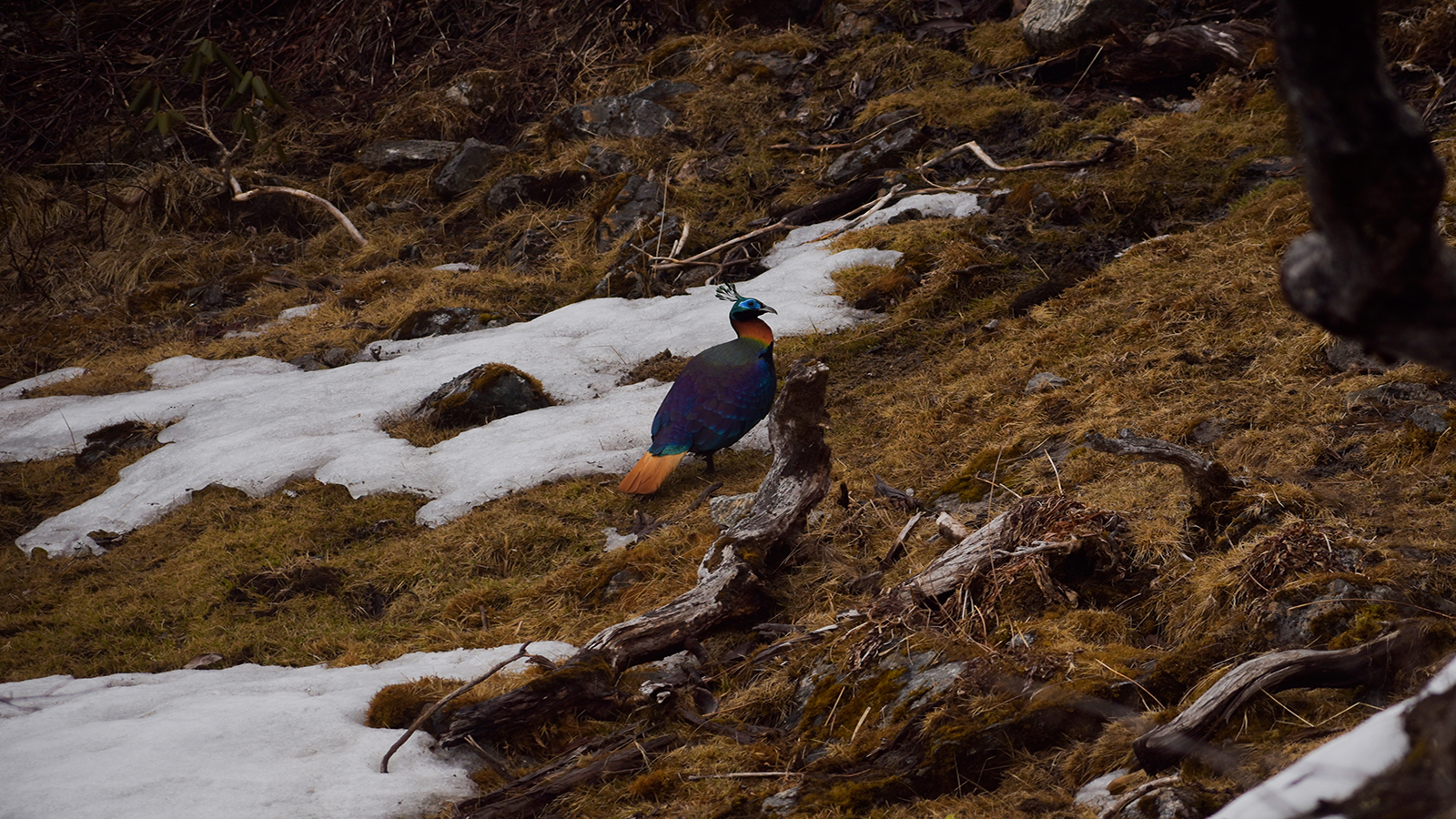 The campsite is exactly on the border of India and Nepal because of which you can choose to camp at either sides of the border.
Do check the Gallery for more amazing photos from this spot.
Dzongri top is a two hill climb from the Dzongri trekkers hut. The trek from Dzongri to Dzongri top takes about 45 mins. The sun rises at 5 am and you don't want to miss seeing the first rays of sun hitting Kangchenjunga. Start your trek at 4.00 a.m with torch lights and you reach the top just as the dawn breaks.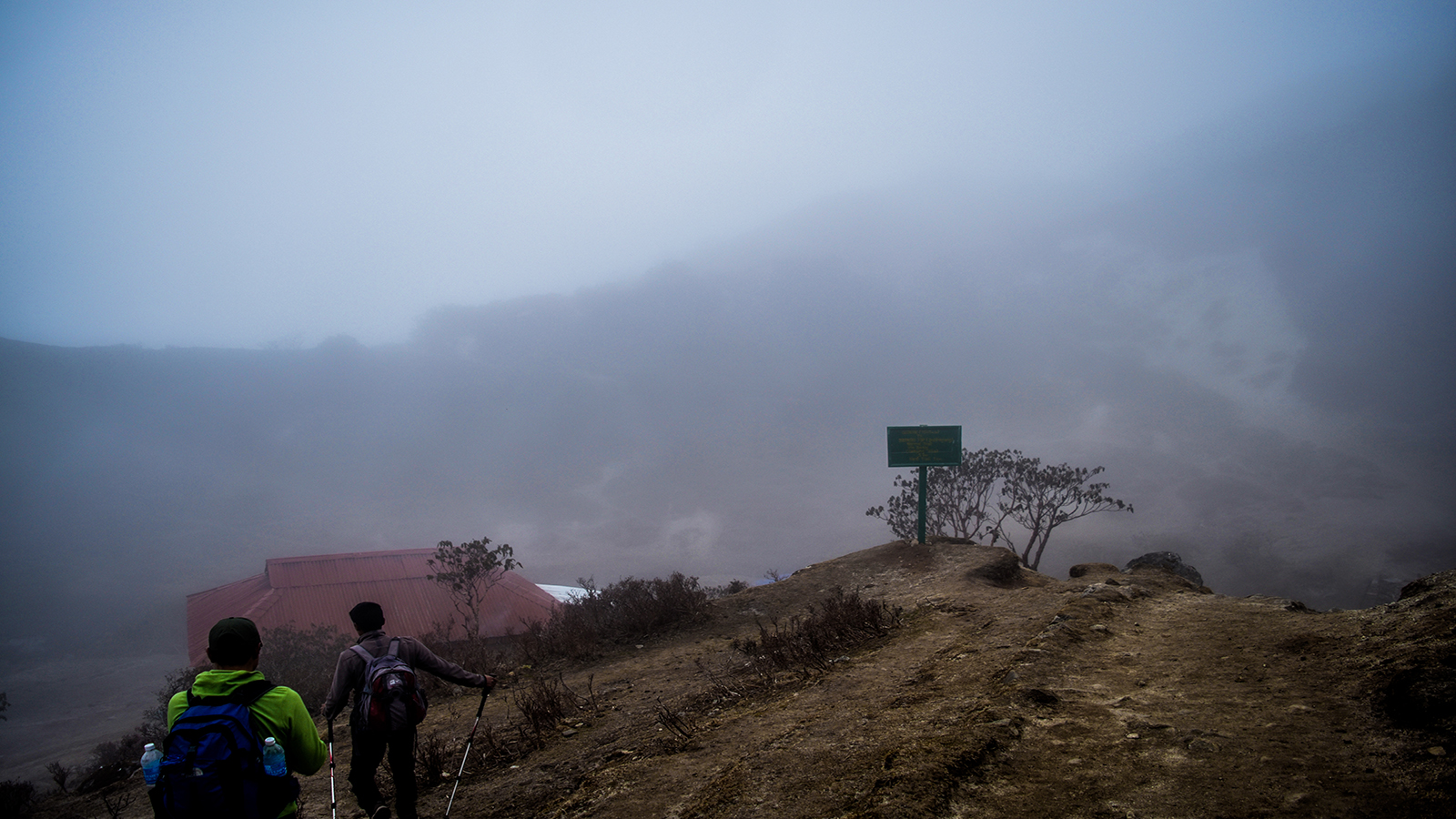 As you climb up, the peaks of the Singalila range begin to open up and just at the bend before the top, the Kangchenjunga and its neighbours make their appearance. Witness an inspiring sunrise and spend time watching the mountains changing colours in the sun rays.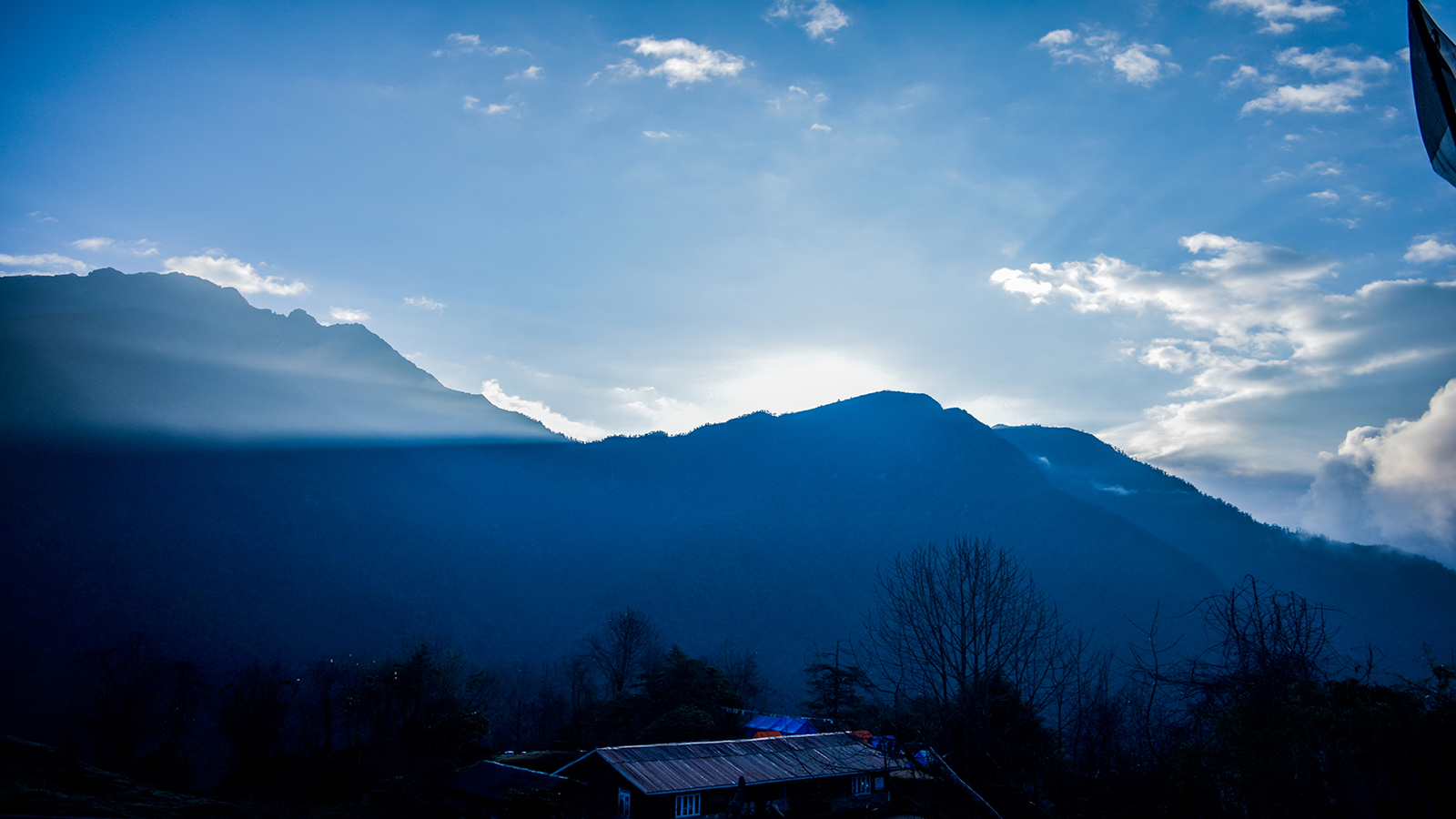 After coming back from Dzongri Top to Dzongri, We will pick up our bags and more to Tschoka.
Retrace your way from Tshoka to Yuksom. Its much faster and easier than your trek up. Sachen comes up quickly being a pure descent. From Sachen the trail goes up and down generally losing altitude. The last stretch has a few climbs which makes you wonder but its soon over and you find yourself back in the friendly Yuksom neighbourhood.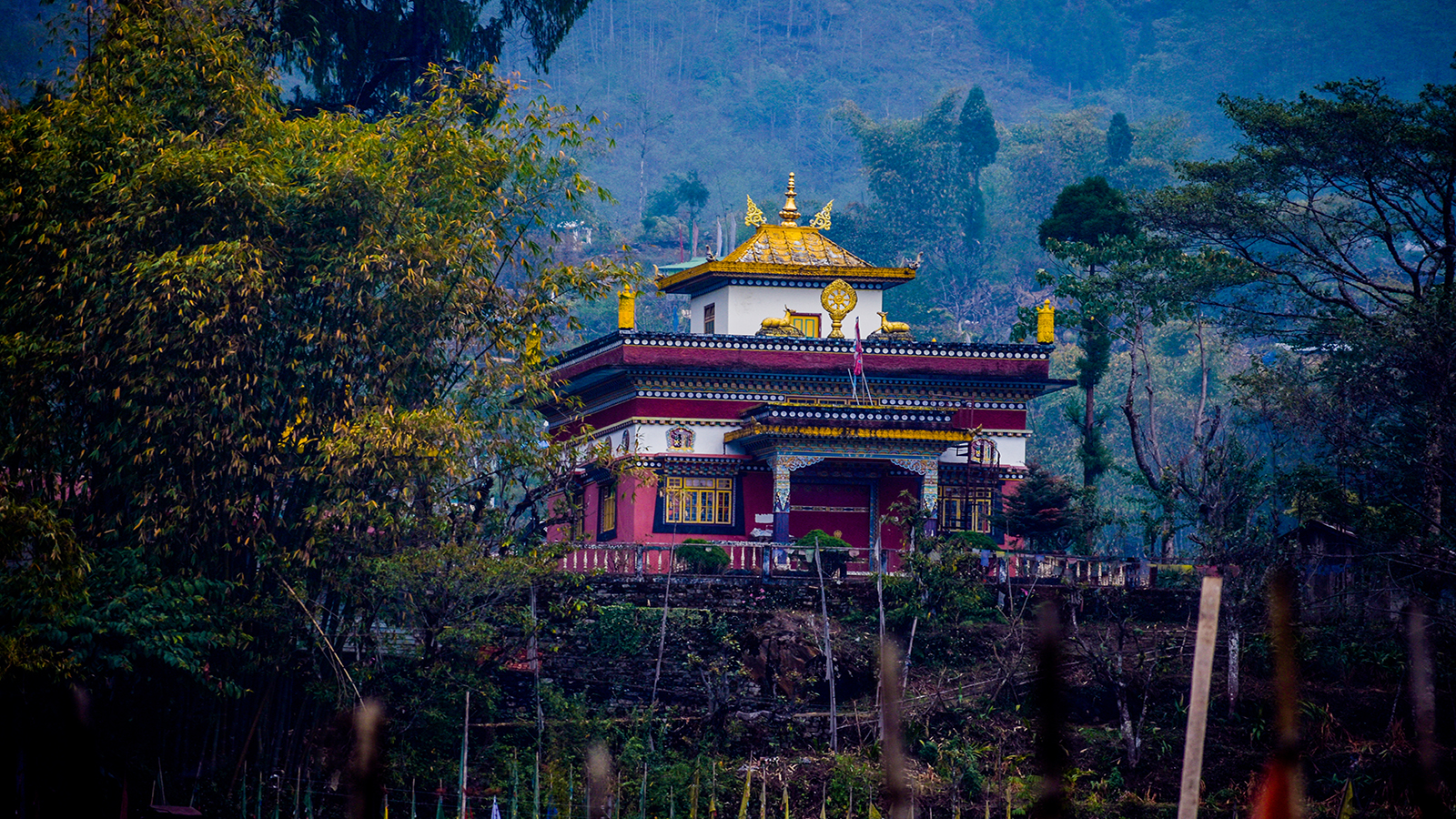 One might say – This trek leaves you speechless but then turns you into a story teller.
Check out the blog on Thing to carry for an Himalayan trek: http://naturewalkers.in/things-carry-himalayan-trek/
Trekking shoes:  Not sports shoes. The shoes need to have soles with good grip and ankle support. We recommend FORCLAZ 100 and 600 from 

Decathlon

. .Wear the shoes for a week prior to the trek to avoid shoe bites/blisters on slope.

Backpack (40-60 litres): Backpack with sturdy straps and a supporting frame. Rain cover for backpack is essential.
Clothes
Full sleeve woolens (2 pairs including the one you are wearing):We endorse fleece over wool as it is light weight, compact and warm. It is better to layer your clothing with multiple light sweaters than to carry one thick heavy jacket.

Thick jacket: Carry 1 full sleeve windproof jacket/down jacket.

Trek pants (3 pairs including the one you are wearing): We highly endorse synthetic quick-dry pants as they are light. Plus, when it's cold you can wear one over the other. While trekking, a pair is what you would carry apart from the worn. You could keep the third pair for your return journey. Alternative would be cotton pants with many pockets or track pants. Jeans, shorts and 3/4 pants are not suitable for trekking.

Collared t-shirts (3 pairs including the one you are wearing):Preferably light, full sleeve t-shirts that prevent sun burns on the neck and arms. Avoid loud colors that would distract birds and animals.

Thermal inners: 1 pair of lightweight, upper and lower. Thermal inners are optional for those who are more sensitive to the cold.
Accessories
Sunglasses: Curved ones will cover your eyes well. No blue coloured sunglass — they don't block UV. Blacks, greens, browns are fine. Avoid multi tone sunglasses. Sunglasses are to prevent snow blindness. People who wear spectacles, choose either contact lenses or photo chromatic glasses. If both are not possible, wear your spectacles and carry big sunglass that can be worn over your spectacles.

Suncap: To protect your head from the direct heat of the sun, protect your face and neck from sunburns. The cap must cover your ears and neck.

Synthetic hand gloves: One pair of fleece or woolen hand gloves. One pair of water proof/resistant, wind proof gloves.

Balaclava: . You may use scarves as an alternative to balaclavas.

Poncho: A lightweight poncho is preferred because unlike raincoats, it covers your rucksack as well. A poncho is indispensable for the Tarsar Marsar trek as light showers are expected

Socks (3 pairs): 2 cotton pairs, 2 woolen pairs (mostly to be used on campsites and while sleeping. Keep them dry.)

Headlamp/LED torch: Mandatory

Trekking Pole: Trekking pole is mandatory.
Others
Daypack (20 litres): It is mandatory to carry a daypack if you choose to offload your backpack. If you decide to carry your backpack, day pack is not required.

Toiletries (Sunscreen – SPF 40+, moisturiser, light towel, lip balm/chap stick, small soap, toilet paper)

Repair kit (needle & thread)

Camera: Carry all accessories – spare batteries, charger, etc.

Cutlery: Carry a spoon, coffee mug and a lunch box. We insist on trekkers getting their own cutlery for hygiene reasons. To save weight, you may use your lunch box instead of carrying a plate separately.

Water bottles: 2 bottles, 1 Litre each. Packaged drinking water bottles like Aquafina, Bisleri and others are not allowed.

Headlamp/LED torch: Mandatory

Plastic covers: While packing, use plastic bags to compartmentalize things and carry few extra plastic bags for wet clothes. While packing, use plastic bags to compartmentalize things and carry few extra plastic bags for wet clothes.
If you are going shopping, download this list so you don't miss out on anything! Download PDF
Mandatory Personal Medical Kit 
Diamox – 10 tablets (to prevent AMS)

Crocin – 6 tablets (fever)

Avomine – 4 tablets (motion sickness)

Avil 25mg – 4 tablets (allergies)

Combiflam – 4 tablets (Pain killer)

Disprin – 6 tablets (headache)

Norflox TZ & Lomofen– 6 tablets each (diarrhea)

Digene – 10 tablets (acidity)

Omez/ Rantadine – 10 tablets (antacids)

Crepe bandage – 3 to 5 meters

Gauze – 1 small roll

Band aid – 10 strips

Cotton – 1 small roll

ORS – 10 packets

Betadine or any antiseptic cream

Moov spray (aches, & sprains)
Mandatory Documents
Please carry the below documents. Document two and three need to be downloaded (PDF), filled in, signed and handed over to the trek leader at the base camp.
Without these documents you will not be allowed on the trek.
1. Original and photocopy of government photo identity card- (driving license, voters ID, etc.)
2. Medical Certificate, and disclaimer (to be filled by the trekker)
3. Medical certificate (to be filled by a doctor)