Description:
A story crafted in stones about 600 years ago, Hampi is a place which mesmerizes every time you visit it. A beautiful sheer spread and magnitude of structures amongst the hillocks full of rocks and trees.
Hampi is about 350 Km toward the north of Bangalore and in the eastern region of Karnataka. It's charismatic even in its ruined state, attracting thousands of visitors every year. Vast stretches of boulder-strewn hills make the backdrop of Hampi unique. Dotted around the hills and valleys are 500 plus monuments.
Among them are beautiful temples, palaces, aquatic structures and ancient market streets. You could also witness royal pavilions, royal platforms, treasury buildings, the list is practically endless. Hampi is a backpacker's paradise, the same way a Pilgrim's delight.
Details:
DESTINATION
Bangalore – Hampi – Bangalore
DEPARTURE TIME
Friday – 8.30pm
RETURN TIME
Sunday – 10.30pm
SHORT ITINERARY

First Day

Reach Hampi town
Get ready for trek at homestay
Start the trek
Cross the river and boulders
Virupaksha Temple
Hanuman temple
Sunset
Back to home stay
Camp fire.

Next day

Bouldering with proper gears under expert guidelines
Lake visit
Back to Bangalore

MANDATORY THING TO CARRY

Two liters of water bottles
Rain coat
Torch (with New Batteries)
One cover sheet – Good to have one
A cap

WEAR

Cargo/track pants -2
T-shirt -2
Shoes, Socks
Personal medication kit
Soap
Toothpaste
Toothbrush
Sunscreen
Rain Coat/Poncho

INCLUDED

To and Fro journey
Homestay/Accommodation
Hampi Trek
Virupaksha Temple Visit
Guide Fee
Basics of Bouldering
Matunga Hills
Anjana Hills
Vijaya Vithala Temple
Stone Chariot Temple
Professional Expert for Bouldering Session

NOT INCLUDED

Breakfast
Lunch
Dinner
Any personal purchases.
(Hampi is Famous for multiple cuisines. hence, there are multiple option for Food.)
Additional information
| | |
| --- | --- |
| location | Hampi Karnataka |
| duration | 2 Days 2 Nights |
| age | 12 – 45 Years |
| group-size | 30 People Max |
| trek distance | 16 KM |
| difficulty level | Moderate to Difficult |
Day 1:
We would be leaving from Bangalore on Friday at late evening. We request you to have some light food before travelling. This trip would be an overnight journey to Hampi in which we would have an informal introduction and ice breaking session.

Day 2:
We will reach Hampi Homestay in morning. After freshen up at the homestay and we will set up for the trek after a nice breakfast.We would start our trek from the homestay. The trek would start through the back of the village towards the paddy field on the side of Tungabhadra River.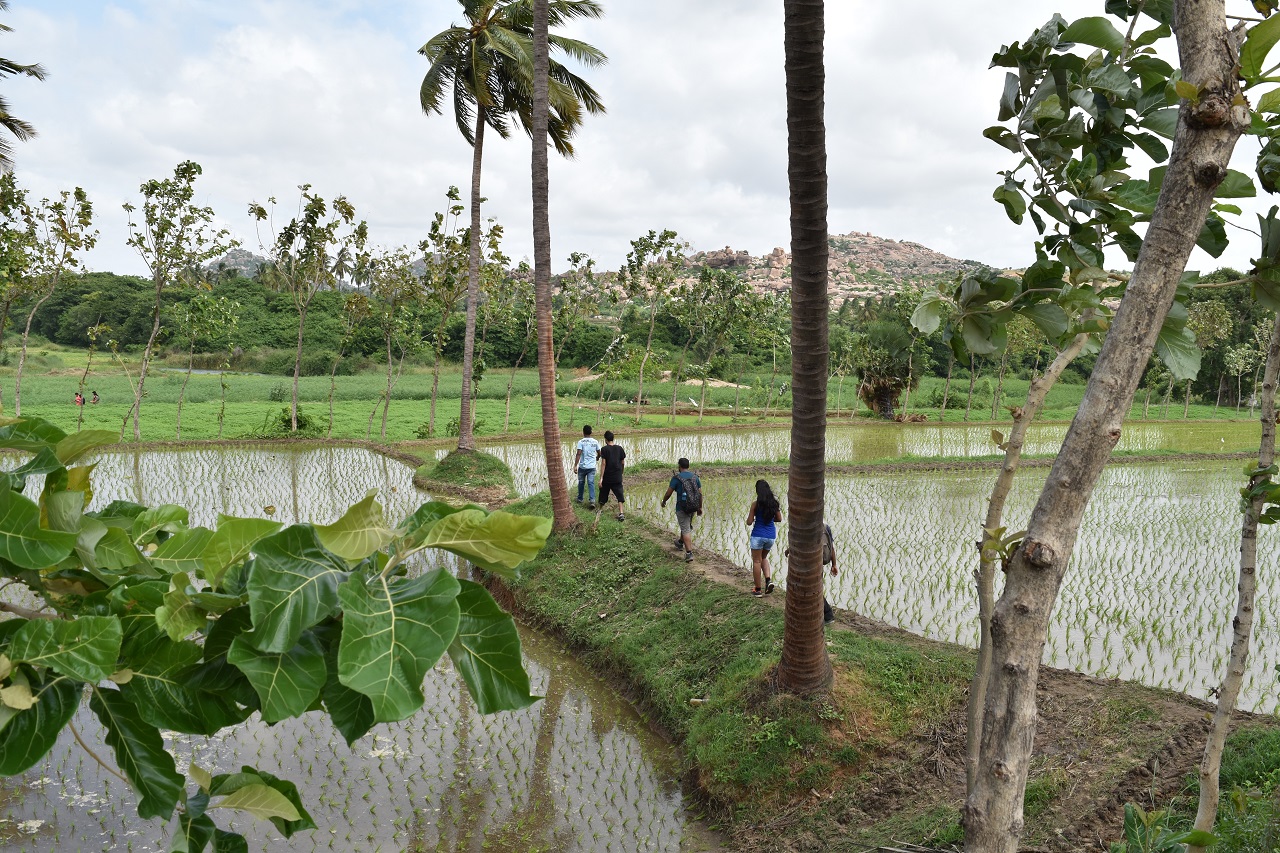 Walking on the side of theriver we will enter into a small jungle to the ancient tree.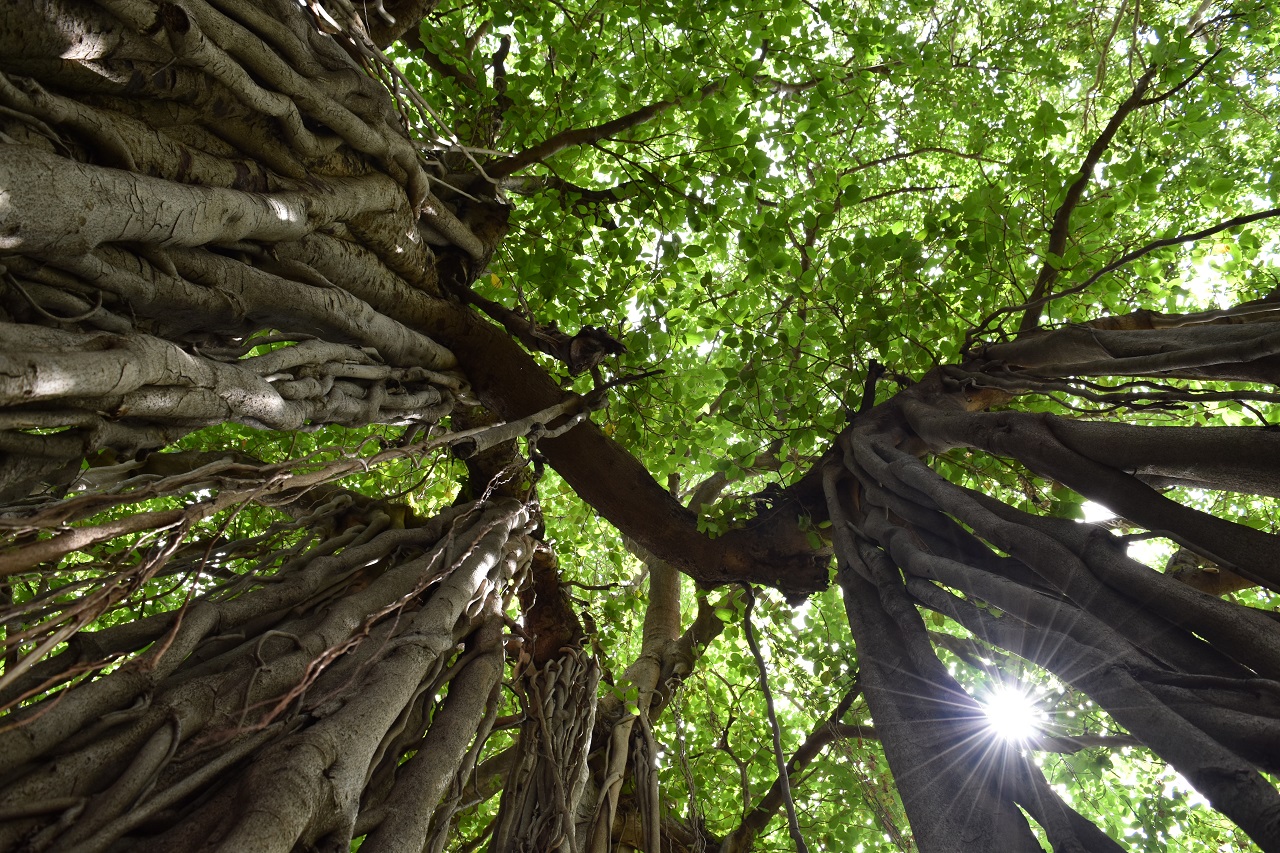 From the tree we would walk through the boulders and cross the river. The total distance to cross the river could be approx. 1 km. It is said the bouldering in hampi is so famous that every year big crowd gather for Hampi Festival from different parts of world, just for bouldering the hampi rocks.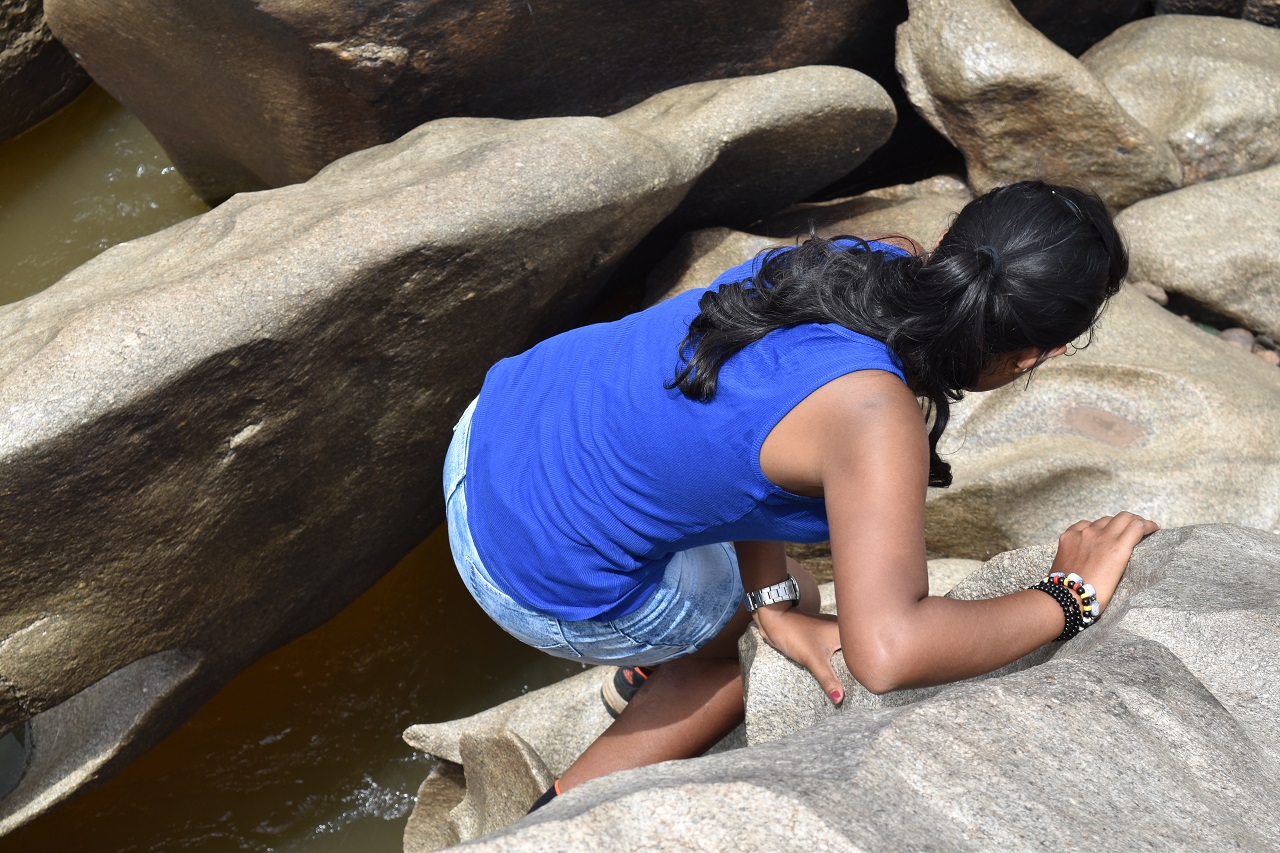 Walking through the uneven surface of the bank, we would enter into the banana farm through which we will take the muddy road into hampi town to the Virupaksha Temple. This temple is part of Group of Monuments at Hampi designated a UNESCO World Heritage Site.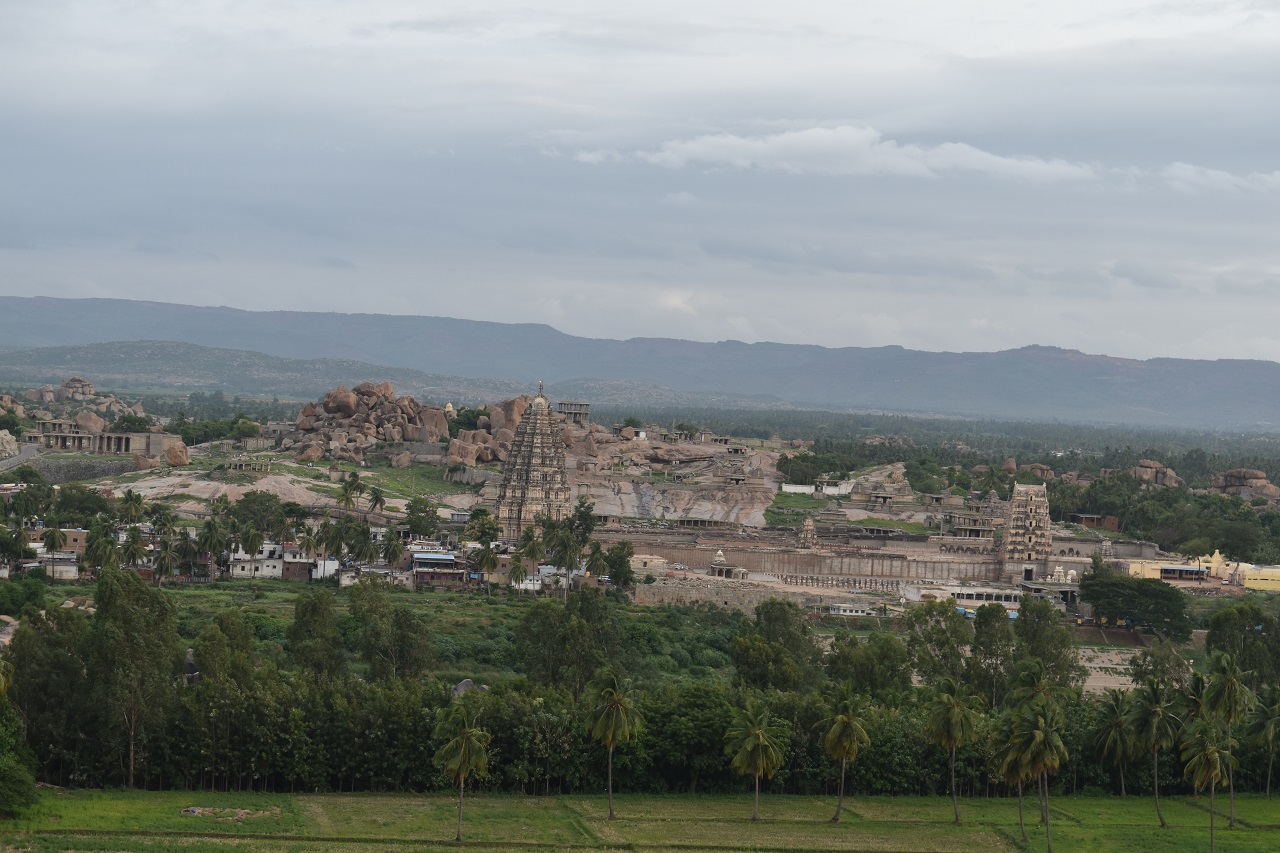 After spending some time at the temple we would reach to the banks of river from there we would take a coracle ride to the other side of the bank. The ride takes you through the Tungabhadra River, between two island of Hampi.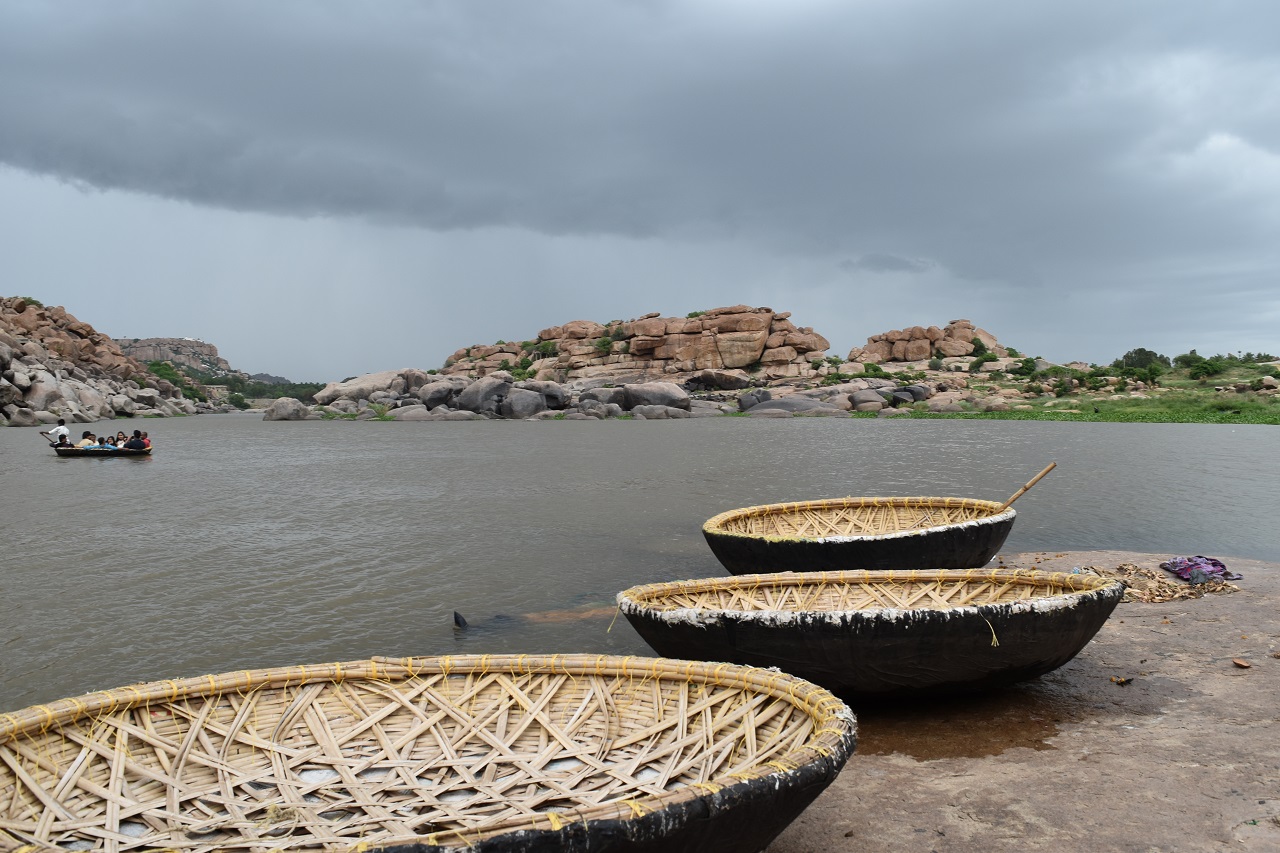 From the other side we would walk to the God Hanuman birthplace temple on Anjaneya Hill. From the temple we would go to the sunset point to visit a mesmerising sunset and then back to the homestay.

Day 3:
After getting up early, we would fresh up and gear up for bouldering session in the morning.
Bouldering
would be a lot of fun but also little challenging for first timers, so it is very much required to follow the expert's advice and guidelines.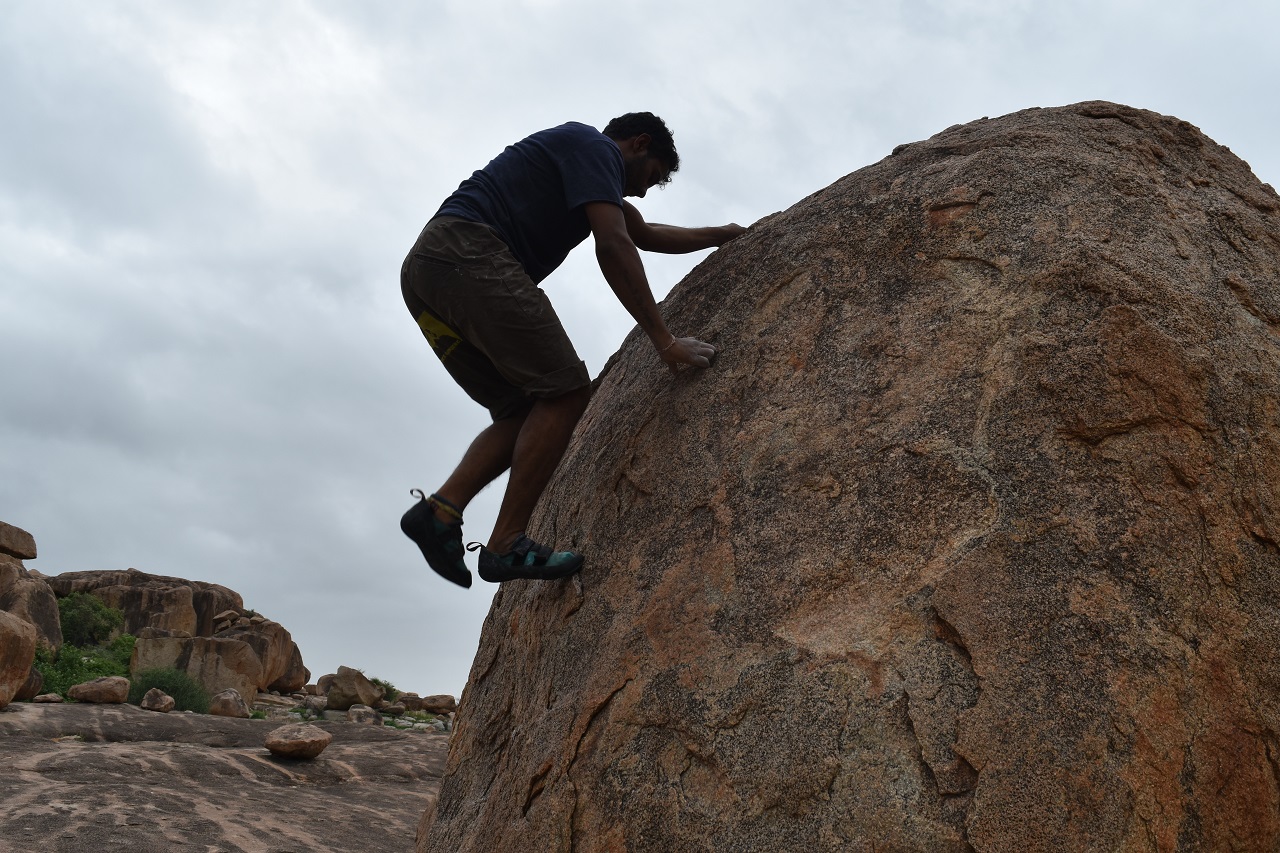 After the bouldering, we would come back to homestay for freshen up and start our journey back to Bangalore. On the way we would also visit a famous hampi lake for a small photo shoot break.
1)       Baroda Bank, Koramangala Water Tank. Opp. Mr Beans – Home Cafe.
           Reporting Time: 7.15 PM, Friday, Departure Time: 7.30 PM, Friday
2)       New Shanti Sagar Hotel ,  HAL Road, Near Domlur Bridge.
           Reporting Time: 8.00 PM, Friday, Departure Time: 8.15 PM, Friday
3)       MG Road, Hard Rock Cafe near Anil Kumble Signal.
           Reporting Time: 8.45 PM, Friday, Departure Time: 9.00 PM, Friday