Nagalapuram is one of the beautiful hill station situated in Chittur District, southern part of Andra Pradesh, around 90 km from Chennai. Normally known for the various water falls situated in the hill station. As a Nature Walker I would say Nagalapuram is "Queen of Water Falls", to see why you should come with us to explore.
Reaching the water falls is not so easy as it depends on the path we take to reach them. Trekking from west side of the hill station is easy compared to east. So most of the trekkers take west entry to reach the various water falls.
Nagalapuram trek is one of the most popular treks in and around Chennai as it is close to Chennai. Camping in the jungle is not officially allowed but people do camping here at their own risk.
DEPARTURE/RETURN LOCATION
Chennai – Nagalapuram – Chennai
DEPARTURE TIME
Saturday – 05.30am
RETURN TIME
Saturday – 10.30pm
Start Date
End Date
MANDATORY THING TO CARRY
• Two litres of water bottles
• Rain coat (if in case it rains)
• A torch
• A cap
WEAR
• Cargo/track pants -2
• T-shirt -2
• Shoes, Socks
• Personal medication kit
• Sunscreen
• Rain Coat/Poncho
INCLUDED

To and fro journey
Accommodation
One breakfast
One lunch (Saturday)
Forest permit
Snack/Power packs for trek
Lots and lots of FUN.

NOT INCLUDED

Dinner
Any personal purchases.
Start from Chennai – Breakfast on the way – Reach Nagalapuram Water falls base by bus– trek to 4 different Nagalapuram falls – Spend some quality time in each water falls – Back to Base – back to Chennai
Additional information
| | |
| --- | --- |
| location | Nagalapuram, Andra Pradesh |
| duration | 2 DAYS – 2 NIGHTS |
| age | 12 – 45 Years |
| group-size | 30 People Max |
| trek distance | 12 KM |
| difficulty level | Easy to Moderate |
05.30 am – 8.00 am – Departure from Chennai
Leaving from Chennai early morning. This trip would be a couple of hours journey to Nagalapuram in which we would have an informal introduction and have fun.[/timeline_item]8.30 am – 10 am – Trek Base and Start trekking We will be starting our trek from the Nagalapuram Trek base. Where there is a Dam constructed for the stream water to get stored.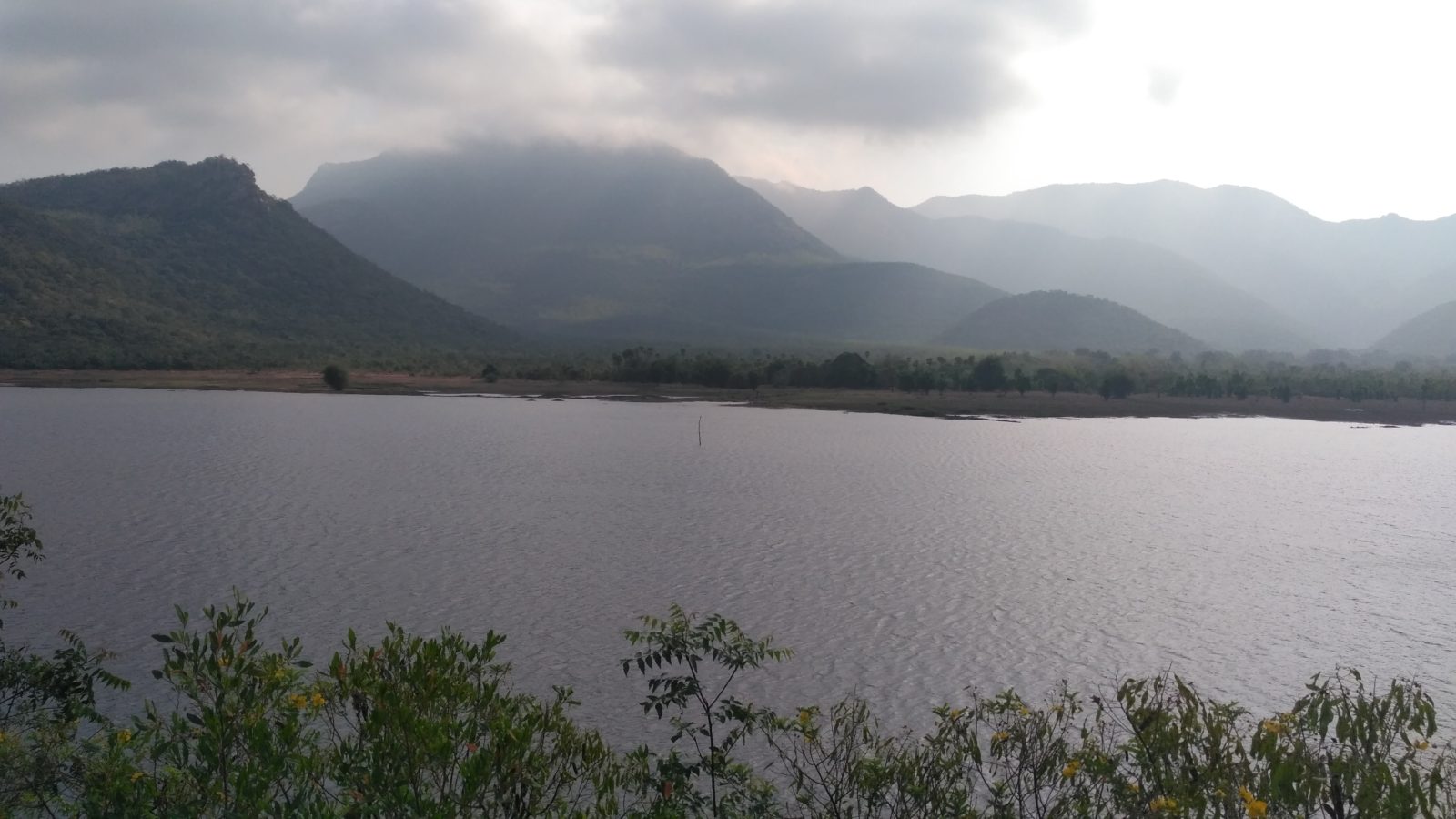 10 am – 10.30 am – Into the Wild Starting of the trek will be through a open land with some minimal trees. Once you enter into the forest you will experience a whole new weather with small water streams flowing.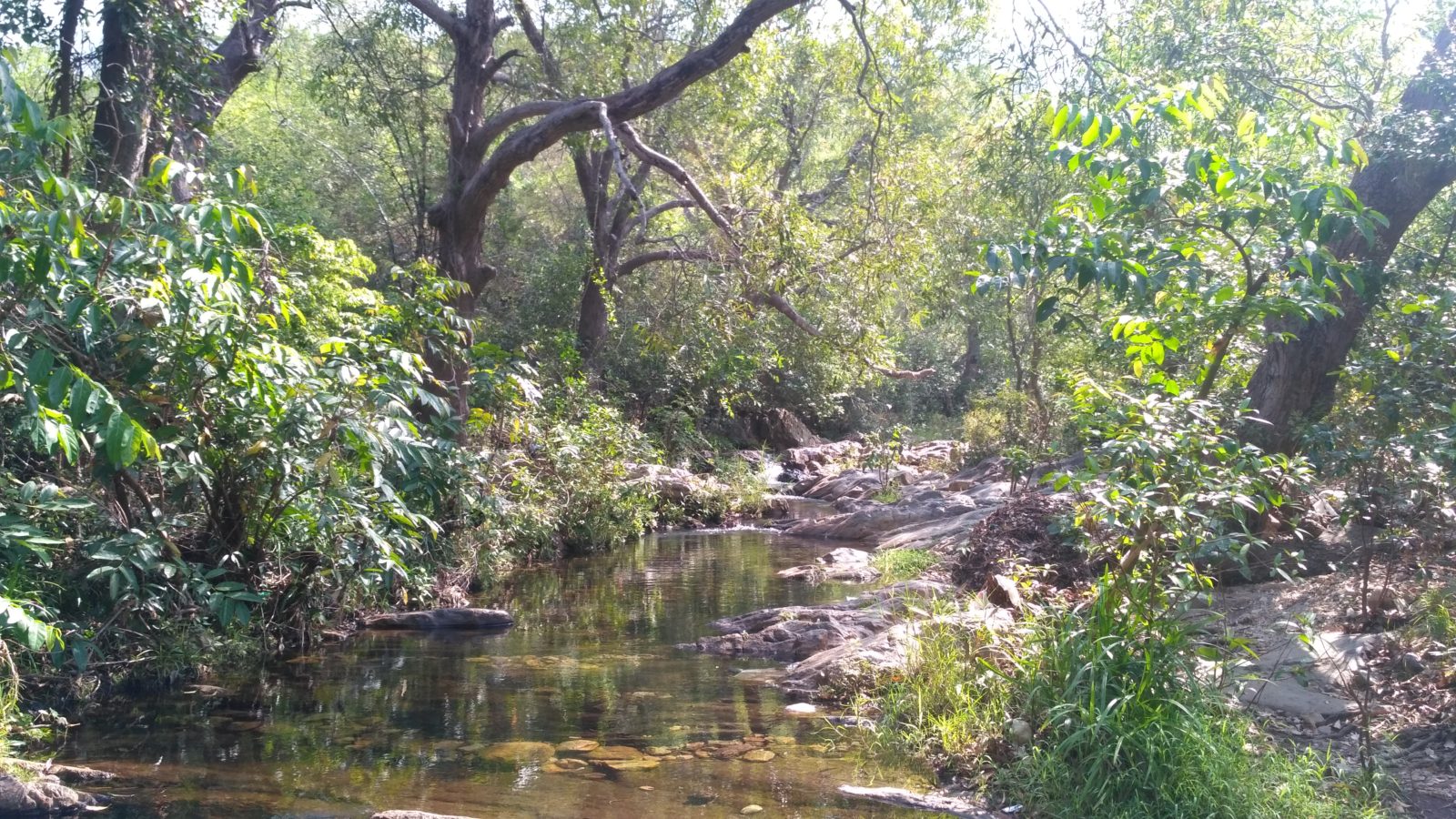 10.30 am – 12.30 am – First Water Falls
Further trekking into the jungle will take us to the First Water Falls which is eye catchy spot for the swimmers. Bit risky to get inside if you don't know swimming. After taking some break and refreshment from the falls we will continue our trek.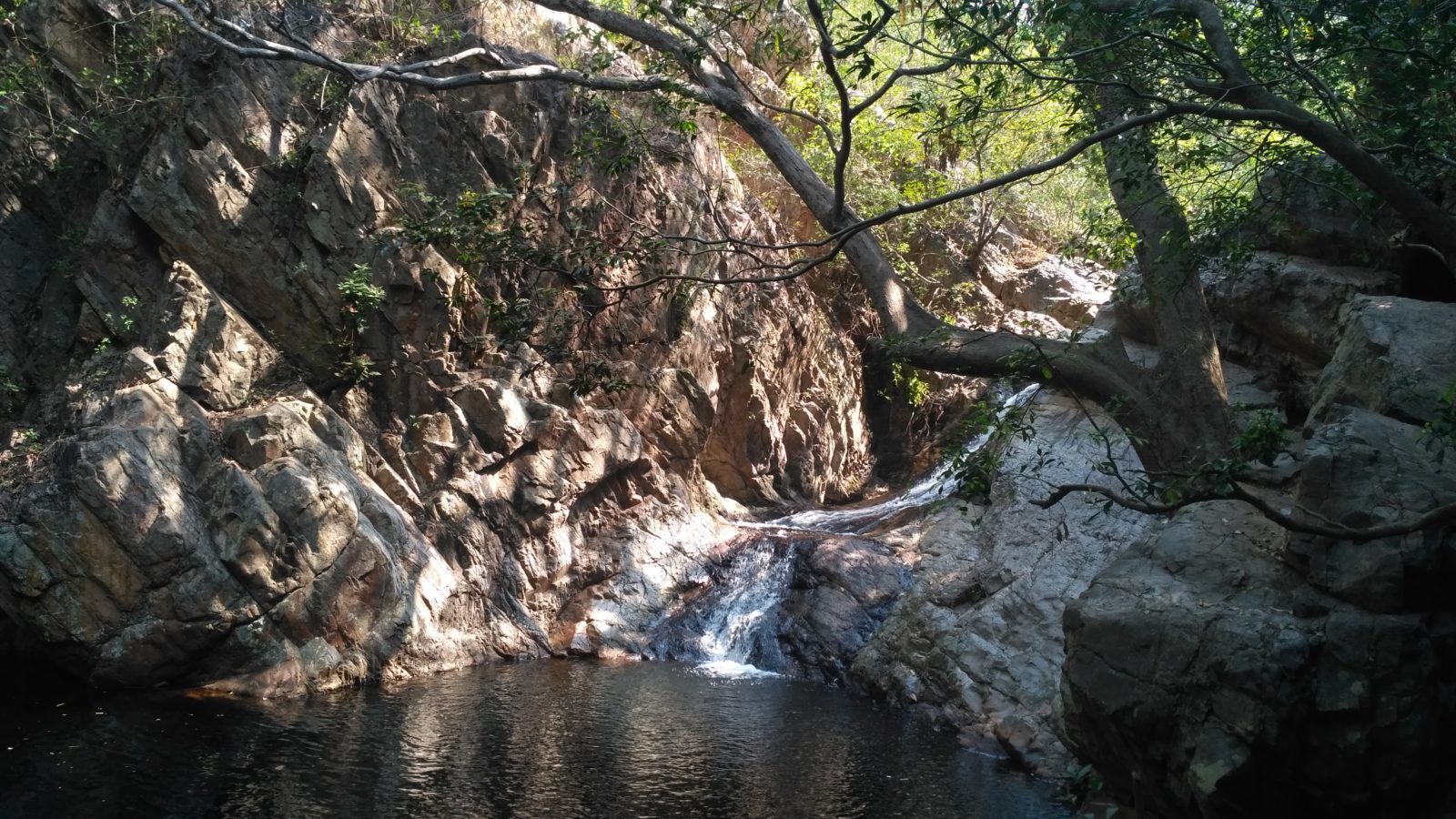 12.30 am – 1.30 pm – Second Water Falls
The safe and the best place to get into water. You can even have "Fish Spa" here. Taking a dip into water here is very rejuvenating. And if you have a water proof camera you can even take a video of Fish Spa.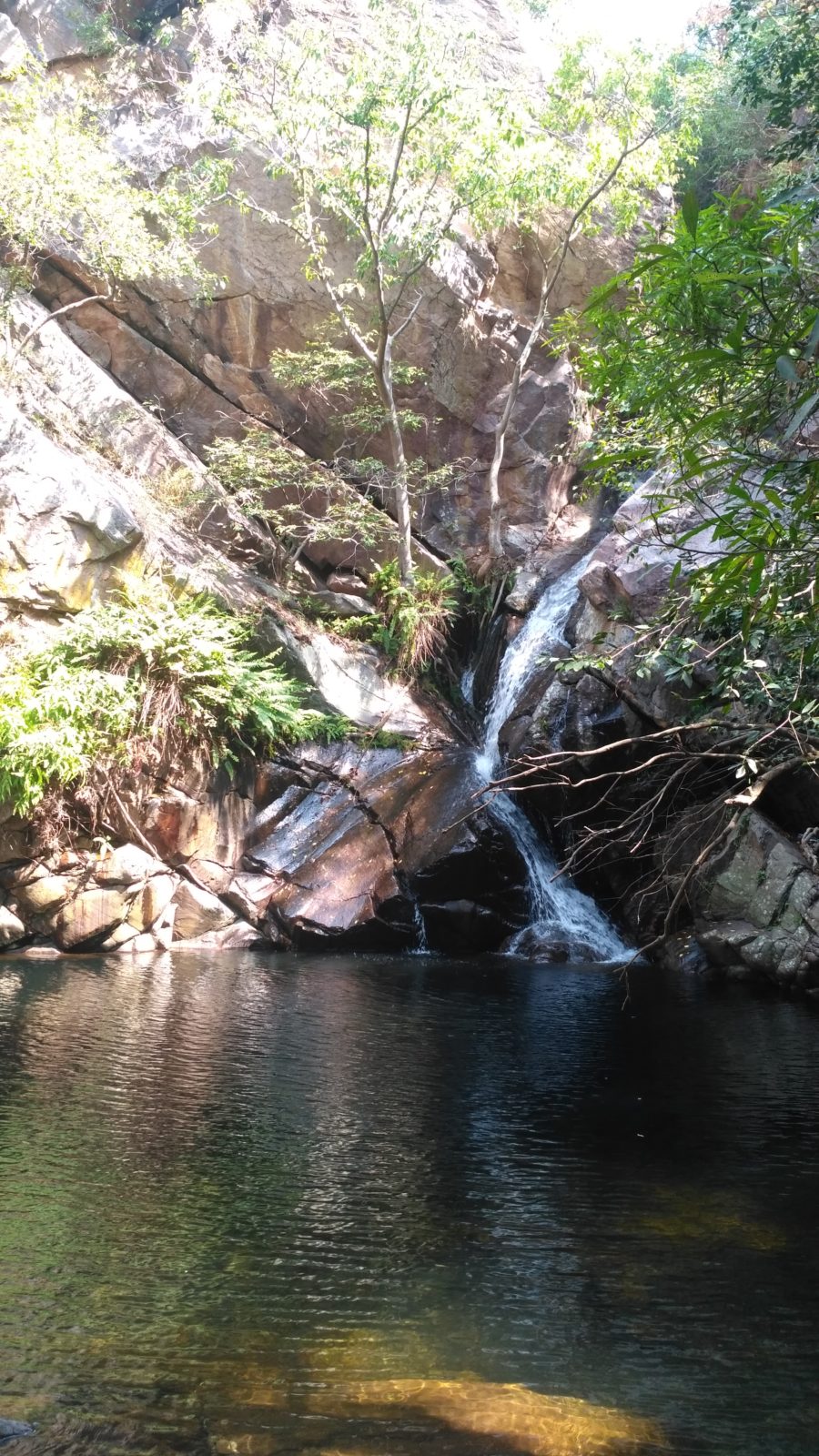 1.30 pm – 2.30 pm – Third Water Falls
Dream come true moment for those who know swimming. The water flows from top of the hill this water falls. The force of the water has created a pool like structure so that swimmers can jump form the hill top. We will have our packed lunch here and start descending after spending some quality time.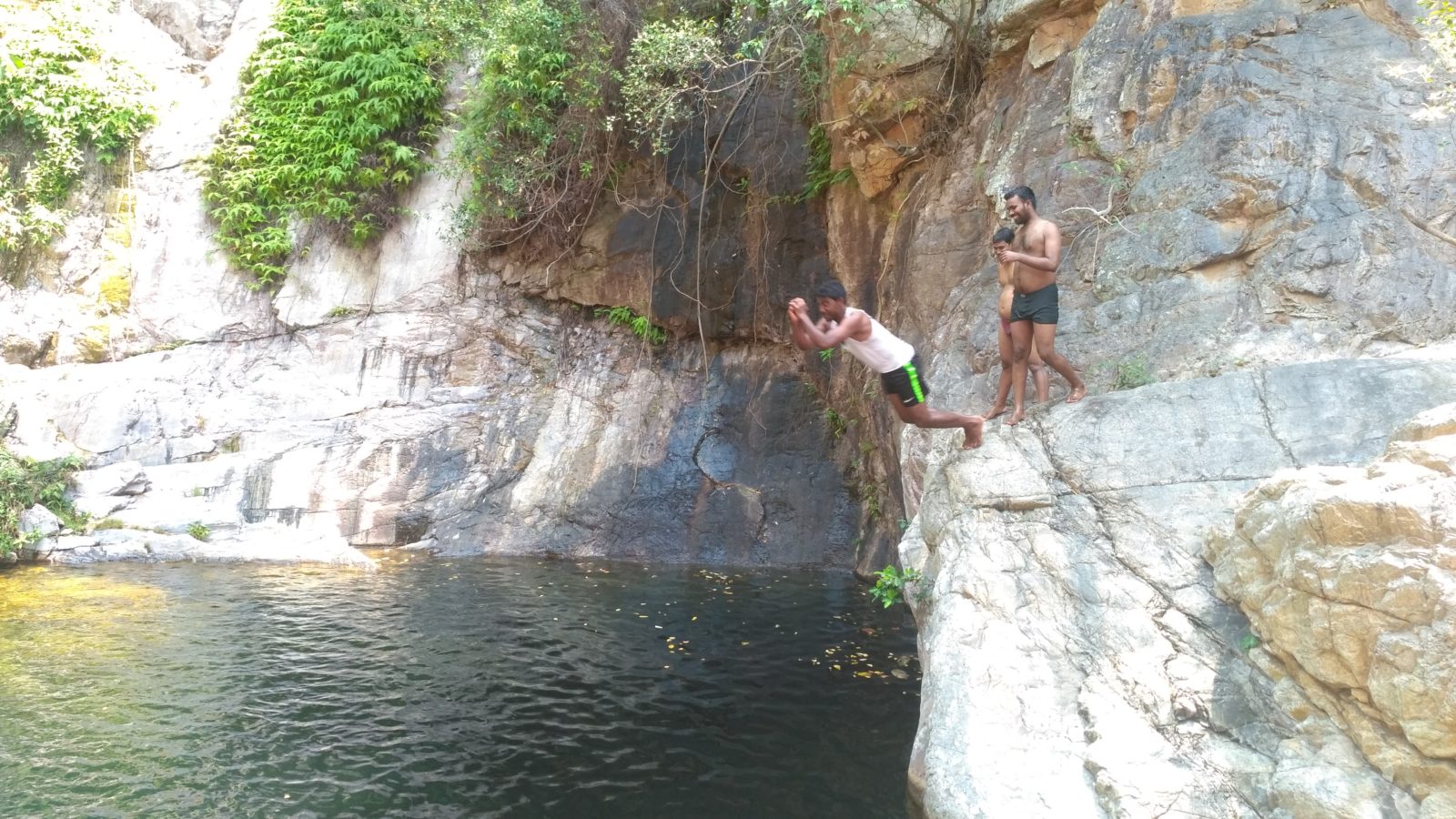 4.00 pm – 6.30 pm – Descending back
You can even get into the water while descending if you are not satisfied yet :-p. Once we reach the base will get into the bus and head back to homestay followed by snacks, dinner and campfire.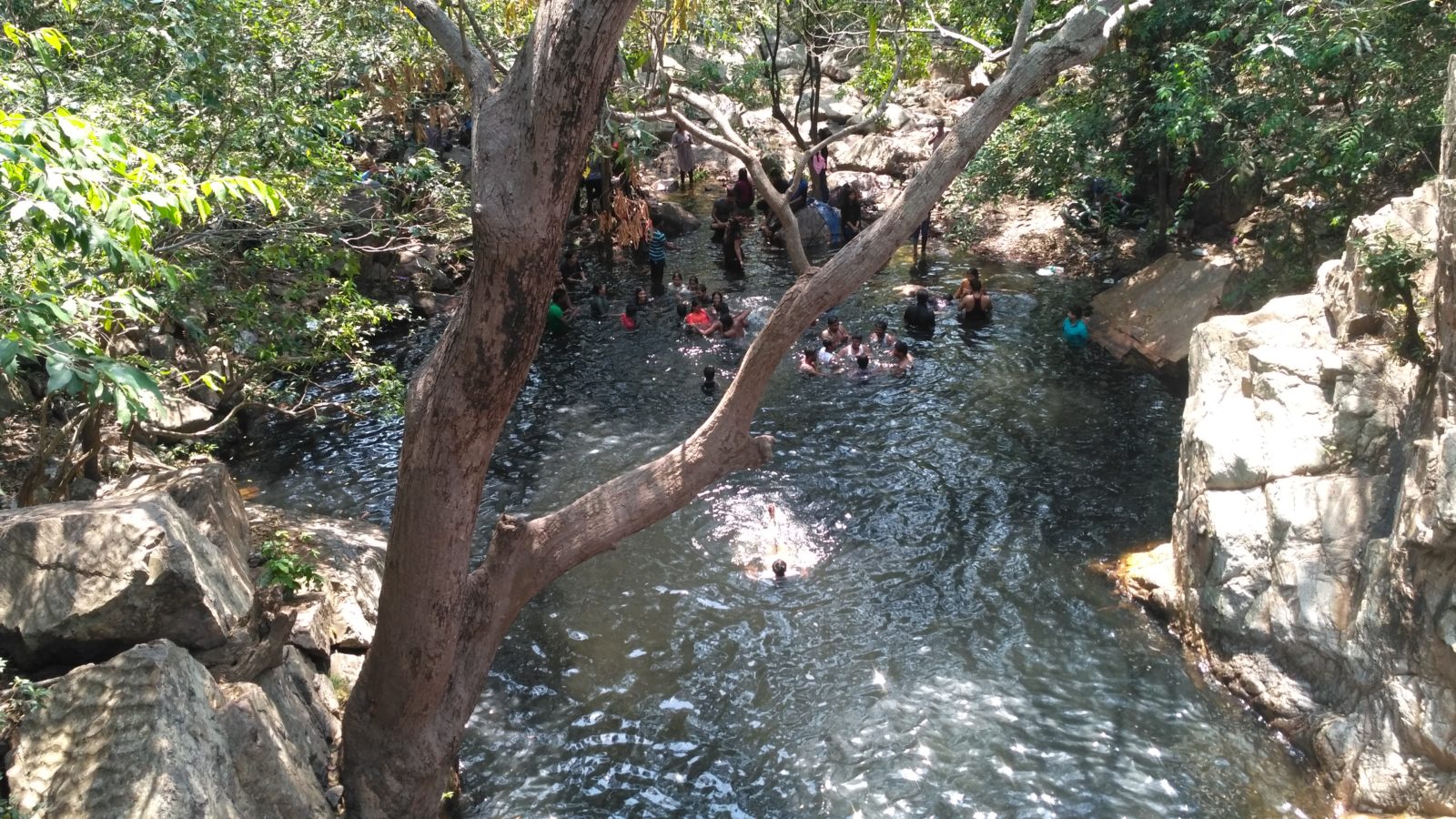 6.30 pm – 10.30 pm – Return Journey to Chennai.
No.4, M.G.R. Street, Old Narasingapuram, Race Course, Guindy – Reporting Time: 5.00 AM, Departure Time: 5.15 AM
Grand Arcade Chennai, S.No. 330/12, Velachery Tambaram Rd, Dr. Seetharaman Nagar, Velachery, Doctor Seetaram Nagar, Velachery – Reporting Time: 5.30 AM, Departure Time: 5.45 AM
Grand Southern Trunk Road, Chromepet, Santhi Nagar, Chromepet – Reporting Time: 6.00 AM, Departure Time: 6.15 AM